At first glance, the new Asus ProArt Studiobook 16 OLED may appear odd, but every design decision has been carefully considered to offer the perfect portable workstation for creatives. In this post, we have covered the full Asus ProArt Studiobook 16 OLED Review that you've been waiting for.
From its Republic of Gamers (abbreviated to ROG) brand of premium gaming devices to its VivoBook series of laptops that are best optimized for graphically demanding creative apps, Asus has proven itself to be extremely competent producing creative devices that serve a target market well. The ProArt Studiobook has had earlier editions, but this latest OLED-enhanced version is in a class by itself.
The Asus ProArt Studiobook 16 OLED hasn't officially launched yet, and several of the intended specification versions won't be available until early 2022, so if you're in a hurry, you could be disappointed. However, if you have the patience, it is well worth the wait.
The inclusion of an OLED display is ideal for video and photo editors who require accurate color accuracy and brightness, while the Asus Dial provides a unique way to use Adobe creative suite programmes without the use of additional peripherals.
Let's head towards the full Asus ProArt Studiobook 16 OLED Review-
Pricing
Pricing for specific versions in the United States has yet to be confirmed, although it is currently advertised as starting at $1,999, which is likely for the most basic configuration, which includes an AMD Ryzen 7-5800H processor, RTX 3060 GPU, 32GB of RAM, and a 1TB SSD. Given that the official UK MSRP for this variant is £1,999, we can estimate that the fully loaded device we tested will cost roughly $2,499.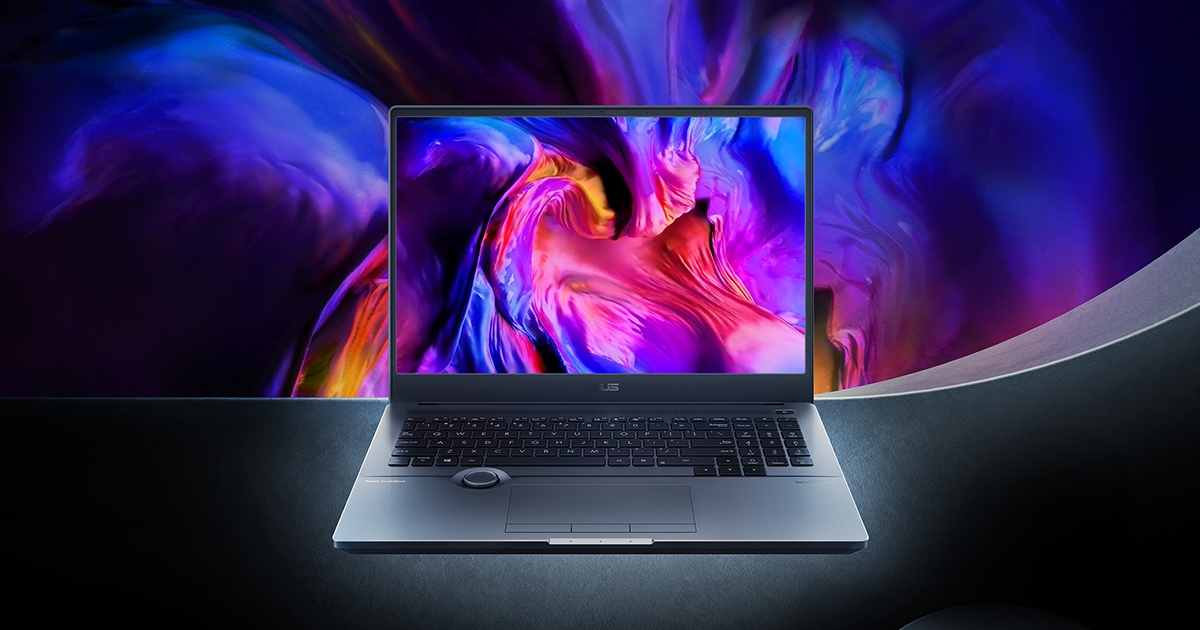 Other OLED creative devices, such as the £2,199 / $2,099 Gigabyte Aero 15 OLED with an Intel Core i7-11800H, RTX 3070, 32GB of RAM, 1TB of storage, and a 15.6-inch 4K display, are also available, but they lack many of the features that make the new ProArt Studiobook 16 so appealing.
Design
The ASUS ProArt StudioBook 16 OLED offers a clean, yet attractive, appearance. With a totally matte black chassis and a silver-shimmer to the ProArt logo on the lid, the square machine offers an unobtrusive appeal. Your fingerprints or palms will not leave prints on the paintwork because it is not reflective.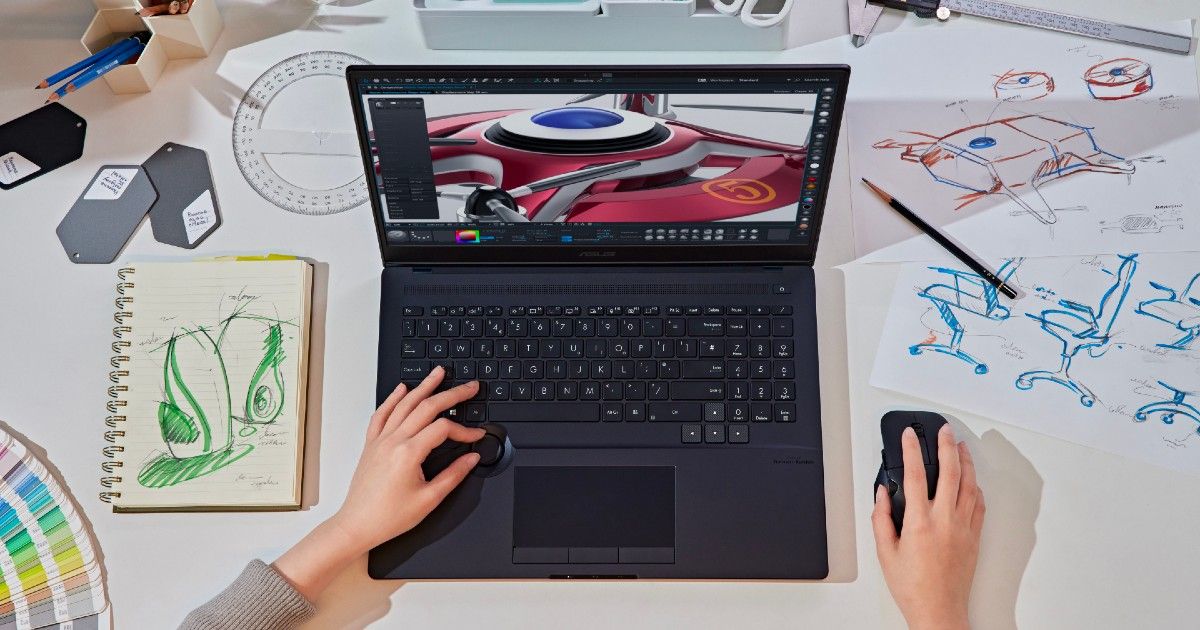 The mousepad's LED indicator lights are oriented below the mousepad so that you can view them easily with a glance down. It's a lot easier than looking for those small lights all over the machine.
Two USB A 3.2 Gen 2 ports, two USB C 3.2 Gen 2 ports, an HDMI 2.1 connection, and a Gigabit Ethernet port provide physical connectivity. The SD Express 7.0 card slot supports speeds of up to 985MB/sec, which is useful when moving huge volumes of data from a camera card.
Also Checkout: 8 Best Photo Editing Apps for iPhone
Display
It's tough to express how stunning the display on the Asus ProArt Studiobook 16 OLED is, from the deepest blacks to the brightest whites. The 4K resolution covers 100 percent of the DCI-P3 and sRGB color gamuts, as well as 97 percent of AdobeRGB, ensuring that any pictures and video material you edit on the device have stunningly accurate colors.
It can also reach a peak brightness of roughly 550 nits, while the 7,000-nit warranty for OLED burn-in is based on 200 nits. If you're worried about burn-in, rest assured: the gadget includes built-in pixel refreshers and even comes pre-loaded with Dark Mode.
Even after a week of using the Asus ProArt Studiobook 16 OLED as a daily driver, the richness and depths achieved never failed to astound us. The screen is also 16:10, which is soon becoming the new standard because of the productivity increase that the extra height can provide by providing you more room to work with different programmes.
The addition of a 120Hz refresh rate to the 60Hz refresh rate would have been the icing on the proverbial cake (or even 90Hz). Increasing the refresh rate would make the screen feel smoother, but it wouldn't be useful for anything other than gaming, which the Studiobook isn't designed for.
Dial and Touchpad
Aside from these essentials, there's the Asus Dial, a visually appealing tactile dial. It's a textured knob with the outside edge sunk slightly into the chassis so the top is flush with the keyboard deck. It spins smoothly while also providing tactile feedback in the form of a gratifying ratcheting sensation.
When you're merely browsing the web or on the Windows desktop, pulling down on the dial brings up a digital radial menu, where you can click to select screen brightness or audio volume, then change them by rotating the dial.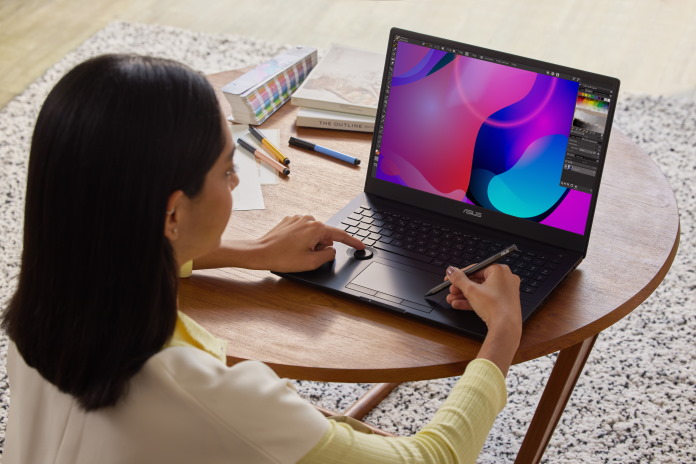 That's a nice bonus, but Adobe Creative Suite is where the Asus Dial really shines. When you push the dial when Photoshop is open, it brings up a unique menu that includes a brush options group, layer zoom, and undo. Time axis adjustment, layer browsing, moving through the timeline, and other features are available in After Effects.
Each application has its own set of choices that are specific to that product, making your process more efficient. It's possible that your muscle memory for keyboard shortcuts is faster (or will be at first), but keeping one hand on the touchpad and the other on the dial to swiftly switch tools becomes more comfortable. Although this concept is unique to laptops, it is reminiscent of Microsoft's Surface Dial, which was designed for the company's Surface Studio desktop and Surface Pro tablets.
In addition, the ProArt's touchpad has three mouse buttons instead of two, including the center button, which is popular with CAD software and other independent software vendor (ISV) applications. The left and right buttons are standard left- and right-click buttons, respectively, with the central button acting as a "hold" button.
Also Checkout: 8 Best Live Wallpaper Apps for Windows 10
Performance
A quick peek at the specs – a high-end 3.3GHz octa-core AMD Ryzen 9 5900HX processor, Nvidia RTX3070 GPU, 32GB of DDR4 RAM, and a RAID0 SSD array – suggests the StudioBook 16 is more than capable, and it was.
This eight-core CPU is commonly seen in high-end gaming devices, which isn't surprising given that many creative programmes (particularly 3D ones) have similar hardware requirements to a AAA game. If you're searching for processing power, there aren't many solutions that will outperform it in both benchmarks and real-world scenarios.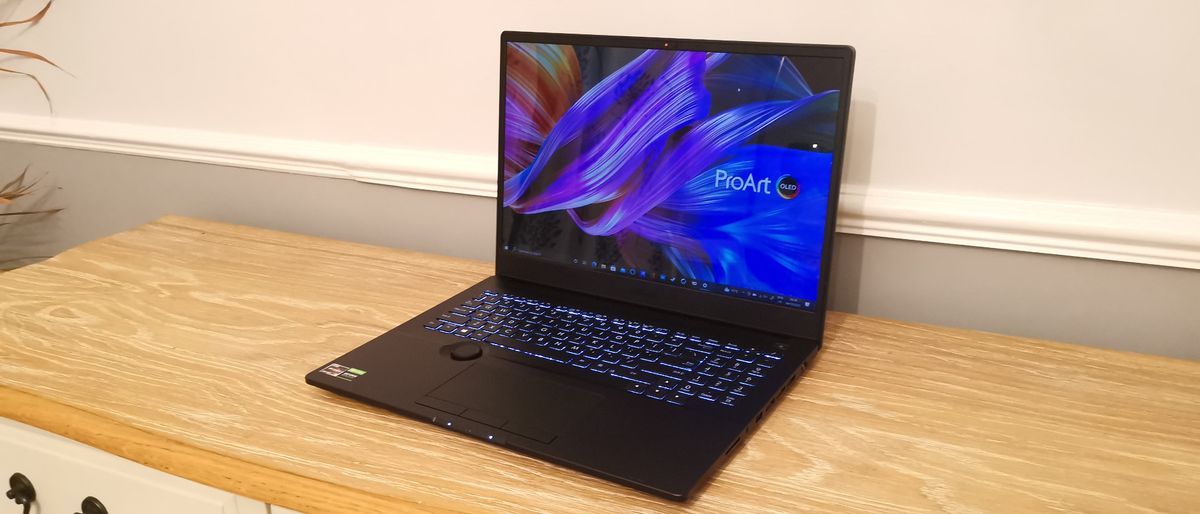 The ProArt Studiobook 16 OLED ate through every application we tested, with seamless performance across Maya, Blender, and Adobe Photoshop, thanks to the RTX 3070 graphics card and 32GB of memory.
Battery Life and Webcam
Things start to break apart when it comes to battery life, but only if you didn't go into this with realistic expectations. In a synthetic PCMark 10 simulation of everyday tasks, the Asus ProArt Studiobook 16 OLED lasted around 6 hours and 4 minutes, while doing various graphics-based tasks took an average of 5 hours and 54 minutes.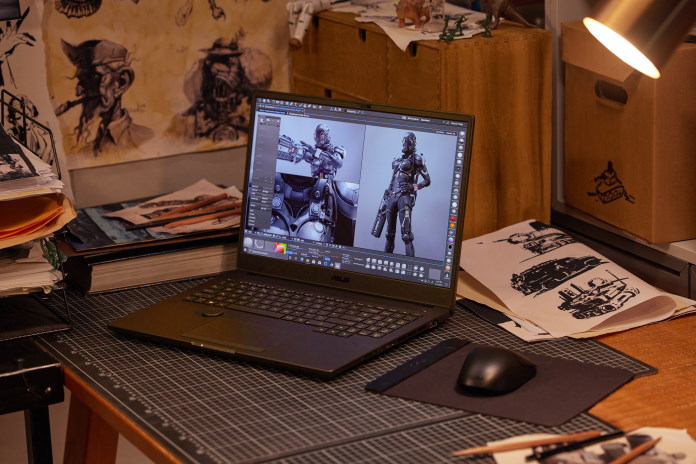 That may appear low, but the internal components and OLED display are both particularly power hungry, therefore this is the estimated operating time on battery power alone. It's simply not possible to prolong the battery life while also powering all that demanding electronics without adding a larger battery to the gadget and increasing its thickness and weight.
The inbuilt webcam is 720p, which is good, but 1080p webcams are becoming more common in laptops, and they provide much more information. It does, however, include a built-in privacy shutter for those who prefer to hide their webcam when not in use. The image quality is a little grainy, and the sensor clearly suffers in low-light situations, but it'll be enough for business meetings or the occasional family call.
Also Checkout: Best Gaming Monitors In 2021 To Boost Your Gaming Setup (Top 10)
Verdict
The Asus ProArt Studiobook 16 OLED is designed for industry professionals or students with a little more cash who want a condensed desktop workstation rather than a tiny, lightweight ultrabook, and it certainly meets the bill thanks to its near-desktop performance. We doubt you'll be disappointed if you can get your hands on one.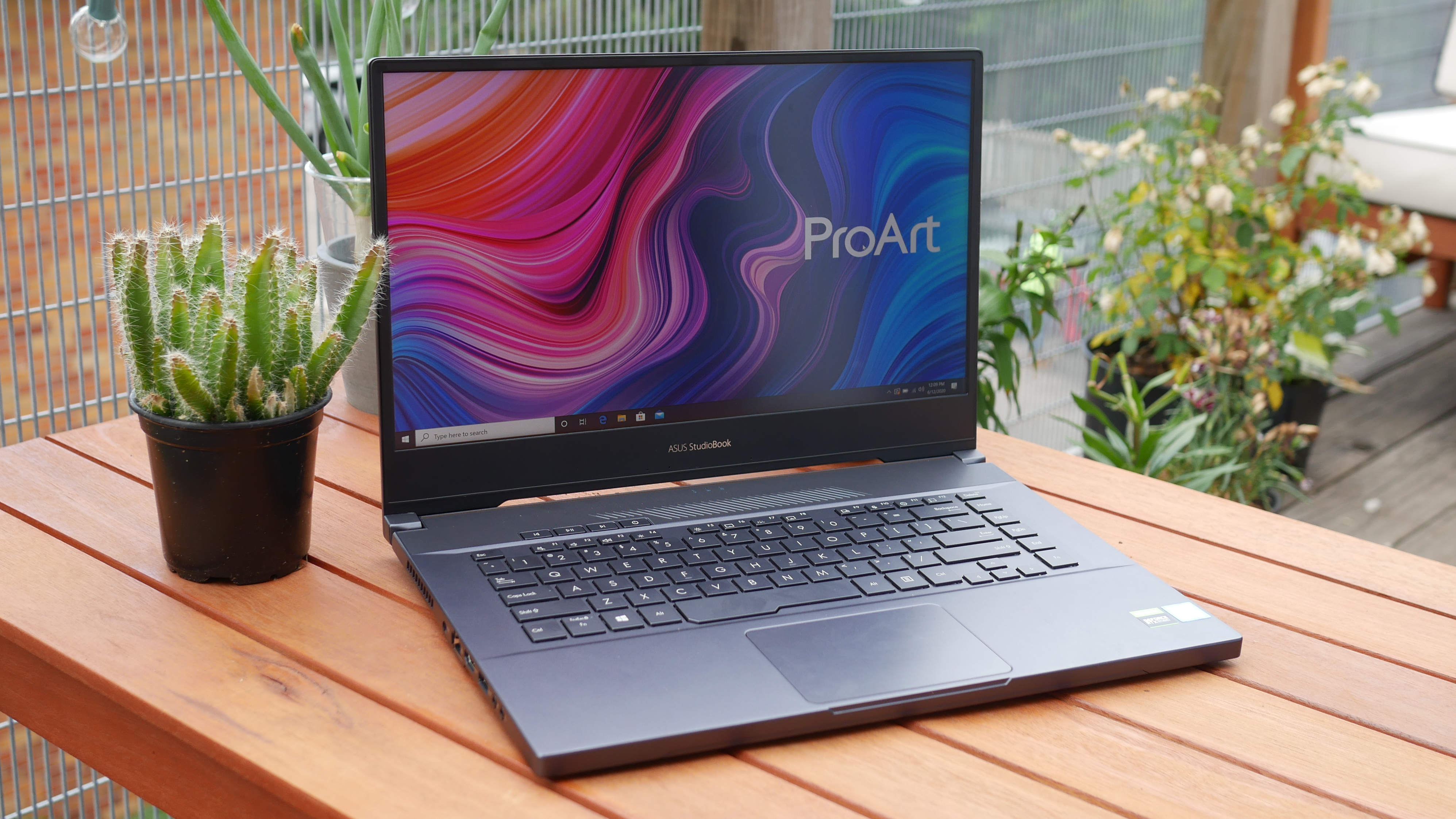 The cost is also a matter of opinion. Yes, it's expensive, but there are more expensive laptops on the market that don't match the Asus ProArt Studiobook 16 OLED's creative optimisations and features (we're looking at you, Apple), and while the asking price is high, you really are paying for what you get, so it's not an unreasonable price tag.
While the Asus dial now lacks compatibility for apps other than the Adobe creative suite, there's no guarantee that it won't be added in the future, especially since the laptop hasn't been formally released. Even if it's limited, the present capability covers four of the most generally used creative applications, so chances are you use at least one of them.
Also Checkout: Dell XPS 13 Review: A Powerhouse