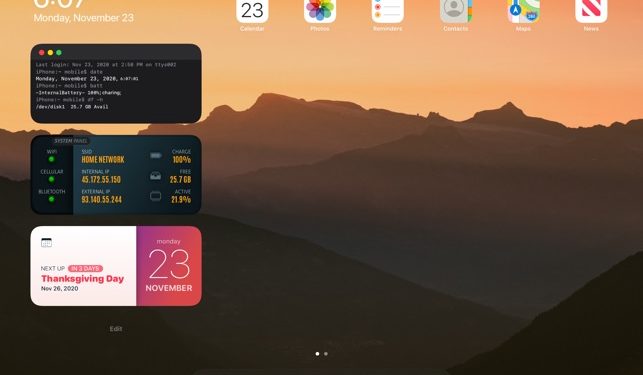 What is Widgy App? 
Home screens can be pretty boring and useless at times. We may be out of place at times, and we may simply try to find a specific app and not be able to find it, which can be irritating when the app has similar color themes. But don't be concerned. What if I told you that we have a secret code of magic that allows you to make your widgets in your style? You'd be surprised. If you want to make your widgets, we wholeheartedly recommend this app.
Widgy, an iOS app, transforms your home screen into one of the most innovative home screens available. Personalize it in your way. Add a small amount of paste or nude colors. You can create any type of widget you can think of that will perfectly match the rest of your aesthetics. Personalize each widget with an anime, minimalist, or boho touch. All of the information you require can be easily accessed via a widget you created. You don't have to clog your screen with irrelevant information; it's just the way you want it.
Main Highlights
Share your work with an ever-expanding community.
Import widgets and customize them to your preferences.
Each element's every aspect is under your control.
Features of Widgy App
Widgy has all of the data sources you require. It provides various elements that can be used to help you shape a widget.
Data sources that display system information to the weather report are also supported.
And, for each of these data sources, there are a variety of ways to display the data, whether it's a text, a nice chat, or something else.
Everything can be customized, but there aren't many templates to choose from.
With a few taps, you can share widgets privately with your friends or publicly with all Widgy users.
You can share your widget as a URL, QR Code, or file, or you can publish it for all Widgy users to see in the Explore section.
It has an easy-to-use interface with no hidden buttons.
Why choose WidgyApp? 
This app is the best in the business because you don't have to be a professional designer to use it. All you need is a vision. Once you've figured it out, just experiment with different elements and combine them to add your creative flair. Choose any data source, add effects, and place it wherever you want. Then keep repeating and incorporating new elements. This way, you'll be able to make a perfect widget.
WidgyApp Reviews
Frequently Asked Questions
How do I make a Widget appear on my home screen? And can this be done with three statuses instead of two?
On your home screen, enter jiggle mode, then tap the + in the upper left, then search for widgy and add the widget you want. Check that you've assigned the widgy to that slot in the app's Manage tab.
It sometimes depends if in low power mode, charging, and not charging, then yes. You'd need to turn off charging and LPM, then turn on LPM and charging messages for the circle character. Then, place a text object in low power mode on top of the one in charging mode.
Is it possible to change the color based on the status?
The background color can be changed, but this method does not work for changing the color of the symbol itself.
How do I make a symbol vanish based on WiFi status?
To begin, you would change the WiFi on the status of a message to the Unicode symbol and the WiFi on the message to an empty text. When WiFi is turned on, the empty text should be displayed, revealing the symbol. When WiFi is turned off, the Unicode character should be displayed, covering the symbol and giving the impression that it has vanished.
What is the difference between a preview and a layer list?
Widgy editor is made up of only two parts. The preview as well as the layer list. When you edit a layer, you get a couple of different sections that let you change the layer's appearance and data. There are several special things you can do to the layer in each section. The Preview will always show you a live preview of how the widget will appear on your home screen, so you won't have to switch back and forth between the editor and the home screen.
Widgy App Download

Also Checkout: FastBot App Review 2022 | Diet-Free Weight Loss

Source: Appedus