You'll need to use a cryptocurrency exchange if you want to purchase or sell cryptocurrencies. These online services are similar to stockbrokers in that they allow you to purchase and sell digital currencies such as Bitcoin, Ethereum, and Dogecoin. With minimal costs and solid security features, the top cryptocurrency exchanges make it simple to purchase and sell the currencies you desire.
It's vital to consider supported currencies, pricing, withdrawal choices, and security when choosing the best cryptocurrency exchange for your needs, which is what we did while compiling this list of the best cryptocurrency exchanges.
Here are some of the best cryptocurrency exchange apps-
1. Pionex
With 18 free trading bots, Pionex is one of the world's first exchanges. Users can automate their trading 24 hours a day, seven days a week without having to check the markets. It is one of the largest Binance brokers, aggregating liquidity from Binance and Huobi Global. It provides a number of robots, including Smart Trade Bot, Grid Trading Bot, Trailing Sell Bot, Spot Futures Arbitrage Bot, Martingale Bot, Rebalancing Bot, Dollar-Cost Averaging (DCA) Bot, and others. 
It allows for manual trading via crypto-to-crypto conversions. Its cryptocurrency trading bot is an automated programme that executes buying and selling orders without the need for human intervention. It carries out this execution when certain, pre-defined market conditions are met.
2. Binance 
In terms of trading volume, Binance is among the top five largest cryptocurrency exchange apps. It supports 150 cryptocurrencies and coins, including the most popular cryptocurrencies and coins such as Bitcoin, Ethereum, Litecoin, and its own BNB coin. It is now available in the United States, Europe, Australia, and Africa. This year, more than 100 million people have used the cryptocurrency exchange, according to the exchange. It supports over 100 cryptocurrencies for trading and offers two-factor authentication.
It also allows crypto traders who want to trade cryptocurrencies to use charting and indicators. Unlike Bisq, it is not decentralised, which means that you will not have complete control of the crypto wallet because you will not have access to the crypto wallet keys – these are kept by the company. Binance is available in over 180 countries around the world, but it is illegal in the United States.
Also Checkout: 8 Best Photo Editing Apps for iPhone
3. Prime XBT 
The PrimeXBT trading platform is the best in class, with access to global markets and round-the-clock support. You can also earn money by referring friends to this platform. It reimburses them for up to 50% of their trading fees. Convesting is a smarter way to trade in which you can choose from the best performing traders and automatically copy their trading activity. 
You can earn extra money by allowing others to follow your trades. PrimeXBT is a platform for trading global financial markets using Bitcoin, USD Tether, USDC, and other cryptocurrencies. With an account, you will have access to 50+ markets for trading, including cryptocurrencies, stock indices, commodities, and so on. PrimeXBT has received numerous international awards for providing superior online trading services around the world.
PrimeXBT will provide access to a wide range of markets. It charges low fees and offers faster order execution as well as advanced platform features.
It offers sophisticated trading tools.
4. Fixed Float
FixedFloat is a simple and user-friendly exchange platform that provides tools for making full use of digital assets. FixedFloat can provide a flexible tailored solution based on your needs. A dedicated customer support team is part of the service. The solution is designed to be robust and to process data quickly.
FixedFloat supports a wide range of currencies, including Bitcoin, Tether, USD Coin, and others. Processing is entirely automated. FixedFloat is cross-platform compatible.
It facilitates digital asset exchange through the use of a lightning network.
Also Checkout: 8 Best Live Wallpaper Apps for Windows 10
5. ChangeNow 
ChangeNOW is a platform for limitless non-custodial cryptocurrency exchange. It offers the service of converting Bitcoin to Ethereum, Ripple, XMR, and other cryptocurrencies. There is no need to create an account to use this service. It does not keep any money.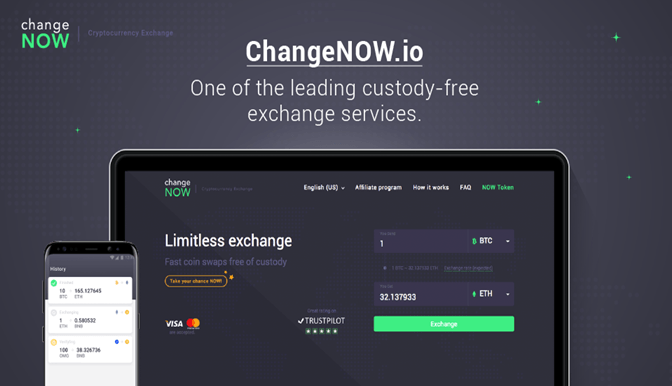 More than 170 coins will be available for exchange. It places no restrictions on the exchange and allows you to exchange as much as you want. With its fiat option, it allows users to purchase cryptocurrency using Visa or MasterCard through a third-party partner. More than ten thousand currency pairs are supported. It offers a RealRates system that is both fast and secure. It is a completely secure platform that offers non-custodial services and does not store funds. It enables instant crypto exchange.
6. Cash App
Cash App by Square is a popular iOS and Android app for sending and receiving peer-to-peer money in the United States, though it is now available in many more countries. It does not charge for money sent or received via bank accounts or debit cards, but it does charge a 3 percent fee for credit card payments and a 1.5 percent fee for bank instant deposits. It currently functions as a crypto exchange, allowing users to buy and sell crypto within the app, though it currently supports only Bitcoin, with the promise of adding support for other cryptocurrencies in the future.
It is peer-to-peer, which means you can transfer money directly from your wallet to other users without the use of a middleman. BTC users have a high transactional limit of $100,000.
Sending and receiving money through banks is inexpensive. Credit card users will pay a high price. For the time being, only BTC and no other cryptocurrency are permitted.
7. Coinsmart
Coinsmart is a digital currency exchange that makes it simple to buy and sell cryptocurrency. It allows you to instantly access your Bitcoin payment and cash. Using SmartPay Invoicing, this application allows you to invoice your customers quickly and easily.
Supports a variety of cryptocurrencies, including Bitcoin Cash, XRP, Litecoin, and others. Live Support is available 24 hours a day, seven days a week. With a single click, you can trade any currency. It processes all Fiat withdrawals in a matter of days. Allows you to place custom orders with ease. This platform is available on both mobile and desktop.
Also Checkout: Top 7 Best Ultrawide Monitors In 2021: Delivering The Best Screen Experience