VPNs, or Virtual Private Networks, are extremely valuable networking technologies, and there are numerous reasons to use VPN software. They can safeguard your online identity, let you surf safely even on sketchy WiFi networks, help you evade many regional limitations on websites, access banned content on the internet, and much more. So, if you want to safeguard your privacy while accessing the internet on your iPhone in 2021, here are the 12 best free VPN apps for your iPhone. In this post, we have compiled a list of the Best Free VPN Apps for iPhone. 
While all of the apps listed below are premium, we are highlighting them because of their extensive free plans. They each handle their free plans in a unique way. While some will limit your usage, others may limit you to using only a subset of their servers. Others may impose a speed limit on the connection.
Let's into the list of Top 8 Free VPN Apps for iPhone-
1. Proton Virtual Private Network
Proton VPN is unquestionably the finest free VPN app for iPhone. VPN can provide you with many incentives, not the least of which is that the free tier of Proton VPN is fully functional. You get unlimited bandwidth for free when you use Proton VPN. 
Furthermore, you can choose between servers in the United States, Japan, and the Netherlands, allowing you to browse websites on three distinct continents. Obviously, Proton VPN supports a larger number of servers. It actually has over 560 servers in 43 countries, but accessing them requires a paid subscription.
Pros:
Free unlimited bandwidth

The no-log policy

Encryption with AES-256 bits
Cons:
The iPhone app lacks features such as the Kill Switch.

Paid plans are rather pricey.
2. Windscribe VPN 
Windscribe VPN, another free iPhone VPN app, has numerous reasons to make it your go-to VPN on your iOS device. Windscribe on your iPhone employs double-hop encryption, which means that your data is encrypted twice and passes through two servers before reaching the internet.
Windscribe VPN includes a kill switch, which ensures that your data will never leave your VPN tunnel. It also supports split-tunnelling, which allows you to connect to both public and private networks at the same time. It also employs SHA512 encryption to keep your data safe. Windscribe VPN additionally protects against WebRTC and DNS leakage. Windscribe VPN's free edition includes 10GB of monthly data, which is one of the more generous packages offered by apps on this list. It also supports P2P servers and torrenting.
Pros:
The kill switch

Hop twice 10GB free data with SHA512 encryption

The no-log policy
Cons:
Based in Canada, we may be required to disclose your information with government agencies.
Also Checkout: 8 Best Photo Editing Apps for iPhone
3. Hide. me VPN
Hide.me VPN is another free VPN app for iPhone that I recommend you try. Hide Me provides a slew of outstanding features, even in its free tier, making it a strong contender for the best free VPN app. Unlike some other free VPNs, Hide.me does not display advertisements to you, even in the free tier. You can choose from five different places, and Hide.me has a strict no-logs policy to protect your privacy.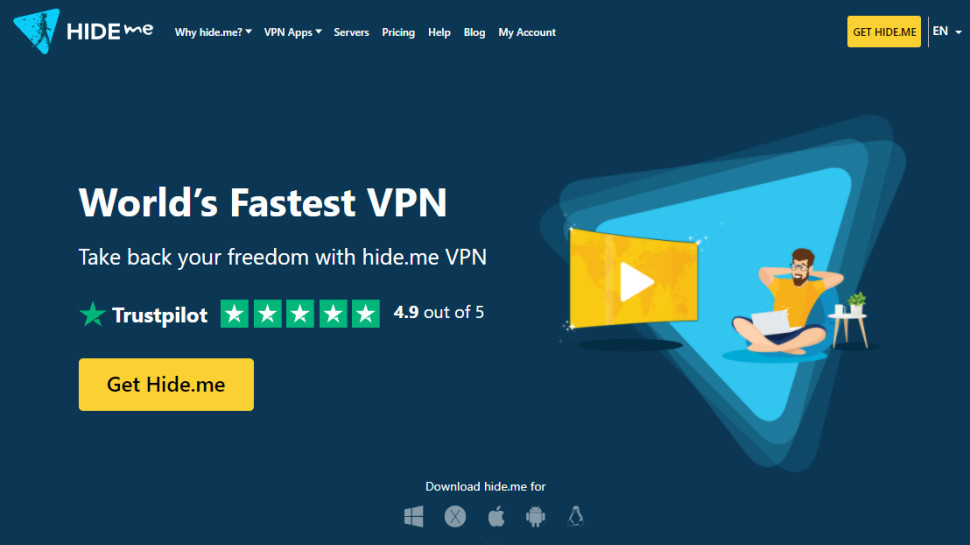 It also has split-tunnelling, AES-256 encryption, and compatibility for different VPN protocols such as IKEv2, OpenVPN, SoftEther, and SSTP. The free version of the service provides 10GB of bandwidth per month, which is quite adequate. However, you can upgrade to a subscription plan to gain access to additional services such as fixed IP, dynamic port forwarding, and more, as well as unlimited bandwidth.
Pros:
10GB free bandwidth is supported via the kill switch.

No advertisements, No logs
Cons:
The free plan only allows for one simultaneous connection.

It is not compatible with Netflix.
4. TunnelBear 
TunnelBear is a well-known VPN application. The TunnelBear iOS app allows you to connect to a VPN and browse safely from a variety of places. You can let the programme choose the optimal location to VPN from, or you can specify a specific location. 
TunnelBear's free subscription provides 500 MB of bandwidth per month, which may seem insufficient if you aren't a heavy user. Furthermore, the programme uses AES-256 bit encryption and has robust servers in over 22 countries, many countries. In a word, if you're looking for a simple and safe free VPN for your iOS device, TunnelBear is a solid candidate.
Pros:
It's a pretty cool user interface.

Protects personal data in a critical way.

Encryption with AES-256 bits
Cons:
The freemium version only provides 500 MB of data per month.

Servers are only available in about 22 countries.
5. Hotspot Shield 
Another iOS VPN app that has garnered great ratings in the App Store is Hotspot Shield. When you initially use the app, you are prompted to sign up (or sign in). If you don't want to create an account, you can skip it. Aside from having one of the fastest VPN servers, the programme supports over 70 locations. Even in terms of security, Hotspot Shield is up to the task, thanks in large part. 
Furthermore, it is linked with 1Password, one of the best password managers, to help you manage your passwords easily while still keeping them safe from prying eyes. However, keep in mind that the free edition of Hotspot Shield does not have much to offer. To utilize it, you must subscribe to the pro version (one-year plan: $7.99/month).
Pros:
Encrypted transmission of military-grade

1 Password integration

It is one of the fastest VPN servers available.
Cons:
Not as simple to utilize

The design language may be improved.
Also Checkout: Best Gaming Monitors In 2021 To Boost Your Gaming Setup (Top 10)
6. SurfEasy VPN
This VPN got the best rating in the app store and it is unquestionably a good VPN app. By default, the software selects the most optimal server location to route your traffic through, but you can alter the location to a country of your choice if you want. Your personal information is kept safe thanks to the dependable no-log policy and A-256 bank-grade security.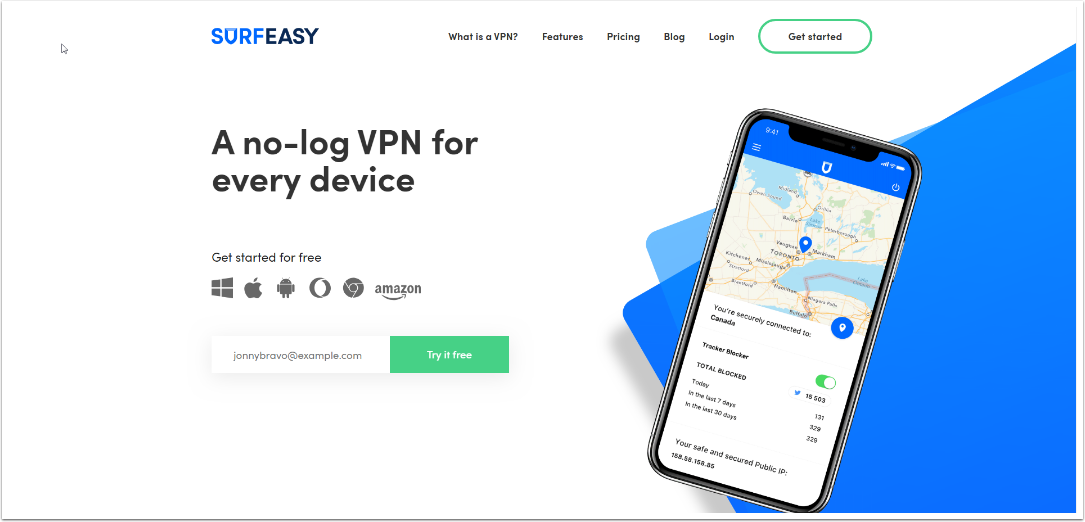 Furthermore, it includes a useful tracker blocking mechanism that keeps cookies (used by data trackers) at bay, allowing you to browse the web with the necessary security. Add to that WiFi hotspot protection and support for over 28 countries, and SurfEasy transforms into a decent VPN that can meet the demands of the majority of people. However, keep in mind that the freemium edition of this VPN service includes a number of limitations and you need to purchase it for all features.
Pros:
Rapid connection

a dependable no-log policy

A-256 bank-grade security for WiFi hotspots
Cons:
At times, it appears to be less responsive.

Occasionally disconnects from the network automatically
7. Betternet
Betternet is a simple, easy-to-use VPN app with a lot of excellent feedback in the App Store. The app's freemium version is limited and includes advertising, which you can remove with in-app purchases ($35.99/year). It encrypts all of your data to protect it from data trackers. And, thanks to the trusted no-log policy, you shouldn't have to worry about your sensitive data being misused.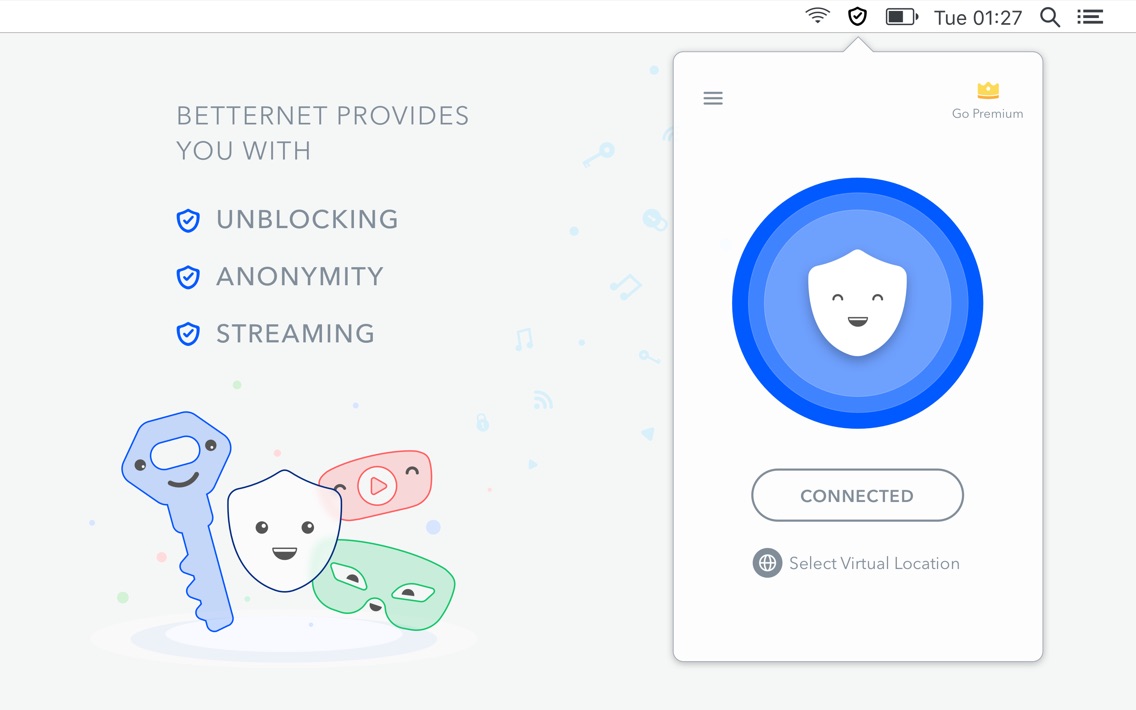 Having said that, it's worth noting that Betternet does track the domain names of websites you visit, albeit this information is anonymized and cannot be linked to estimate your location, despite Betternet's assertion that it does not log IP addresses at all. Aside from that, the programme includes servers in a variety of locations and does a good job of instantly connecting to the quickest VPN server so that you can browse the internet.
Pros:
Encrypts all of your data

Connects to the fastest VPN server automatically.

Assurance of a no-log policy
Cons:
The freemium version is really simple.
Also Checkout: 10 Best Keyboards that you can buy in 2021
8. Touch VPN
Touch VPN is another VPN app for the iPhone that you can test. While it does not have a lot of features, it is enough for protecting your data. It is the data compression technique, which can be quite useful for people who are always looking for ways to reduce data usage other than simply turning on low data mode on their iPhones. 
It also has a reliable ad blocker, which ensures that you can browse the web without becoming bogged down by advertisements. Although this VPN app is free, you will need to pay some money ($29.99/year). It is a dependable VPN programme for iOS and is well worth a shot.
Pros:
Gives your data the necessary protection.

The excellent data compression algorithm

A built-in ad blocker
Cons:
The interface appears to be outdated.

Those looking for a more personalized experience may be disappointed.
While utilizing VPN programmes frequently slows down your internet connection, it's still a good idea to utilize VPN services (the good ones), especially when browsing on a public network. You can access the restricted content through a VPN. There are many benefits to using the VPN and you can access it through the internet. So, if you're even somewhat concerned about your online privacy, you should strongly consider utilizing a VPN app for your iPhone.

Also Checkout: 8 Best Camera Smartphones in 2021