Wallpapers allow us to personalise our phones to suit our tastes. Finding the best live wallpaper for your smartphone, on the other hand, can be difficult. They bring life to the screen and improve its appearance by around 100%. Live wallpaper apps allow users to express themselves more freely than they can with 2D wallpapers.
When it comes to a personalised home screen layout, the wallpapers you choose for your iPhone play a big role in the look and feel of your home screen. So, if you're seeking some stunning backgrounds to customise your home screen to your heart's content, you've come to the right place.
Live wallpapers bring amazing dynamic patterns, soothing time-lapse natural scenes, dramatic cosmic explosions, and more to life on your screen.
So, We have listed the 12 Best Live Wallpaper Apps for iPhone —
1.  Live Wallpapers Forever
The Live Wallpapers Forever app is one of the best live wallpaper apps for iPhone, with a wide assortment of live wallpapers ranging from muted to boisterous. The software is well-designed, with numerous categories to help you select your favourite live wallpapers. The only drawback is that unlocking the pro version, which removes the adverts and gives you access to all of the premium wallpapers, is a little too expensive. Weekly, monthly, and yearly subscriptions are available for $7.99, $19.99, and $49.99, respectively, and provide unfettered access to a full premium library of live animated wallpapers. CLICK TO DOWNLOAD NOW 
2. Live Wallpapers Now
This is one of the most widely used apps for creating live wallpaper. It not only gives you access to a large number of wallpapers, but it also lets you turn your own photos into live wallpapers. If you like your accessories to match, this fantastic software lets you look for wallpapers based on the colour of your cover, photo, or even your accessory and attire. Subscription choices for the premium membership include $1.99 for a week, $3.99 for a month, and $19.99 for an annual membership. CLICK TO DOWNLOAD NOW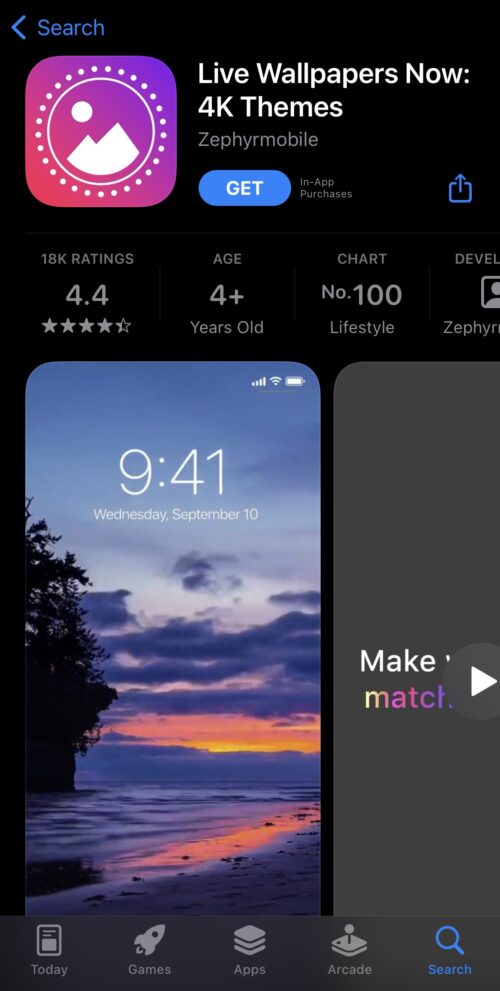 3.  Live Wallpapers for me
This fantastic programme includes a well-organized selection of wallpapers that makes selecting a wallpaper a breeze. The best thing is that this app's live wallpaper collection is refreshed on a regular basis. It is free to use with advertisements, but there is a paid version that unlocks all premium wallpapers and removes commercials. Subscriptions are available for $2.99 per week, $7.99 per month, and $29.99 per year. New animations and themes are released on a weekly basis, ensuring that you never run out of new live wallpapers to use. CLICK TO DOWNLOAD NOW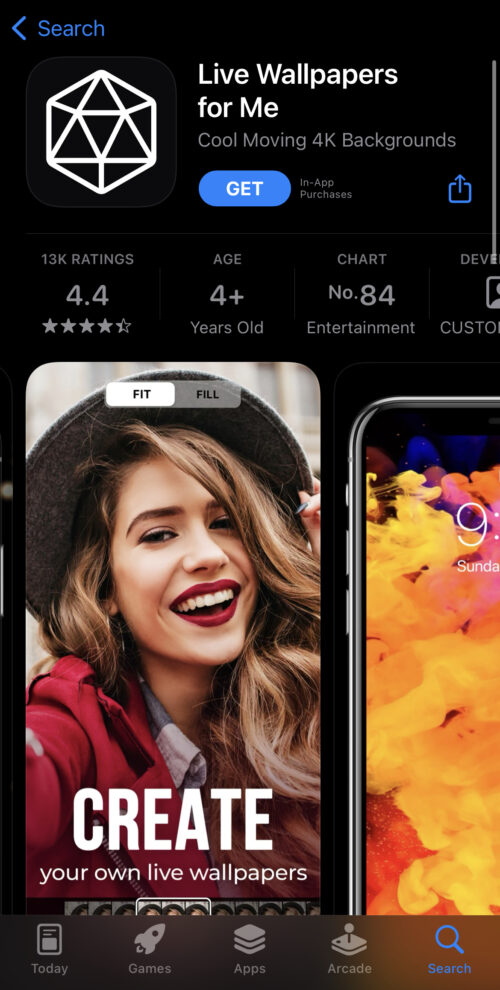 4.  Everpix Cool Live Wallpaper 4‪K
This application, as the name implies, contains a selection of over 4K wallpapers. So there's a one-in-a-million chance you won't find a wallpaper you like. The wallpapers feature spectacular animations, stunning visuals, and a wide range of creativity. It displays a sample of the wallpapers on your screen to assist you in making a decision. Furthermore, this application's wallpaper collection is refreshed on a daily basis. There are three subscription types available for Everpix: – $4.99 per week (with a 3-day free trial); – $14.99 per month; – $49.99 per year. CLICK TO DOWNLOAD NOW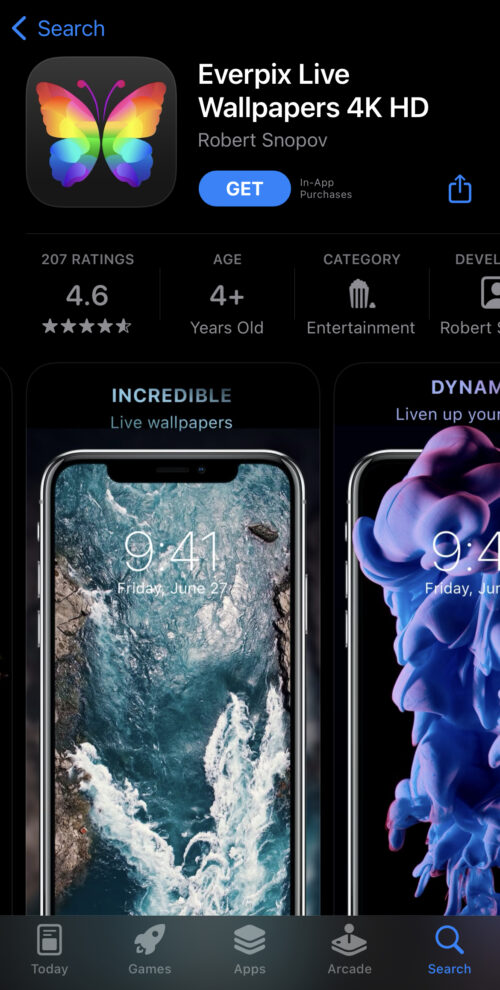 5.  WOW Pixel
This live wallpaper will be just up your alley if you like retro pictures. Wallpapers from 8-bit adventures can be found in the WOW Pixel live wallpaper programme. There are a few notable heroes, each with their unique tale arc depicted in the live wallpapers. The live wallpapers on this page are all about expressing emotions. The best part is that these live wallpapers look great not just on the iPhone X range of devices, but also on iPhone 6s and later generations such as the iPhone 7, iPhone 8, and others.
The subscription cost for this app is $29.49/month. CLICK TO DOWNLOAD NOW

6. Live Wallpaper Maker
This incredible 5-in-1 programme includes live wallpapers, static wallpapers, a plethora of icons, as well as widgets and a keyboard app. Its vast wallpaper collection may hypnotise any user in a matter of minutes. The nicest aspect about this application is that you may personalise all of the backgrounds to your liking. Furthermore, the thematic packs assist in the selection of appropriate wallpapers for one's needs and aesthetics. Subscription for this incredible app starts from $9.99/month. CLICK TO DOWNLOAD NOW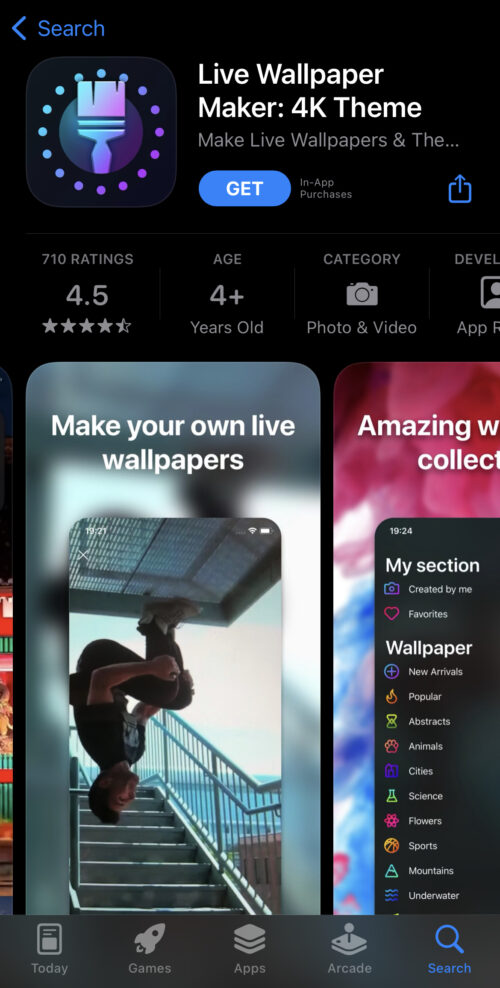 7.  intoLive
Check out the intoLive app if you want greater control over your wallpapers. It allows users to design their own images using GIFs and videos. You may transform any video or GIF into live wallpapers, which look fantastic. You may also use your Mac to make GIFs and use them as live backgrounds. The good part about this programme is that making live wallpapers only takes a few seconds. The intoLive app's live wallpapers look amazing on any iPhone model, from the iPhone 6s to the most recent iPhone 12 and 12 Pro models. The subscription cost for this app starts from $4.99/month. CLICK TO DOWNLOAD NOW

Also Read – 10 Best Cydia Alternatives You Should Try in 2021
8.  Zedge
Zedge is a well-known name in the wallpaper business, and the Zedge app for iPhone includes a plethora of free iPhone wallpapers. Although Zedge has a large number of live wallpapers, most of them are not free to download. To obtain live wallpapers from Zedge, you'll need 10 zedge credits. The software now provides you 10 credits for free, allowing you to download one live wallpaper without paying any money, but you can purchase additional credits to get even more wallpapers. The credits are also reasonably priced; 500 credits are available for $0.99. CLICK TO DOWNLOAD NOW

9.  Volkraft
These fascinating dynamic wallpapers will enchant you with pictures ranging from space to the ocean and everything in between. In addition, it has a large collection of free still backgrounds. Every day, new art and images are posted, and you won't find them anywhere else, giving it that special feel. The UI is very tidy and simple to use, however, the pop-up advertising is a drag. You can, however, pay to remove them in order to get the most out of this programme. The cost of a monthly Pro subscription is $0.99. CLICK TO DOWNLOAD NOW
10. Black- Live Wallpapers
Black, as the name suggests, provides high-quality Live Wallpaper based on a dark theme. It offers roughly 30 different Live wallpapers, some of which are special to the Apple iPhone. For example, each iPhone features a unique collection of Live Wallpapers that aren't available on all iPhones, such as the Live Wallpapers on the iPhone 12 Pro vs. the Live Wallpapers on the iPhone 11. Not to mention that each Live Wallpaper has been carefully crafted and looks fantastic on the iPhone 12's OLED screen. Black is a paid app with a one-time fee of $1. CLICK TO DOWNLOAD NOW

11. Wallpapers Central 
Wallpapers Central is the only place where you can get exclusive Apple Wallpapers. Whether you're looking for iOS 14 wallpapers or iPhone SE wallpapers, Wallpapers Central has them all. The software has every single Live Wallpaper of every iPhone released with a collection of Live Wallpapers. Magsafe animations, special wallpapers, and a slew of originals are all included. Wallpapers Central Pro members have access to Live Wallpapers, and the Pro subscription costs $4.49 for three months or $14.99 for the rest of your life. CLICK TO DOWNLOAD NOW

12. Live Wallpapers Plus HD 4K
Missing out on "Live Wallpapers Plus HD 4k" would be a bad choice if you want one of the best collections of live wallpapers for iPhone. When it comes to having a vast selection of changing backdrops and themes, the app is second to none. They're attractively crafted by experienced artists and include a variety of ingredients to make your iPhone's home/lock screen seem better. Live Wallpapers Plus HD 4k is on the upper end of the scale, costing $12.99 per month or $29.99 per year for the premium edition. However, if you don't mind spending a few additional dollars, it's not a bad option. CLICK TO DOWNLOAD NOW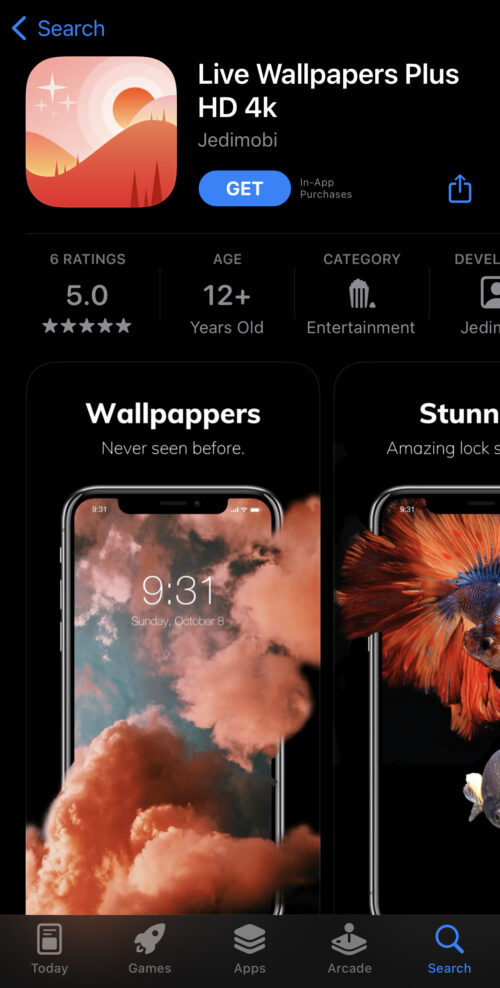 Also Read:  10 Best Cydia Alternatives You Should Try in 2021