Reviews
Laptops
Acer Chromebook Spin 513 Review: Good Or Bad?
The Acer Chromebook Spin 513 interesting is because it doesn't use a low-end MediaTek processor or a recycled mobile CPU, but rather Qualcomm's Snapdragon 7c SoC or "compute platform," which is developed exclusively for entry-level PCs. Here is all you need to know about Acer Chromebook Spin 513 Review.
You can appreciate the excitement around Apple's M1 MacBooks and ARM-based Windows laptops, but ARM-based devices are nothing new in the world of Chromebooks.
Indeed, some of the most popular Chromebooks, such as the early Samsung devices, the old Asus Chromebook Flip C101, and the Lenovo IdeaPad Duet, were built on ARM technology. In this post, we are gonna look at Acer Chromebook Spin 513 Review.
This is a new addition to Acer's mid-range Chromebook Spin series; you won't get the premium 2-in-1 Chromebook experience of the excellent Chromebook Spin 713, but you will get a faster CPU and a larger, better screen than the low-end 11-in Chromebook Spin 311.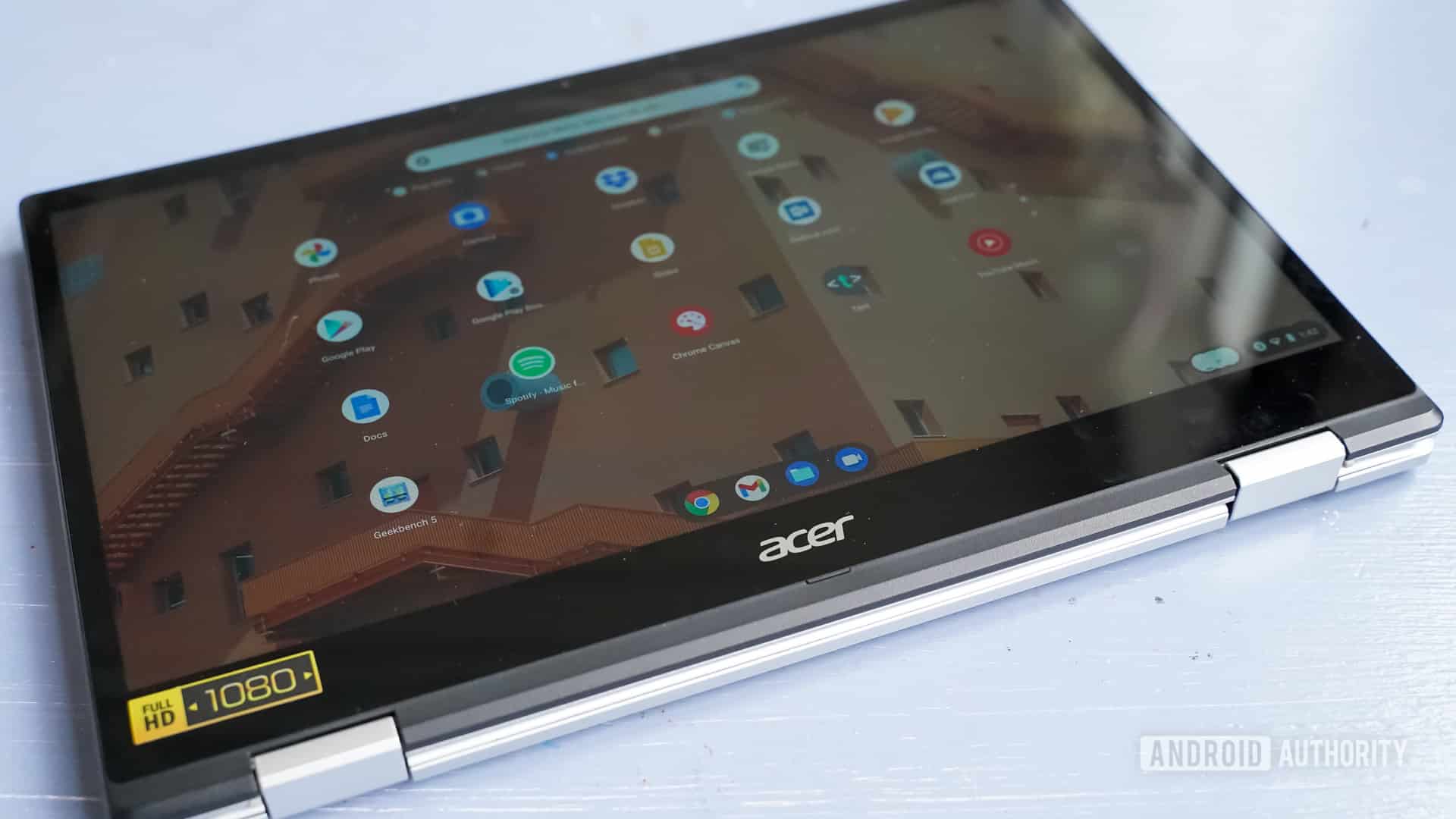 The Spin 513 is a convertible laptop with a 13.3-inch, 1080p screen that can be folded back almost 360 degrees to cover all of the traditional tablet, tent, and stand modes, as well as acting as a regular clamshell laptop. It comes with 4GB or 8GB of RAM as well as a 64GB or 128GB eMMC disc.
Price and competition for the Acer Chromebook Spin 513
At its advertised price of £400, the Spin 513 has little direct competition. Above £500, there are several outstanding convertible Chromebooks, such as the Chromebook Spin 713, the Asus Chromebook Flip CX5, and the increasingly scarce Google Pixelbook Go.
On the other hand, many of the budget competitors are substantially less expensive and are likely to be equipped with inferior 1,366 x 768 displays and Celeron CPUs.
Older 14in Asus Chromebooks, such as the Chromebook Flip C433TA and C434, are at the same price, while Lenovo's beloved IdeaPad Duet is a deal at around £250 to £300, albeit it's smaller and slower.
Review of the Acer Chromebook Spin 513: Design
The Acer Chromebook Spin 513 is a surprisingly tiny device with a more sophisticated appearance and feel than you may anticipate.
Only the lid is made of aluminium, with the keyboard surround and base made of a metallic-looking plastic, but it lacks the ugly, sharp-feeling edges of other inexpensive 13in Chromebooks, as well as any worrying flex in the keyboard or screen.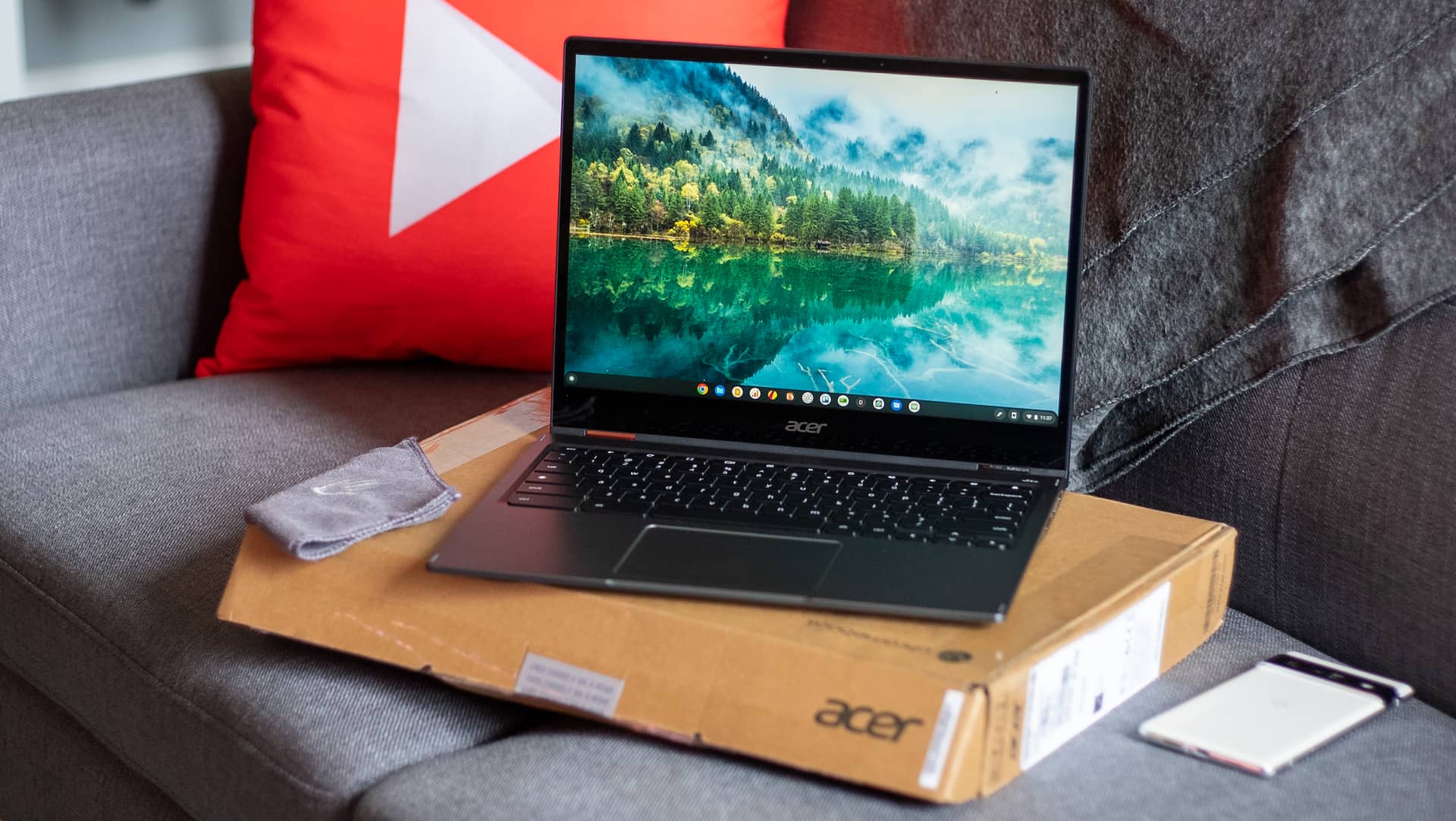 The smooth Gorilla Glass-topped display and tiny bezels also give it the appearance of a more premium laptop, as do the rounded corners and meticulously contoured sides, which help to reduce overall size.
To begin with, there isn't much mass. It is only 310 x 210mm in size and less than 16mm thick at its thickest point. It barely weighs 1.29kg. While this means there isn't much physical connectivity, there is a single USB 3.2 Gen 1 Type-A port as well as two USB 3.2 Gen 1 Type-C ports.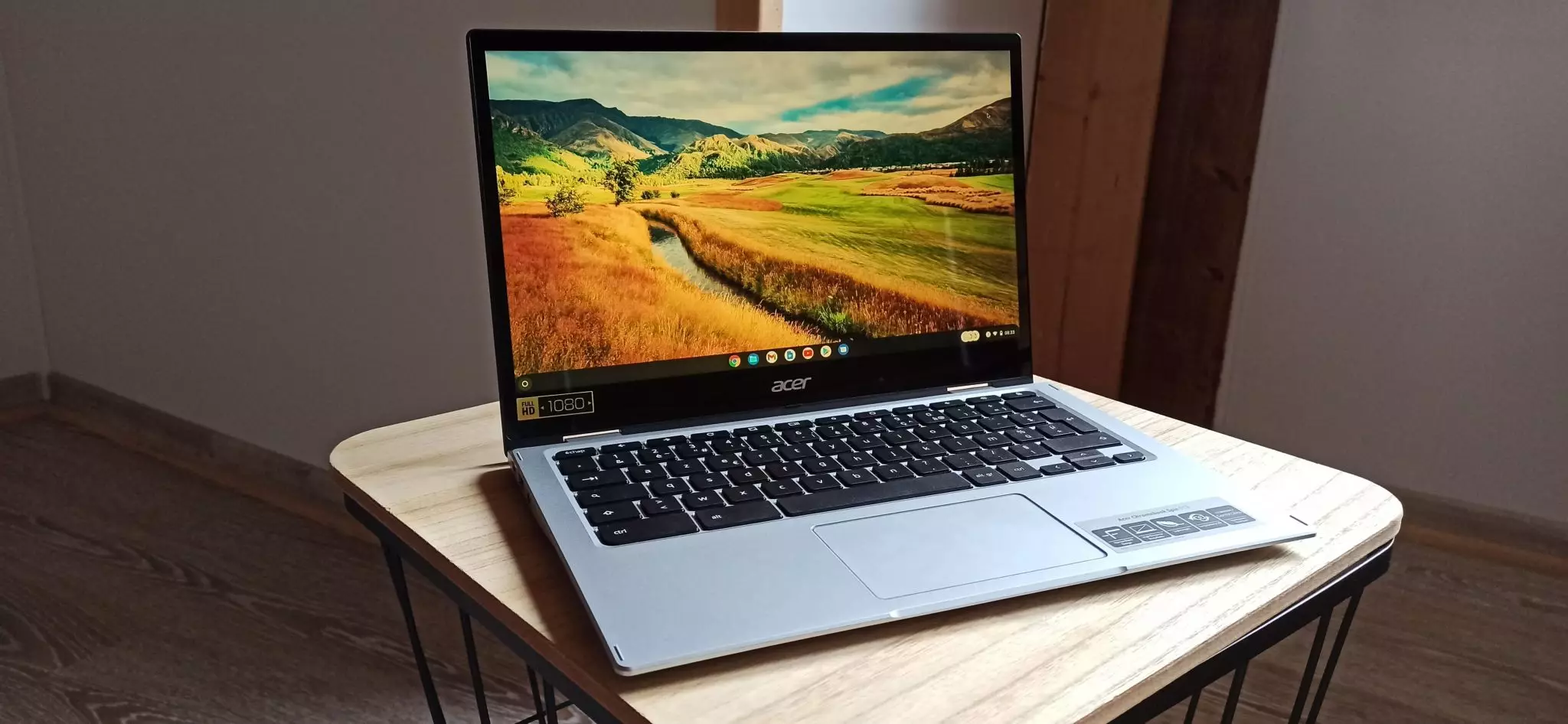 This means you're limited to a maximum bandwidth of 5 Gbits/sec, but you may charge at up to 60W using USB-PD or run a DisplayPort output over one of the connections.
The wireless connection includes dual-band, 2×2 MIMO Wi-Fi 5 and Bluetooth 5.0. Of course, Wi-Fi 6 would be preferable, but that is a restriction of the Snapdragon 7C SoC.
Review of the Acer Chromebook Spin 513's keyboard and touchpad
The keyboard isn't the finest feature of the Spin 513. The keys don't have much travel, and the huge flat keytops wobble somewhat as you type.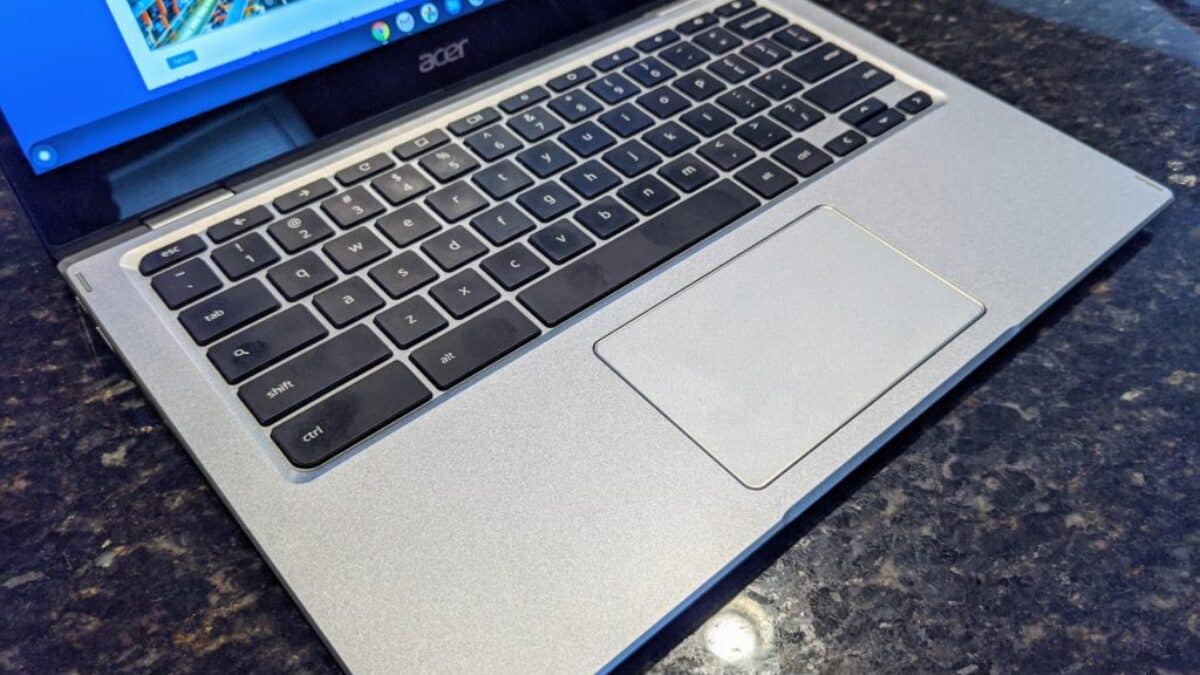 On the other hand, the layout is decent, with no excessively small keys and no annoying bowing or bouncing in the centre of the keyboard. I've used far worse.
While the touchpad isn't huge, measuring only 106 mm by 65mm, I didn't find it to be a hindrance in use. 
Review of the Acer Chromebook Spin 513: Display and sound
If I had to estimate where Acer spent the most money on this Chromebook, I'd say it was on the screen. There's no 1,366 x 768 TN panel nonsense here, just a Full HD, 1080p IPS display.
But let's not get too thrilled. The maximum brightness is 256cd/m2, and the contrast ratio is well around 800:1. Nonetheless, it covers a good 83.9 per cent of the sRGB colour standard, and colour accuracy isn't poor at all, with an average delta E colour variation score of 2.8.
Review of the Acer Chromebook Spin 513: Performance and battery life
Qualcomm does not claim that the Snapdragon 7c is a high-performance chip; rather, it is geared squarely at low-cost, energy-efficient devices.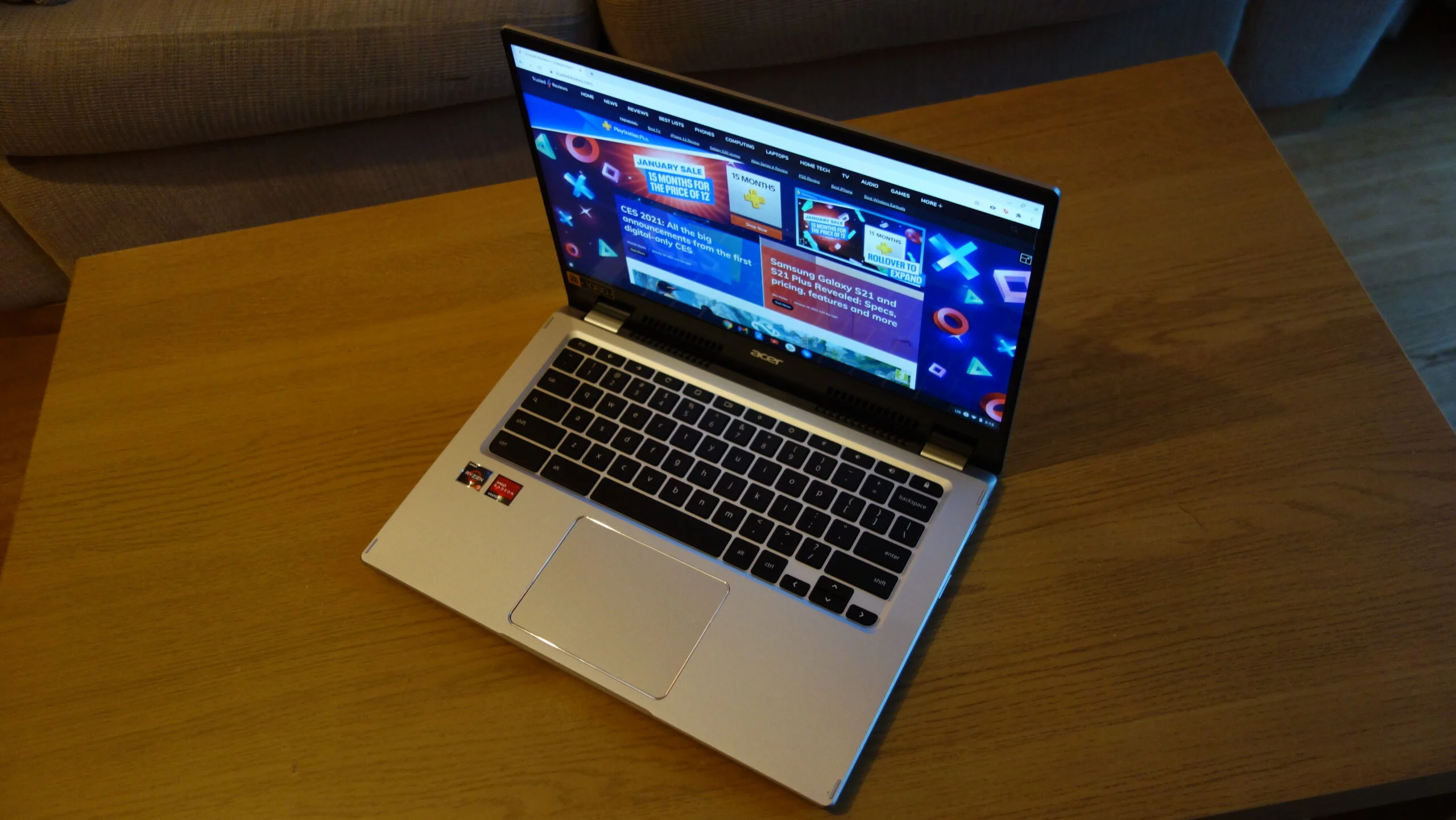 And, certainly, when compared to the Intel Core i3-based Chromebooks available for £100 to £200 more, the Chromebook Spin 513 falls short.
The Asus Chromebook Flip CX5, for example, with a Core i3-1115G4 processor and 8GB of RAM, scored 1,163 on the Geekbench 5 64-bit single-core test and 2,578 in the multi-core test. It received a score of 143 in the CRX part 3 benchmark and a score of 1153.4 in Basemark 3.
CONCLUSION
It's tempting to condemn Spin 513 with light praise. It's not quick, and almost everything about it is decent rather than amazing.
However, when you consider what you get for your money – a neat, slimline design, a nice screen, acceptable performance, and long battery life – it's an appealing option. And, arguably, it's more usable and adaptable than most other sub-£500 devices, whether running Chrome OS or Windows.
With a little more performance, RAM, and storage, the Acer Chromebook Spin 513 would be a truly fantastic Chromebook, but as it stands, good enough is good enough. Here we conclude our Acer Chromebook Spin 513 Review. Hope you like this post.
Also Read: 8 Dangerous Apps For Android That You Should Delete Right Now