Reviews
Tablets
Samsung Galaxy Tab S7+ Review: The Best Android Tablet
Samsung is one of the few companies still producing high-end Android tablets, and the Galaxy Tab S7+ is the most popular model.Samsung is one of the few companies still producing high-end Android tablets, and the Galaxy Tab S7+ is the most popular model.
The Samsung Galaxy Tab S7+ is the market's most competent Android work tablet. It's not just the first phone to enable 5G connectivity, but it's also a performance beast capable of multitasking. It's the best Android tablet you can get right now, with outstanding features, incredible performance, and all-day battery life.
The Samsung Galaxy Tab S7+ is a high-point for the developing Android tablet market, designed to compete with the newest iPad Pro in terms of raw performance, display, and build quality.
There aren't many tablet manufacturers left who employ Google's Android operating system, so Samsung's slates are pretty much the only ones you can use for work. Because Google hasn't done anything to extend Android's capabilities to larger screen sizes, this is the case. 
For your ease, we are here with a review of the Samsung Galaxy Tab S7+
Design and Display: 
It sports a large 12.4-inch Super AMOLED display that supports HDR10+ and 120Hz refresh rate and has a resolution of 1752×2800 pixels. The display bezels are a perfect size: thin enough to seem modern, but thick enough to allow you to comfortably handle the Galaxy Tab S7+ without generating inadvertent touches. Samsung has put a selfie camera to the right of the panel, anticipating that you will use this tablet largely in landscape mode.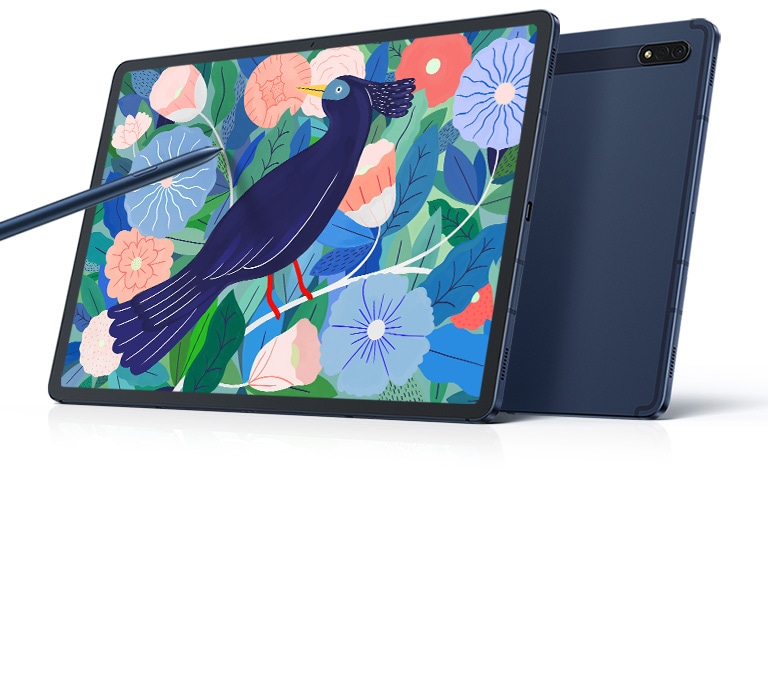 The Galaxy Tab S7+'s Chassis and back are made of aluminum and are available in black, silver, or bronze. Without the optional Book Cover Keyboard Case, it measures 11.25 by 7.3 by 0.2 inches (HWD) and weighs 1.3 pounds. That may appear to be a lot of weight, but the weight is evenly distributed, making it comfortable to hold for long periods of time. On the upper left corner, there's a small camera stack and a magnetic attachment for the S Pen.
Performance:
The Tab S7+ is powered by a Qualcomm Snapdragon 865+ processor. Samsung sells the tablet in storage/RAM options of 128GB/6GB, 256GB/8GB, and 512GB/8GB. A microSD card slot is included, allowing you to extend storage by up to 1TB. Bluetooth 5, dual-band Wi-Fi, 4G VoLTE, and four navigation systems are all supported. The tablet's powerful Snapdragon 865 CPU, along with its 120Hz display, creates an immersive and flawless gaming experience. 
While the Samsung Galaxy Tab S7+ is capable of running most games, its size is not always practical. On this large tablet, casual games with fewer controls were easy to manage. Both Among Us and Asphalt 9 ran flawlessly. The battery did not run out quickly, and the tablet did not become overly warm to the touch. The Galaxy Tab S7+ contains a fingerprint scanner built into the display, which is located near the bottom of the screen. When you place your finger on it, the display lights up, indicating that it is a CMOS sensor.
Battery:
The Tab S7+ has a 10,090mAh battery (far larger than the Tab S7's 8,000mAh battery), which can easily get you through the workday with some battery life leftover. The Tab S7+ lasted 7 hours and 37 minutes in our battery test, which involved streaming HD video over Wi-Fi at full brightness.
Samsung included a 15W charger in the box, which is unexpected given that even some of its budget phones come with higher-capacity chargers. This charger is a little sluggish. In 30 minutes, it had charged the tablet to 17 percent, and in an hour, it had changed it to 32 percent. It takes about 3 hours to charge the massive 10,090mAh battery.
Cameras:
The Tab S7+'s rear camera module consists of a 13MP primary lens with an f/2.0 aperture and a 5MP ultra-wide lens with an f/2.2 aperture. The tablet's front camera is an 8MP sensor with an f/2.0 aperture. The two-camera stacks perform effectively in good light. The 13MP lens produces outstanding images with superb depth of field and color accuracy.
The ultra-wide lens is nearly as good, albeit there is a slight loss of fine detail. The rear cameras perform admirably in dim light. Although our low-light test images showed significant edge grain and lens flares, they were nonetheless acceptable for a tablet.
S Pen:
Unlike Apple's $129 Pencil, Samsung's S Pen comes standard with the Tab S7+. Simply put, the S Pen is amazing. It comes with the Galaxy Tab S7+ and charges wirelessly when connected to the back.
On the Tab S6 Lite, latency has been decreased from 26ms to 9ms. The S Pen's tip is substantially thinner than the Pencil on the iPad Pro, and it has a slight drag to make drawing on the screen feel more natural.
Pricing:
It's still costly, but at $650 (plus $200 for the keyboard), it's considerably more manageable.
If you plan on using your S7 outside of a stable Wi-Fi connection, you can get cellular variants of both models (both support the up-and-coming 5G network), but they'll cost you considerably more.
Verdict:
The Samsung Galaxy Tab S7+ is faster, more stylish, and more inexpensive than Apple's tablet, and it exceeds the iPad pro in some key areas. The strategically placed selfie camera for face-to-face video conferencing, as well as the gorgeous, wide display and 5G capability, all combine to make this a strong contender for the best tablet on the market. 
Yet, the same issue that plagues all Android tablets must be addressed. Because the Play Store has a limited range of apps, this device is only helpful for the most basic, everyday tasks: checking emails, watching entertainment, reading, and browsing the web. The S7+ is a fantastic piece of hardware but is occasionally limited by the constraints of Android software.
Also Read: Beats Fit Pro Review: A Good Sporty