Reviews
Smartwatches
Fossil Gen 6 Review: Latest from Fossil
The Fossil Gen 6 isn't the fitness-focused wearable serious athletes require, despite the presence of high-tech health monitoring technologies like a blood oxygen sensor.
The Fossil watches have been reliable Wear OS devices, focusing on aesthetic design rather than breaking new ground. The new Fossil Gen 6 continues this trend, with a few new features that few others have: the Snapdragon 4100 Plus chipset and, eventually (in 2022), the new Wear OS 3, which blends Google's wearable operating system and Samsung's Tizen OS.
The design of the Fossil Gen 6 is similar to that of the Fossil Gen 5, but if you thought the previous smartwatch was a little too slick, the new Fossil Gen 6 has more noticeable pusher buttons that are simpler to press, as well as guards around the crown and a ridge on the bezel. It's still elegant, even if it doesn't appear to be.
In addition to a faster processor, Fossil has included a wide range of sensors in the Gen 6 to assist with health statistics and other useful functions. Add in significantly faster charging, charging rings that won't slip off the watch (as they have in the past), and other enhancements, and it's easy to see why the Fossil Gen 6 is a significant step forward. It's just a shame that it launches with Wear OS 2.
Price and Availability:
The Fossil Gen 6 watch comes in two colors, each with its own price tag. The Stainless Steel watch costs $319 and has a stainless steel band and body. The black model we tested costs $299 and comes with one of three strap options: Camo Grosgrain (the color we tested), Black Silicone, or Brown Leather.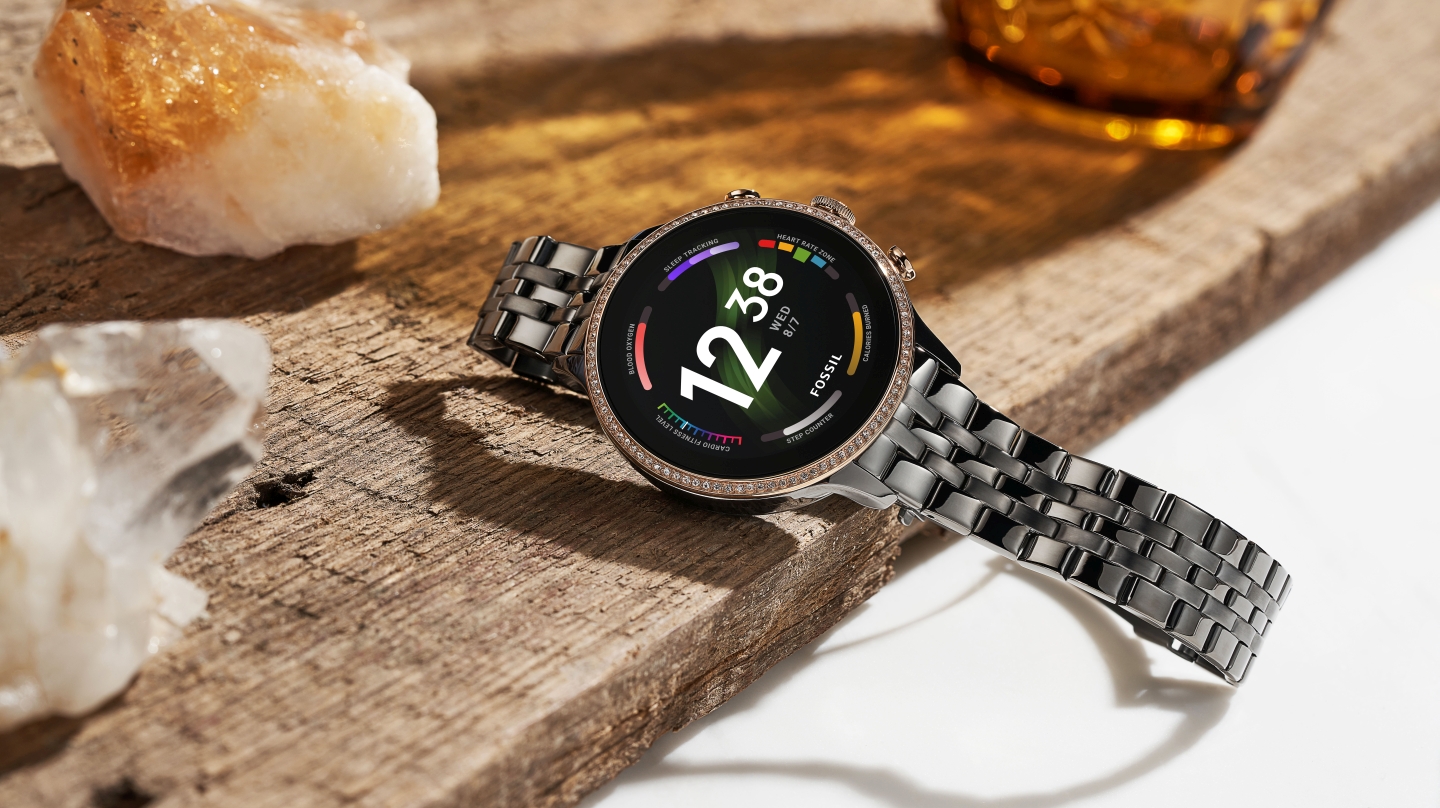 Fossil Gen 6 watches can be purchased directly from Fossil, Amazon, or Best Buy. You can use any standard band on these watches because Fossil employs a standard 22mm band with clasps.
Display And Design:
The display on the Fossil Gen 6 appears to be the same 1.28-inch AMOLED screen as its predecessor, and it's still rather nice. The 416 × 416 resolution and 328 pixels per inch density are among the greatest wristwatch screens, displaying crisp images and graphics.
The Fossil Gen 6 is a black-cased round wristwatch with different watch bands (like the default black flexible plastic watch bands) with a crown on the right side flanked by pusher buttons on each side, similar to its predecessors. The new wearable has a few differences from the Gen 5, so it's not identical, but you'd have to look closely to detect the difference.
The crown appears to be significantly flatter and larger, but two-guard lugs have been added to flank it, which should help the crown catch less on pockets and sleeves. You may still access your app list by clicking on the crown. Twisting the crown provides just enough resistance to prevent the device from rotating by accident, and surfing through apps and menus is actually rather enjoyable. The pusher buttons on either side of the crown have wider ends, implying a larger surface area and, presumably, easier pushing than the Gen 5's equivalents.
Health and Fitness:
The Fossil Gen 6 is a smartwatch for everyone. It is likely more geared toward lifestyle customers than health-conscious buyers, and as a result, real workout features are limited. The different varieties of the Gen 6 on the market, such as those with stainless steel bands or leather straps, demonstrate this. Furthermore, while the Wear OS platform comes equipped with a slew of Google Fit fitness apps, committed users will find few specialized Fossil or third-party training or health apps.
The watch just has a single, basic activity tracking feature built-in. It can be used for both outdoor and indoor walks and runs. There is no advanced automatic activity tracking, so you'll have to start each workout manually with the watch. This simple Fossil watch app does not allow you to track activities like riding, rowing, or weight lifting. For anything other than a simple walk or run, you'll have to rely on Google Fit or third-party fitness applications.
The Gen 6 now has a SpO2 sensor, which allows you to check your blood oxygen level. When we compared the data to a real finger-clamp-style pulse oximeter, we discovered that they were in accordance with the medical equipment. That is, on both devices, my SpO2 constantly ranged from 97 percent to 100 percent. The pulse oximeter on the Fossil Gen 6 has not been cleared by the FDA/CE and should not be used as a medical device.
 Performance and Battery Life:
The Fossil Gen 6 is one of the first smartwatches to use Qualcomm's Snapdragon Wear 4100+ chipset, which makes it faster and more responsive than previous models. When compared to prior Wear OS versions, there is a notable difference.
When you tap the central crown, the apps list loads faster, and browsing for and installing apps from the Play Store is likewise faster, with smoother on-screen animations. There isn't the tiny lag that we used to observe in Gen 5 and earlier generations.
When you add it to the list of features, the Gen 6 feels like a truly useful smartwatch. For example, Google Pay is quite convenient. To authorize a payment, simply press the bottom button and then hold the watch near a contactless terminal.
You don't have to enter in your PIN every time you start it up, as long as you did so when you put on your watch in the morning. If you (or someone else) remove it off your wrist, it will detect this and ask for your PIN again the following time. There's Wi-Fi on board to speed up the download of apps, content, and updates, as well as a conventional Bluetooth audio connection for answering phone calls from your associated watch. Overall, it's a strong feature set.
Battery life is one area where there is room for improvement. We couldn't get much more than a day's worth of use out of a fully charged battery. So, if you want to use the watch to track your sleep every night, you'll have to spend some time with it on charge the next day.
If you choose this option, you won't have to wait nearly as long for it to replenish as you once did. When completely depleted, the Gen 6 can charge to 80% in about 30 minutes, which is a significant improvement over previous generations. However, the charging technique remains a fairly flimsy-looking magnetic charging disc with contact points.
If you don't want to track your sleep or wake up with a low battery, the de facto charging-it-overnight option can be used instead, making the faster-charging option obsolete.
Also Read: Sony ZV E-10 Review