Reviews
Operating System
Windows 11 Review: Worth to Upgrade? Is this the best upgrade yet?
Microsoft's vision for the future of personal computing has arrived with Windows 11. Here is the full review.
Here is the Windows 11 review and the answer to your question " Is it worth upgrading?".
Microsoft's vision for the future of personal computing has arrived with Windows 11. This is a softer, more rounded Windows, one that prioritises the Start menu while removing some of the clutter that plagued Windows 10.
While Windows 11 does provide some welcome enhancements, many of them are so little that you won't see them unless you're looking for them. Even the modifications that do catch your notice, such as the repositioned Start button, disappear into the background with astonishing quickness.
Also read – 12 Best GarageBand Alternatives for Android in 2021
The Live Tiles that were first presented in Windows 8 have been replaced with a new Start menu. There's a new style that adds depth and color to  Windows 10 by replacing the sharp edges with rounded corners. There's also a new Windows app store that's a lot more open, with a lot more of the apps you use on Windows.
Your PC hardware will also play a big role in whether or not you upgrade to Windows 11. While Microsoft encourages everyone to switch to Windows 10 for free, only those with modern processors (Intel 8th Gen, released in 2017 or newer) will be eligible for the free Windows 11 update. This choice, which Microsoft attributes to security, has dogged Windows 11 in the run-up to its release.
How to get Windows 11?
We recommend that users who have custom-built desktops run the health check, as Windows 11 requires TPM 2.0, a specialized security mechanism that custom-built PCs may lack. However, there are some workarounds available. Aside from that, anyone with a Windows laptop or desktop from the last few years should be fine.
Go to Settings > Update & Security > Windows Update and click "Check for Updates" to see if Windows 11 is available for you. You may also use the Taskbar to search for "Check for Updates." Follow the directions to download the new software once you've arrived.
If your existing computer isn't Windows 11 compatible, or you're simply due for an update, there are plenty of Windows 11-ready PCs on the market right now. The Dell XPS 13, our pick for the best Windows laptop, is among them, as are all of Microsoft's own devices that come preloaded with Windows 11, such as the new Surface Laptop Studio, Surface Pro 8, and Surface Go 3.
Also read – 10 Best Keyboards that you can buy in 2021
Availability
Anyone who satisfies Microsoft's system requirements can get Windows 11 for free.
The upgrade is available in two flavors: Home and Pro. The Pro version primarily caters to corporate customers, although home users may appreciate the ability to encrypt their hard drives with a higher encryption level for added security. Most regular users, on the other hand, will not be losing out if they stick with the Home version: every exclusive feature in Windows 11 Pro is designed for businesses, not homes, so if you use your PC for creative work, gaming, or just leisure use, the Pro version is unnecessary.
While the free upgrade is nice, the communication surrounding the system requirements in the lead-up to the release of Windows 11 has been abysmal. TPM used to be a specialist topic, but it's now a hot topic, with many people still unsure if their PC is compatible. A Microsoft account and an internet connection will be required for anybody to use Windows 11. You'll be stuck at the setup page if you don't have these. While this is understandable from one perspective, it may irritate those who simply want to use a computer on occasion without having to create an account or have regular internet access.
Also read – Top 7 Best Android Emulators For Mac (in 2021)
There's also the issue of data collection to consider. There is currently no way to turn this off because the upgrade was accessible to use in the Insider Build program to test Windows 11, which raises questions about why there isn't an option here.
Microsoft has previously faced outrage over the data it collects from users, and as a result of the outcry, the company has made it easier for customers to restrict what data is shared in Windows 10.
Design
When you upgrade to Windows 11, the most noticeable difference is the new design. When you start Windows, you'll still see a taskbar and a desktop, but the taskbar now has some new buttons that are all centered in the middle, rather than grouped in the left corner.  
Microsoft appears to be well aware that most of us have been subjected to various types of COVID-19 lockdown for the past 18 months, and it's pitching Windows 11 as an operating system that can enable you to do more with your PC in a warmer, more appealing way, whether you're using it for business or play.
It's a wonderful notion, and after over a month of using Windows 11, I can say that some of the new elements incorporated into its design function effectively. They provide me with more tools for managing what I pay attention to on my computer and when I pay attention to it.
Also read – 10 Best Android Emulators For PC
Microsoft Store
The new Microsoft Store is another major feature of Windows 11. It's no secret that it's been neglected recently in Windows 10. However, the new Microsoft Store appears to be a secure and malware-free environment where apps and even third-party stores can be accessed.
It has a simple design, with a search box at the top that returns immediate results and three categories to choose from on the left sidebar. It's a credit to Windows 11 that it'll be a big timesaver for many people, especially those who have a new PC and want to quickly and easily download essential apps. It's a great storefront for new and novice users to easily find apps, and it's a credit to Windows 11 because it'll be a big timesaver for many people, especially those who have a new PC and want to quickly and easily download essential apps.
Also read – 20 Best Android TV Apps that are Worth Considering
Teams
In addition, there's a small purple Microsoft Teams symbol on the Windows 11 taskbar that's easy to overlook. Teams witnessed a significant increase in users during the COVID-19 pandemic, and Microsoft has now made it a more essential component of Windows.
If you've never used Teams before, you don't have to start now; you can simply remove the icon from your taskbar and uninstall Teams without losing any functionality.
Built-In Apps
The lack of affection given to the built-in apps, including Paint, Snipping Tool, and others, has been a consistent trend across Windows editions. They've all been renovated and upgraded in Windows 11, which is sure to please many users.
The goal for these apps was to create a design that worked with both a mouse and a touch input, and for the most part, it worked. Paint is once again enjoyable to use, and Snipping Tool is now the only program that allows you to control how you crop apps and save them as images.
The clock is another unexpected app to be redone here. Now, owing to 'Focus,' a feature comparable to one of the tentpoles of Apple's iOS 15 release, you can manage your time to complete work. Focus allows you to create profiles that can be automated based on your schedule, location, and more.
Each of these programs now appears to be unified in Windows 11 – there is no mix of Fluent Design and Metro design, which is a flaw in Windows 10. Everything appears to be polished, which is fantastic to see from Microsoft.
Desktop
A new Desktops feature, for example, makes it easier to set up and manage several iterations of your desktop. It may appear complicated, but it is actually rather simple. Along with the Start button, there's a new Task View button that looks like two opposing windows overlapping one another. When you hover your pointer over it, you'll see a brief preview of all the open desktops, as well as the ability to create a new one.
It's really simply a cosmetic difference when you set up a fresh desktop. Each desktop can have a different name, but they all access the same data on your computer and use the same Microsoft account. In my testing, I discovered that desktop icons are shared across computers, so if you delete your Microsoft Edge shortcut from one desktop, it disappears from the others. Apps and windows active on one desktop are not duplicated on other desktops, and each desktop can have its own personalized cosmetics, such as wallpaper and theme.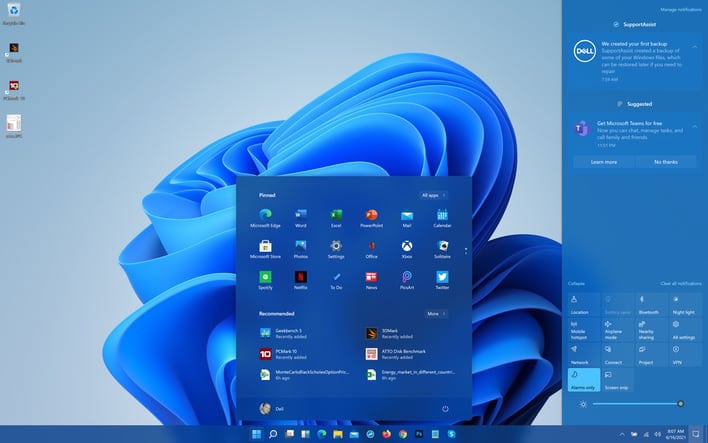 In reality, this implies that you can use desktops to compartmentalize your work. If you, like many of us, use your Windows PC to work from home and work on personal projects, you may set up two desktops, one named "Work" with your work apps open and the other titled "Play" with Steam and the Xbox app ready to go.
Features
Apart from the new Fluent Design refresh, Accessibility, and the Microsoft Store, there are other features unique to Windows 11.
Similar to the Migration Assistant in macOS, when you first start up a PC with a fresh install of Windows 11, you'll be given the option to move files and your desktop from OneDrive. It's a very useful tool that will benefit a lot of people, especially when it comes to setting up a new PC for the first time.
Snap Groups, a new approach to managing several open apps, is also available. While this is mainly geared for touch screen devices, it's a vast improvement over the snapping of windows introduced in Windows 10, and it makes managing a multi-monitor setup much easier.
Better multi-monitor compatibility is also included in Windows 11, with the update remembering where some apps were put if a laptop is disconnected from an external monitor, for example.
Gaming
From Games on Windows Live to the barebones Xbox app in Windows 10, gaming on Windows has had its fair share of ups and downs in the past. But, with the Xbox app now built-in and more tightly integrated, Microsoft has made gaming a centerpiece of Windows 11.
Better HDR support for games has also been introduced, as well as Auto HDR for making non-HDR games look better in terms of contrast, which is extremely welcome.
Verdict
Because so much of Windows 11 is still being built out in front of us, it's difficult to make a firm judgment. At launch, native Android app support is missing, Widgets are missing several stated functionalities, and I encountered unpleasantly (but not serious) problems in apps like Snipping Tool and Cortana during testing. I expect Microsoft to address all of these flaws before the end of the year, which means that by the time many of us get the chance to upgrade from Windows 10, it will be a completely new OS.
The version of Windows 11 you install on your brand-new PC this month will be different from the version I've been using for weeks, and they'll both look different from what Windows 10 users see when they upgrade next year. But what we have so far is pretty nice. Windows 11 improves on what's good about Windows 10 without sacrificing too much, and once you figure out how everything works, the new operating system isn't that difficult to use. It's more customizable, and new features like Desktops and Snap Assist allow you more choice over how you divide your screen and time.
On larger touch zones and simpler, rounder menus, Windows 11 is more streamlined and easier to manage with a touchscreen. In many respects, Windows 11 is closer to competitors like macOS, Android, and Chrome than it has ever been, which I think is a positive thing.
Most significantly, if you don't like the changes, you can safely ignore or reverse them — the Start button, for example, maybe dragged back into the lower-left corner by clicking a button in the taskbar settings. And if you don't like the way Windows 11 looks, you may ignore it and stick with Windows 10 for years – though Microsoft will eventually require you to upgrade.
Also Read: 10 Best Keyboards that you can buy in 2021