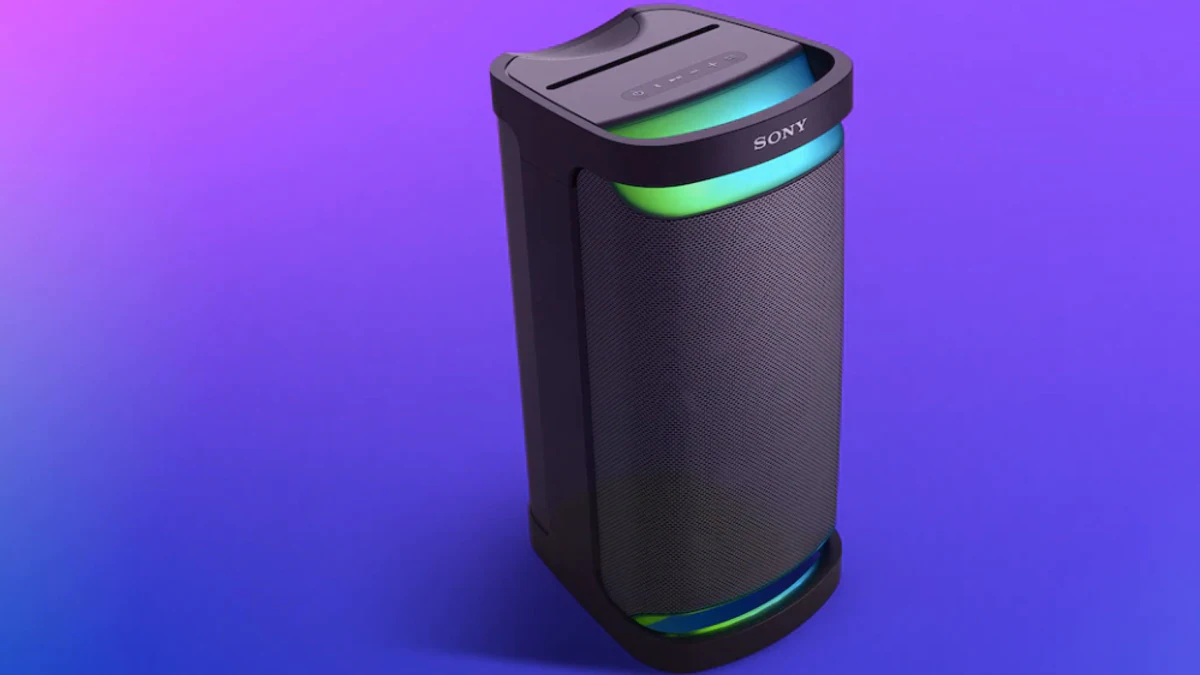 The Sony XP700 is a huge party speaker with RGB lights that can be customized, and it can go rather loud. It offers a boomy sound profile when the 'MEGA BASS' feature is active, which you may tune using the visual EQ and presets in the companion app. 
Water-resistance is rated IPX4 on this well-built speaker, though we haven't tested it yet. While the material quality is good overall, it isn't tested for dust and impact resistance, and we don't test for it at the moment. It's also compatible with the Fiestable app, which you can use to control the speaker's extra party functions, just like the other Sony speakers we've tested.
Price: $335
1. Build and Design
The SRS-XP700 has a large speaker, which is the first thing to note. Incredibly, really enormous. It's a massive monolith. It'll be tough to hide it, just like the PlayStation 5, wherever you place it. In any case, these items aren't made to blend in. Rather, they're supposed to stand out and break the ice, or, to put it another way, get the party started.
The SRS-XP700 is taller than wide, measuring 27.4 by 12.4 by 14.5 inches, and weighs an alarming 37.3 pounds. It looks more like a bass amp than a conventional portable speaker. It comes with extra rubber feet that may be used to lay it on its side and position the stereo drivers in a left/right array.
The ports are all on the rear, hidden behind a sturdy and secure protective cover. Two USB-A connections for charging mobile devices, two 1/4-inch microphone inputs with separate volume knobs (one of which may be used to plug in a guitar, thereby turning the speaker into an amp), a 3.5mm audio connector, and a power socket round out the features.
The adaptability of the SRS-XP700 is where it makes a powerful comeback. It includes bumpers on the bottom and sides so you can prop it up like a boombox either vertically or horizontally. There are two sets of LEDs on the SRS-XP700. The speaker grille has two holes, one at the top and one at the bottom.
2. Performance
In terms of fundamental hardware, the SRS-XP700 doesn't pull any punches. But it's the engineering, not the hardware, that really stands out. Two 6.6-inch woofers and three 2.3-inch tweeters are stacked in the speaker, all of which are forward-firing. Depending on where the speaker is situated, only two of these tweeters are active at any given moment. This is for the sake of consistency. There's also a fourth rear-facing 1.9-inch tweeter (next to the control panel) that only works when the speaker is positioned vertically. This is for the "omnidirectional" sound stage, as Sony describes it. 
The woofers are also a little unusual for a speaker of this caliber. They have a non-circular diaphragm, which allows the speaker unit to pump more air in the same amount of space as a circular driver. That makes perfect acoustic sense – at least on paper – but the thing about good audio is that getting it correctly is difficult. Even more so when you decide to mess with the status quo. Luckily, Sony has had years of experience making good-quality speakers, so you can be sure, there is a method here.
3. Bass:
Even when the MegaBass feature is disabled, the SRS-XP700 produces a deep bass thump that comes close to the kind of low-end thunder you'd expect from a club PA. The drivers are actually generating a significant thump, not some kind of simulated bass depth produced by a passive radiator.
When you turn up the volume on MegaBass, you should get jolts of pure joy from aficionados of strong low frequencies, as well as a considerable annoyance from your neighbors.
Also Read: Beats Fit Pro Review: A Good Sporty Choice