The Asus ROG 5 is one of the best gaming phones on the market, if not the best. But, thanks to its large display, long battery life and charging speed, and amazing speakers, it's also one of the greatest phones for watching any form of media. There are some improvements over its already-powerful predecessor, and they even managed to reintroduce a 3.5mm jack. In This Post, we present the Asus ROG Phone 5 Review for you.
The ROG Phone 5 is a solid everyday phone with killer specs that can be tuned and changed just like a gaming PC. Although this is a phone designed for gamers, it misses several common features and the OS has some flaws.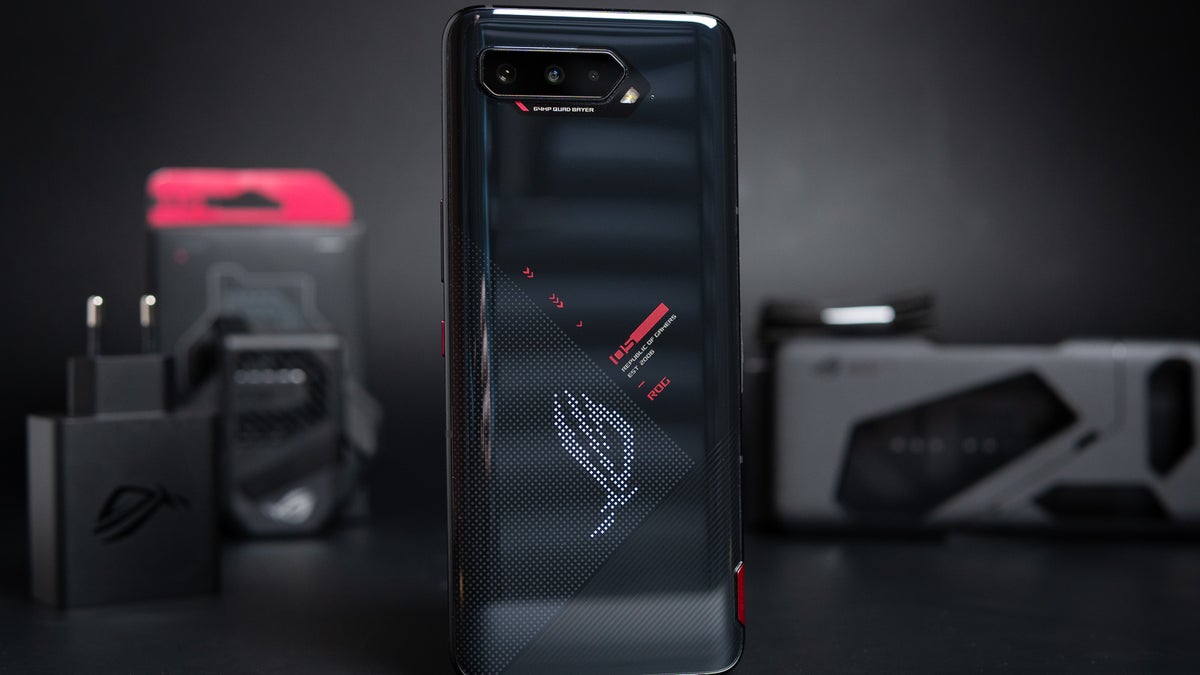 With a 6.78-inch display, the ROG 5 is a big phone. This 1080p OLED display appears to be sharp enough, and the colours are consistent across the board. Last year's model had a grain issue at low brightnesses, so this is an improvement. This monitor has a refresh rate of up to 144Hz, and you can set it to that for better animations.
Also Read: Top 7 Best Android Emulators For Mac (in 2021)
The ROG 5 has two USB C ports, two touch-based triggers, an unobstructed screen (no in-display cameras here, but lots of bezel), twin front-facing speakers, a notification LED, and an in-screen fingerprint reader, just like last year's ROG 3 (yep, Asus skipped a number). A 6,000 mAh battery is also included, which is split into two 3,000 mAh packs at each end of the phone.
Let's Dive into the Full Asus ROG Phone 5 Review-
Pricing
The three models of the Asus ROG 5 were announced on March 10, 2021, with availability staggered. Later in March, the regular version became available in some territories, while the Asus ROG 5 Pro was released in April.
The Asus ROG 5 starts at €799 (about $950 / £684 / AU$1,233) for 8GB of RAM and 128GB of storage, €899 (roughly $1,069 / £769 / AU$1,367) for 12GB RAM and 256GB storage, and €999 (roughly $1,188 / £855 / AU$1,541) for 16GB RAM and 256GB storage.
Design
The Asus ROG Phone 5 features a look that is basically similar to that of its predecessor, the ROG 3: a black rectangle (or white, if you choose the Ultimate edition) with the same buttons and connectors. Of course, there are some upgrades – for example, the RGB-lit ROG icon on the back cover is now filtered via blocks that make it look 8-bit – but the majority are minor.
On the right side, there's a volume rocker above a power button, as well as capacitive touch buttons that act as shoulder buttons on the extreme top and bottom borders of the right side. The USB-C port, which has been present in the ROG series from its conception, is on the left side, however, instead of another cable port, there is a capacitive strip to connect to accessories.
The design of the rear cover is a significant change. The ROG 3's cut-out window into the heat sink is gone, but the standard ROG 5 still has a ROG logo that lights up in programmable patterns, similar to gamer-chic light-up components inside a PC desktop setup (albeit with a blocky filter that makes it seem retro 8-bit). The logo is replaced in the Pro and Ultimate versions by a small (approximately 1-inch) OLED panel that may display whatever symbol or message you like.
The placement of the phone's ports is one of the strangest aspects of the ROG Phone 5. The power USB-C port is hidden beneath a removable (and easily lost) cover on the left side. The POGO connector for the optional AeroActive cooler accessory, which clips onto the phone, is located next to it.
Also Read: 10 Best Keyboards that you can buy in 2021
The cooler accessory is essentially a little fan that attaches to the phone's back and aids in cooling. The ROG logo on the back of the phone lights, and there's a sturdy kickstand if you need to prop it up. The bottom of the frame has a second USB-C port, although it's only used for the Kunai 3 Gamepad.
Apart from the cooler, the ROG Phone 5 uses AirTriggers to improve the gaming experience. Each game's ultrasonic shoulder buttons can be assigned to a certain action. They don't work completely in every game, and they can be a disadvantage in some circumstances, but they're just another feature that elevates the ROG Phone beyond non-gaming phones.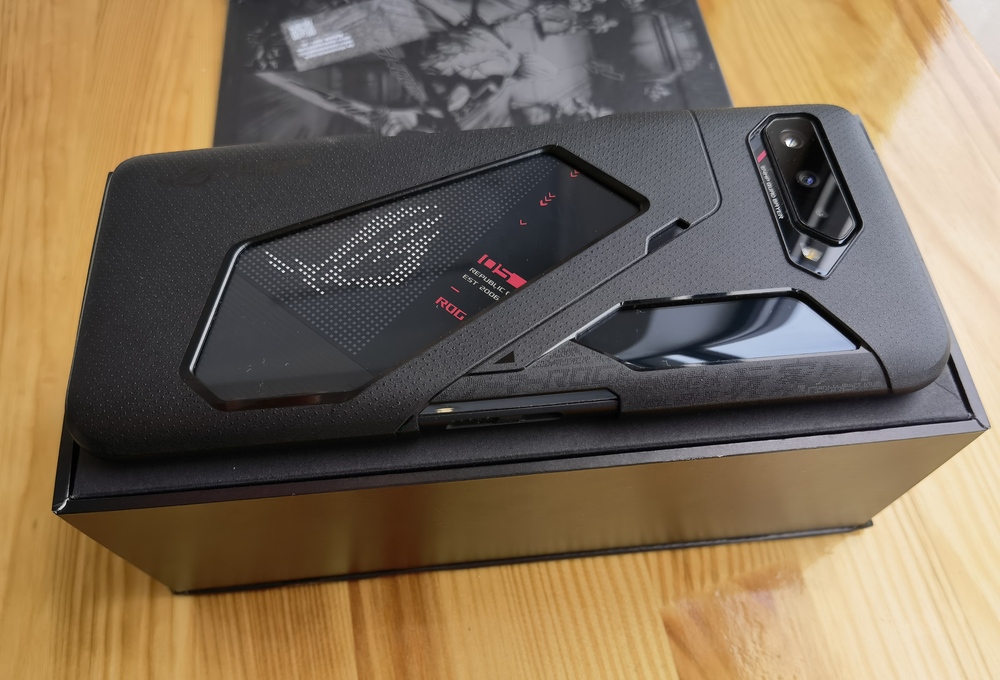 Display
The Asus ROG 5 features a 6.78-inch Full HD Plus (2440 x 1080) AMOLED display with HDR10+ certification, allowing for crisp images and rich colours. The front-facing camera is hidden behind a thin black bar, avoiding the use of a notch.
The image quality is excellent, and the only criticism we have is that photographs lose sharpness in deep darkness or really gloomy areas. Naturally, the ROG 5's Full HD Plus display doesn't provide as sharp a picture as phones with higher-resolution panels, such as the Samsung Galaxy S20 Plus's WQHD Plus (3200 x 1440) display. Overall, the display on the ROG 5 is on par with, if not better than, practically every other premium smartphone on the market. 
You can also choose from four refresh rate modes: 60Hz, 120Hz, 144Hz, and Auto. Depending on what you're doing, the latter adapts the refresh rate. The refresh rate will increase if you're scrolling a lot or playing a game, then decrease for more static activities. Obviously, 60Hz is the most battery-friendly refresh rate, but games that support higher frame rates can use the 144Hz mode (like Dead Cells).
Camera
Asus revealed during the unveiling of the ROG Phone 5 that cameras aren't a priority for the ROG Phone range. The business apparently merely wants to give the finest camera in a gaming phone, which is a low bar.
The primary sensor is 16MP with an f/1.8 aperture and 1.6um pixels, allowing for good pictures in outdoor lighting, though low light is still a weakness, as it was on the ROG 3. The second sensor is a 16MP ultra-wide sensor with an f2.4 aperture, and the third is a 5MP macro sensor with an f2.0 aperture. The front camera has a resolution of 24 megapixels and an aperture of f/2.45, allowing for fairly detailed selfies in excellent sunlight.
Also Read: 12 Best GarageBand Alternatives for Android in 2021
The Asus ROG 5 produces nice background blur and has a good depth of field effects, while its portrait mode isn't quite up to par with top-tier flagships. The camera's low-light performance is adequate, however, it performs better with ambient light, and you may have to wrestle with it to alter focus (for example, if you're trying to secure depth-of-field).
The ROG 5 can shoot 8K video at 30 frames per second, 4K video at 60 frames per second (or 30 frames per second with the ultra-wide camera), slow-motion video at 4K at 120 frames per second, and still images while recording video.
Performance
The ROG Phone 5 features Qualcomm's fastest system-on-chip, the Snapdragon 888, along with 8GB, 12GB, or 16GB of RAM, depending on the configuration. In terms of raw performance, you will not be disappointed. The Snapdragon 888 may not be as powerful as Apple's A14 Bionic, but it is the best SoC available in an Android handset right now.
The ROG Phone 5 got 5,806 points in 3DMark's Wild Life Unlimited, with an average frame rate of 34.8. With the correct profile, Asus' phone delivers you everything it has to offer in terms of gaming. Unfortunately, all of this power seems to be wasted on what's now available in Google Play, but that's more a reflection on mobile gaming than anything to do with the ROG Phone 5.
Also Read: Best Gaming Monitors In 2021 To Boost Your Gaming Setup (Top 10)
The only difference between the various Asus ROG 5 models is RAM and storage: the base version comes with 8GB of RAM, but you can also purchase it with 12GB and 16GB of RAM, all in the newest LPDDR5/UFS 3.1 configurations. The Asus ROG 5 comes preloaded with Android 11 and the Zen UI overlay, which is stylish and easy. ROG's gamer-chic wallpapers turn into action when X-Mode is activated, and the Armoury Crate gaming software is included out of the box. The phone supports 5G, but only at sub-6 frequencies; no mmWave connectivity is available.
Battery
The ROG Phone 5's battery capacity is 6,000 mAh, divided into two 3,000 mAh power packs. This enables Asus to use a PCB with the Snapdragon 888 in the middle, allowing for simultaneous 65W charging (for heat purposes). The ROG Phone 5's large batteries add to the phone's overall bulk, but it's worth it given how long it can survive on a charge.
The ROG Phone 5 is a powerhouse when it comes to battery life. I was able to obtain more than two days of use outside of games before needing to charge again. Even when playing Genshin Impact in 144Hz mode with the AeroActive cooler and Kunai 3 Gamepad attached, the battery can last for a long time when gaming.
On the 65W charger, the ROG Phone 5 can charge from 0% to 70% in 30 minutes, and from 70% to 100% in around an hour, according to Asus. It takes a long time to charge a 6,000 mAh battery from empty to full, so that's an astonishing statistic. Asus has included a few charging modes to ensure that the batteries last as long as possible. The Steady charging option reduces the charging pace, which means the battery will take longer to charge but produce less heat. Scheduled charging is exactly what it sounds like, and it can be used in conjunction with active alarms.
Verdict
The ROG Phone 5 is at the top of the list if you're seeking the best mobile gaming performance. Its massive battery lasts an unusually long time, the bespoke AMOLED display is stunning, and the raw power allows practically anything to be played at 60 frames per second or higher.
If shooting good images is important to you, the ROG Phone 5 will suffice. Its night mode, on the other hand, is a flop. If you want a massive battery that's exceedingly tough to drain or the best gaming performance on Android, the ROG Phone 5 is the phone to have. It is, without a doubt, an engineering wonder. For your money, you also get some extra RGB and gaming flare, which makes the phone stand out from the crowd.
Also Read: 8 Best Live Wallpaper Apps for Windows 10