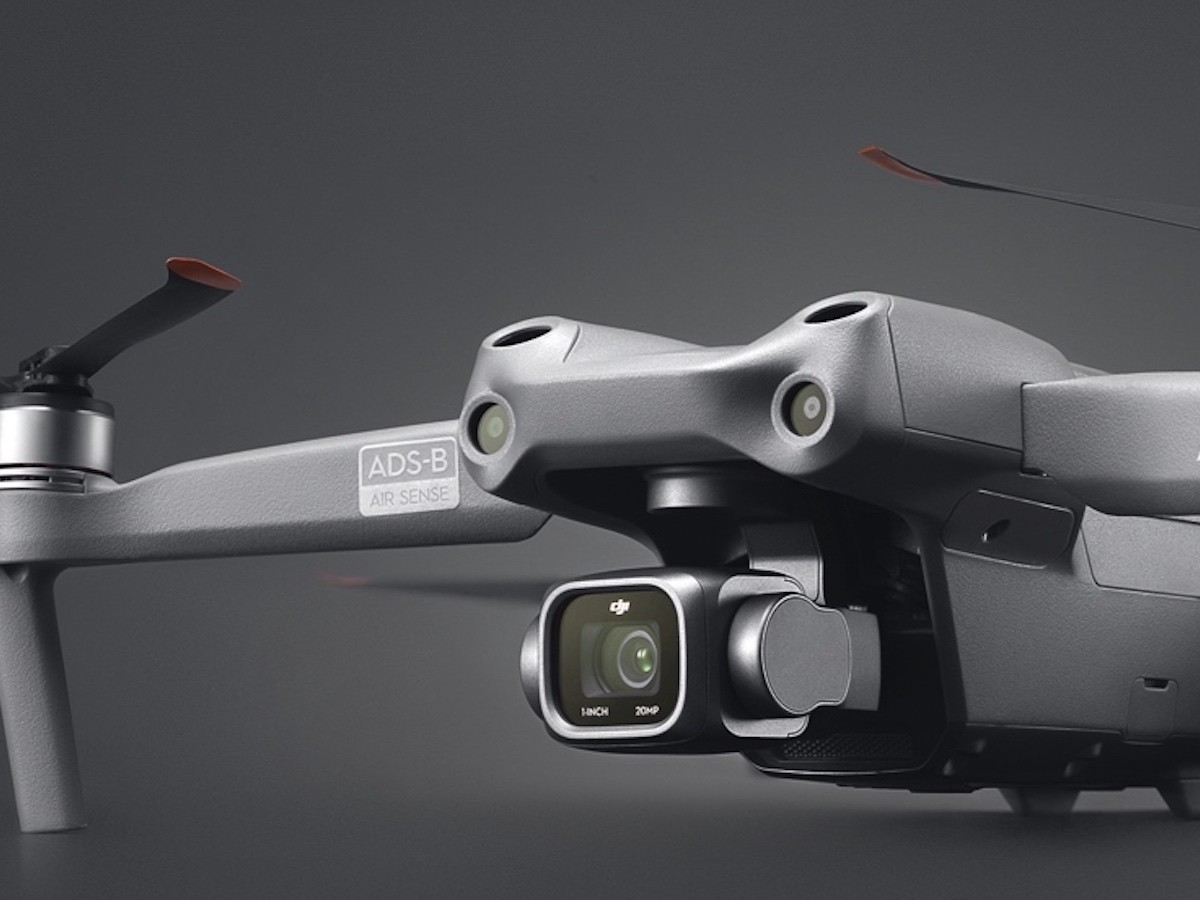 Externally, the Air 2S looks almost comparable to the Mavic Air 2 from last year. It even utilizes the same batteries, making upgrades a little less expensive. They are, nonetheless, practically identical. This version contains several very welcome adjustments. 
The Air 2S improves the collision avoidance technology by adding an object detection camera to the top of the drone. When you're flying toward something at high speed, it's especially useful because the drone swings forward, making the front sensorless efficient. The Air 2S model is a step forward from its predecessors, with enhanced safety features, additional camera functionality, and a slew of new flight features.
You can also take a 5.4K video at 30 frames per second with the upgraded sensor. If you want to crop into the video, this is a fine option because you'll still obtain high-quality clips, however, filming at 4K at 60 fps produces smoother footage in most circumstances.
Pricing:
The Air 2S comes in two versions: a base kit and a Fly More Bundle.
The standard kit costs $999 / £899 / AU $1,699. It includes the drone, controller, one battery, propellers, a charger, and all connectors.
Design:
The Air 2S is very similar to the DJI Mavic 2 Pro in terms of the fundamental design, but it comes in a considerably smaller and lighter size. The propeller arms fold in for transport and out for flying, with the front arms swinging out and the back arms rotating down and out. All moving parts seem sturdy and reliable, and the build quality is great.
With a folded dimension of 7.1 x 3 x 3.8in and an unfolded size of 7.2 x 3 x 10in, the Air 2S has outstanding portability attributes. It weighs only 21oz and has a folded size of 7.1 x 3 x 3.8in. Of course, the extra unfolded size is only the extended propeller arms, and the drone body is the same size in both configurations, so it's still quite small.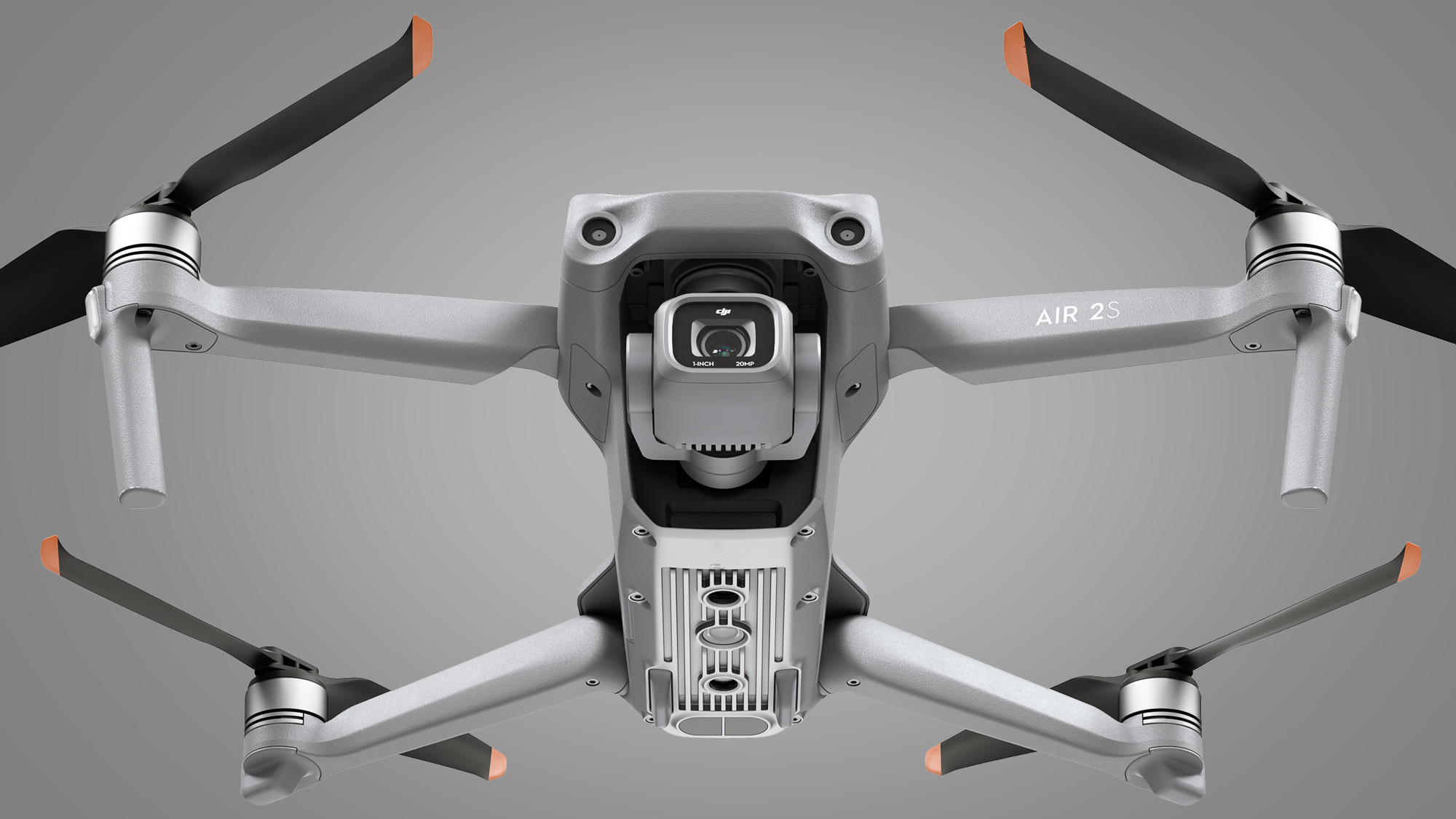 The controller is no longer foldable like the Mavic 2 Pro's but instead is a fixed size with a larger battery, resulting in improved battery life. Instead of attaching phones to arms at the bottom of the controller like the Pro, this controller supports phones with a telescopic grip at the top. For transporting, the control sticks unscrew and can be packed in the rubber parts at the bottom of the controller.
Camera:
This is the real reason for all the fuss, and it's also one of the key reasons why the DJI Air 2S is the current peak of drone design. The new Air 2S camera, like its bigger, heavier, and more expensive stablemate, the Mavic 2 Pro, now has a Sony one-inch CMOS sensor that produces insanely fine 20MP photos (in RAW, JPEG, and HDR) and broadcast-quality video.
Unlike the Pro model, this one can film at an incredible 5.4K resolution at 30 frames per second. It will also shoot 4K Ultra HD at up to 60 frames per second and 1080p at up to 120 frames per second. As if that wasn't enough to pique your interest, the camera also includes a digital zoom feature and can shoot HDR, Hyperlapse, and automated Panorama.
Controller:
The controller is identical to that which comes with the Mavic Air 2. However, unlike the Mavic 2 Pro's controller, it is not foldable and weighs 393 grams. While it connects to the aircraft more quickly than the Mavic 2 controller, it lacks a simple screen that displays basic flight and camera information.
The phone is attached to the top of the controller via a telescopic grip, and the control sticks are kept in rubberized parts at the bottom of the controller without the folding arms to support it. It's a pleasant controller to use, but it's a shame it's larger and heavier than the controllers for the Mavic 2 Pro and Mavic 2 Zoom.
The extra size of the controller isn't a deal-breaker, and the combined size and weight of the drone and its controller are still manageable. A rudimentary information display screen and a couple of additional programmable FN (function) buttons on the controller's rear would be useful, but they aren't required.
Flight Performance:
You'll never have to be concerned about flying a DJI drone for the first time because all of the current models fly with such confidence-inspiring reliability. This is also one of the quietest versions, so you can fly it around without drawing too much notice to yourself. 
There isn't much else to say about the performance of this drone. It does precisely what you want it to do, like other DJI drones: it flies flawlessly even in severe winds, returns to its take-off position automatically when requested, and provides you plenty of warning when the battery is running low.
The Air 2S has a maximum flight time of 31 minutes, which is excellent considering the small batteries, but realistically, flight times should be about 20 minutes in real-world flying. When flying in Sport Mode, the drone can reach speeds of up to 42.5mph/68km/h, which is just slightly slower than the Mavic 2 Pro, which is larger and more powerful. Positioning Mode (P), in which all sensors are engaged, and Cine (C), in which speed is limited and controls are less responsive for recording cinematic-looking video footage, are two more flying modes.
DJI Fly App:
The DJI Fly app, which is available for Android and iOS smartphones for free, is a must-have. It's simple to set up—you'll need to create a DJI account to activate the drone and provide it permission to access your phone's camera roll, but that's it.
The app displays the drone's camera view and allows you to access the Air 2S's autonomous flight modes. It also provides a map of your location in the world, as well as that of the drone. A blue arrow represents the drone, and a floating red line connects its position to where you are standing, which is useful if you lose sight of the aircraft.
DJI Fly also comes with some rudimentary video editing capabilities, but they're limited to 1080p output, which is OK for a fast social post but hardly the reason you got a drone with a 5.4K video camera in the first place. It also has a valuable Flight Log feature, which allows you to examine your flights and check speed, altitude, and other parameters.
Verdict:
The Air 2S is the ideal size, weight, and feature combination for folks who want to carry their drone with them on outings. The safety features make it a very safe and intuitive drone to fly, however, keep in mind that due to the drone's weight, you'll need to register it with the CAA (UK) or FAA (US) before flying it. 
Don't be put off by this process; it's simple and affordable, but it's always something to keep in mind. Whether you're a complete newbie with drones or an experienced photographer or videographer seeking a very portable drone to supplement your existing kit, the Air 2S is a terrific choice that will surely meet your needs.
Also Read: Sony ZV-E10 Review