Smartphones and the functions that come with them are getting better with each iteration. Every new generation of smartphones provides better cameras, faster processors, and larger screens. However, we have yet to witness a game-changing innovation on the scale of the iPhone's release all those years ago. Sure, a few businesses have dabbled in innovative foldable form factors. With this Samsung Z Flip 3 Review, you can have a closer look at the improving foldable technology.
Thanks to Samsung's folding-screen technology, the flip phone is making a comeback into the mainstream. It may leave you wondering why you would buy a normal phone at the same price now since it is cheaper, smoother, water-resistant, and more durable than last year's model. It's a little slimmer, shorter, and narrower, with a streamlined hinge, a less flashy outside design, and a more substantial feel.
Let's dive into the full Samsung Galaxy Flip 3 Review-
Price
It's available in two storage capacities: 128GB for $999 / £949 / AU$1,499, and 256GB for $1,049 / £999 / AU$1,599
Design
Apart from an extension of the outside display and placing the rear cameras around it, the Samsung Galaxy Z Flip 3 looks very similar to its predecessors. It's still a clamshell, with two 'halves' rotating around a huge Samsung-branded hinge. It's still a tall and slender phone when folded, with a 6.7-inch display.
However, there are some improvements. The protective plastic bumper ringing around the inner flex display is still there, but it's thinner and looks more like a guardrail strip than the rounded pontoon layer bordering the edge of the Z Flip's screen.
The rear cover has also been modified, going from a single-colour finish on the Z Flip to a two-toned effect on the Z Flip 3: the bottom two-thirds are a single hue, while the top third is all-black glass, housing the outer display and the dual rear cameras placed vertically next to it. Although some of the colour options are more appealing than others, it's a more handsome design this time around.
On the right side of the phone is a lock button with a fingerprint sensor and a volume rocker above it, both of which are a little high for comfort when the phone is unfolded – the former can only be reached with a thumb (to unlock the phone), but raising or lowering the volume is nearly impossible to do one-handed.
Display
The Z Flip's flexible display is the star of the show. It's a 6.7-inch Full HD OLED display with a resolution of 2640 x 1080 pixels that Samsung developed in-house. The screen has been calibrated for a 120 Hz refresh rate. The display supports HDR10+ and has a peak brightness of 1,200 nits. It features a punch-hole design for a selfie camera. When you swipe in the middle, you'll see a crease, but it's hardly apparent.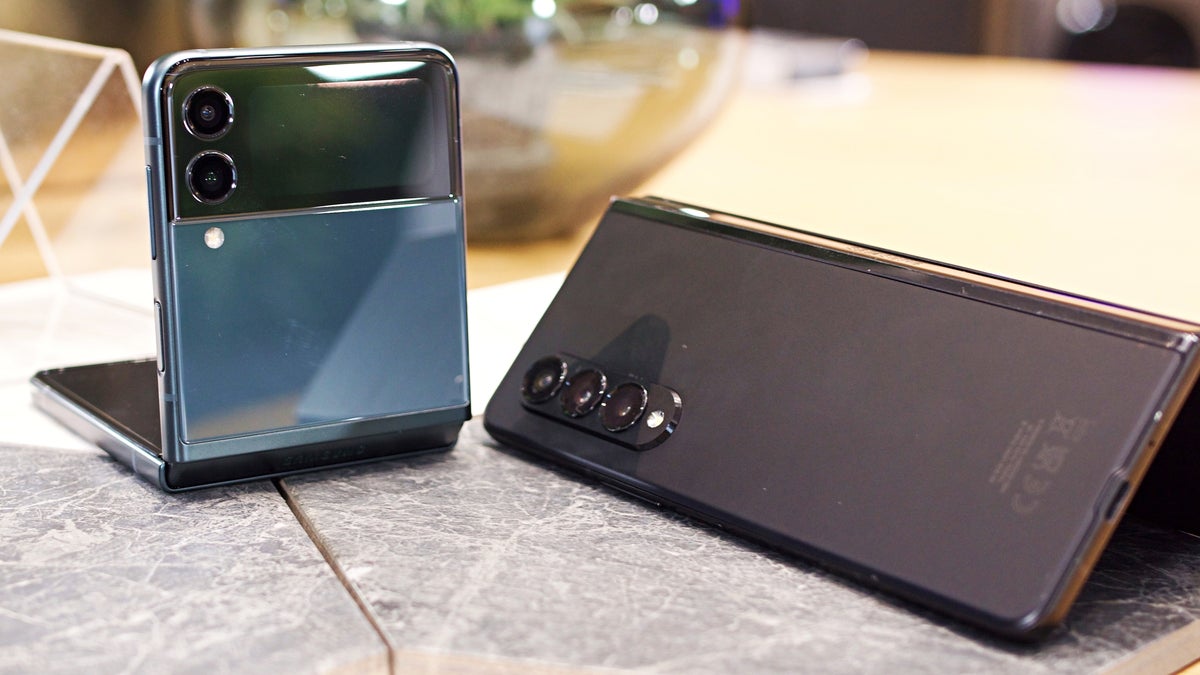 A secondary cover display is included with the Flip 3. It's a 1.9-inch pill-shaped panel with a 260 x 512-pixel resolution. The panel has a nice mirror finish that gives it a two-tone appearance. Samsung has done an excellent job making this screen functional. This screen allows you to view messages, receive call notifications, and control music. When the device is folded, it can also be used as a camera viewfinder. The cover display can also be customised in a number of ways.
What is it like to fold?
The Samsung Galaxy Z Flip 3 is the greatest clamshell foldable on the market, which isn't saying much since the phone's lone rival is the Motorola Razr 2020, which is a year old. The Razr offers more functionality on its outside screen, whereas the Z Flip 3 allows you to unfold the phone to any degree (till entirely flat), with more capability in semi-unfolded stages.
The Z Flip 3 is a little more difficult to fold one-handed than prior Z Flip phones, but this resistance means you can unfurl the gadget to any degree you want and know it will stay locked in place, which is as utilitarian as it is entertaining.
There are probably just a few use cases where part-folding the Z Flip 3 is necessary, at least until more apps include functionality that splits the screen (known as Flex Mode), but having this option enhances some experiences above what regular phones can do. When you can prop up your phone while video chatting or shooting selfies, it's so much nicer.
Also Read:  Sony SRS-XP700 Review: Big and Bulky

The exterior display is still the foldable's worst feature, as it's too small to do much more than show notifications, preview selfies, and manage audio. In read-only mode (tap it once) and interactive mode (tap it twice), the screen looks nearly identical, thus touch functionality may appear irregular, though it's undoubtedly more usable than its predecessor.
Performance
In what was probably a cost-cutting effort, the first-generation Galaxy Z Flip employed a somewhat outdated chipset. Despite the fact that the price has dropped, Samsung hasn't tried to get away with it this time – instead, you'll find this year's flagship Snapdragon 888 inside, which is also found in the Galaxy Z Fold 3 and S21 phones.
With 8GB of RAM, you'll get rapid performance across the board, capable of competing with anything other than high-end gaming phones. There's also plenty of storage, with 128GB or 256GB of speedy UFS 3.1 storage to choose from – however, there's no microSD card, so you won't be able to expand it if you run out.
In addition, the Snapdragon 888 supports 5G. Unfortunately, there is only room for one physical SIM card, however, the phone can accept both a physical SIM and an eSIM at the same time. Aside from that, there's Wi-Fi 6, Bluetooth 5.1, and NFC. Face unlock is enabled via the single selfie camera, and fingerprint unlock is enabled by a side-mounted scanner — there is no option for under-display unlocking.
Camera
The Samsung Galaxy Z Flip 3 has a dual-camera system. It has a 12 MP normal lens as well as a 12 MP 123-degree wide lens. The Flip 3's unique form factor provides you with a plethora of photographic options. To begin with, the phone's bottom half functions as a miniature tripod when partially opened. It's ideal for shooting time-lapse videos. You may also put it on the dashboard of a car.
In terms of image quality, both the regular and wide-angle lenses perform admirably in the daytime. Although the wide camera has obvious barrel distortion at the borders, this isn't a deal-breaker. The primary camera performs admirably in low-light situations. It's worth noting that good results require you to keep the phone steady for two to three seconds. While it catches a lot of detail, it really shines when it comes to dynamic range. In low-light situations, the wide camera struggles, with apparent noise in practically every photo.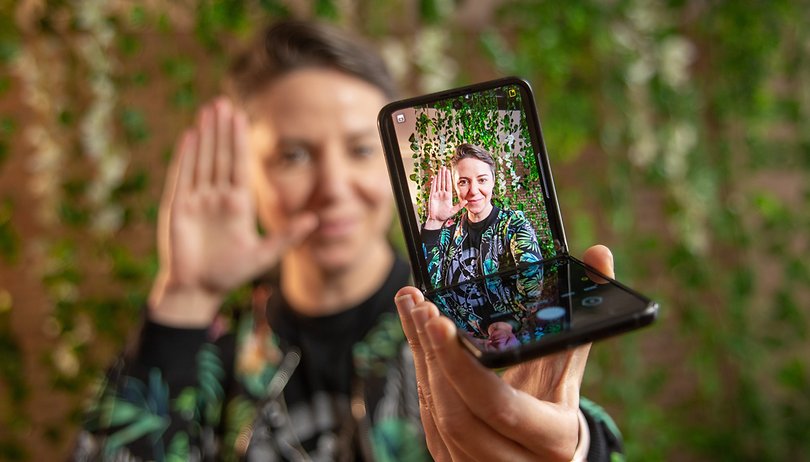 Samsung's newest phone also has a unique take on selfies. The 10 MP camera in the punch-hole, on the other hand, is quite good. If that isn't enough, the phone's exterior display allows you to frame a selfie photo with the phone's primary 12 MP camera.
The Samsung Galaxy Z Flip 3 can shoot 4K videos at up to 60 frames per second. The end effect is fantastic, with a lot of detail. Furthermore, the videos are smooth because of Optical Image Stabilization (OIS).
Battery
The Samsung Galaxy Z Flip 3's worst flaw is likely its 3,300mAh battery, which isn't the largest among flagship phones and rapidly drains over the course of a day – don't expect it to survive much longer than that. As part of the company's push toward more sustainability and less waste, there is no charger included in the box.
The phone's battery drains a little faster than typical phones just by leaving the display open and the phone on; one day, the phone held up until it reached around 10%, and then abruptly fell. Ordinary chores, on the other hand, shouldn't drain this phone any faster than they do any other — for example, viewing a half-hour Netflix episode depleted the battery by 3%, which is rather usual.
Fast-charging technology from Samsung could have helped to alleviate the problem. So that you can quickly recharge the smartphone when you're not using it. However, the company has settled for 15 W charging.
Verdict
The Galaxy Z Flip 3 has a modern design that doesn't sacrifice elegance. It's different enough for folks to be surprised, but it never seems out of place. Sure, the short battery life is a stumbling block. Furthermore, the majority of people will not find it useful. The Galaxy Z Flip 3, on the other hand, is the Jaguar E-Type of the smartphone industry, with its unusual clamshell shape. It's not for everyone and has its idiosyncrasies, but it's undoubtedly wonderful.
Also Read:  DJI Air 2S Review: Most Promising Drone