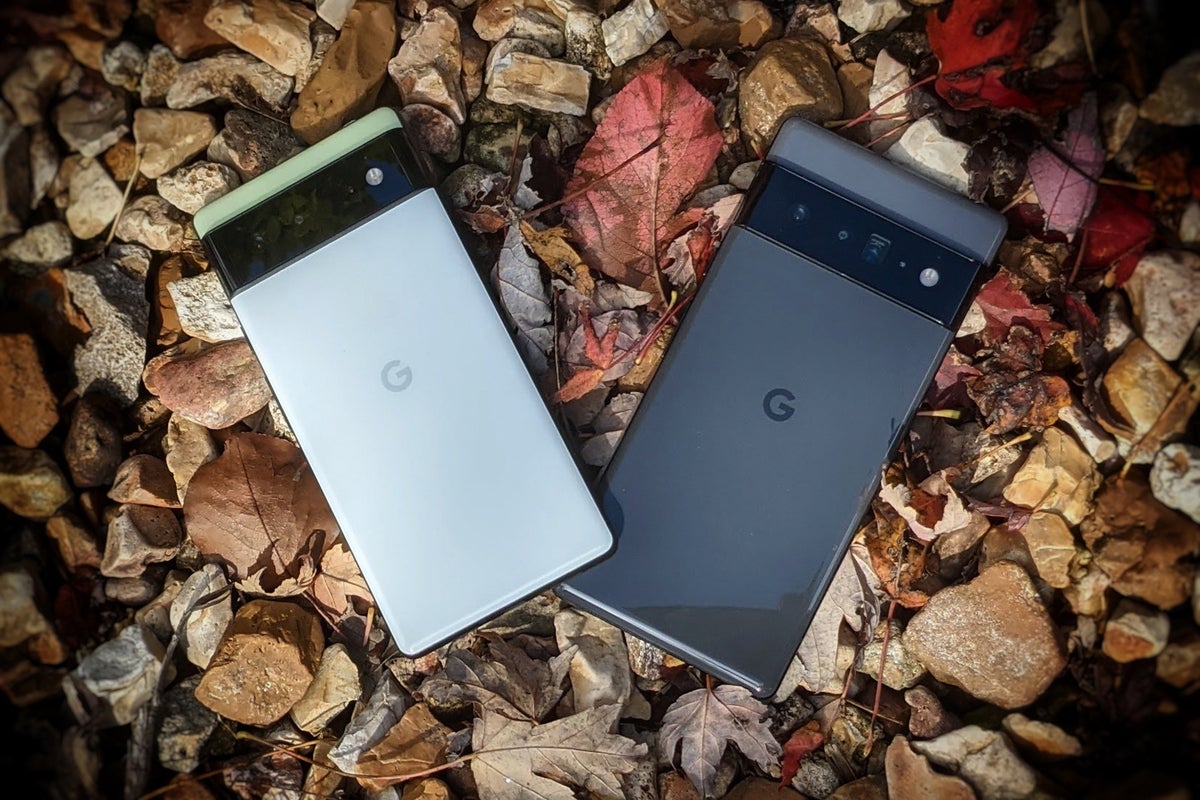 The Pixel 6 and Pixel 6 Pro are nowhere. Google Tensor, Google's first-ever processor, powers the fully revamped Google phones. Tensor, according to Google, was created with Google's AI in mind. The Google Tensor SoC gives the Pixel 6 and Pixel 6 Pro additional features, making them more useful and personal. The two phones will ship with Android 12 pre-installed.
This year, Pixel features a dramatic new design that ties both the software on the inside and the hardware on the exterior. The phones will be available in eight countries across the world. Australia, Canada, France, Germany, Japan, Taiwan, the United Kingdom, and the United States are among the countries on the list.
Google Pixel 6 series prices: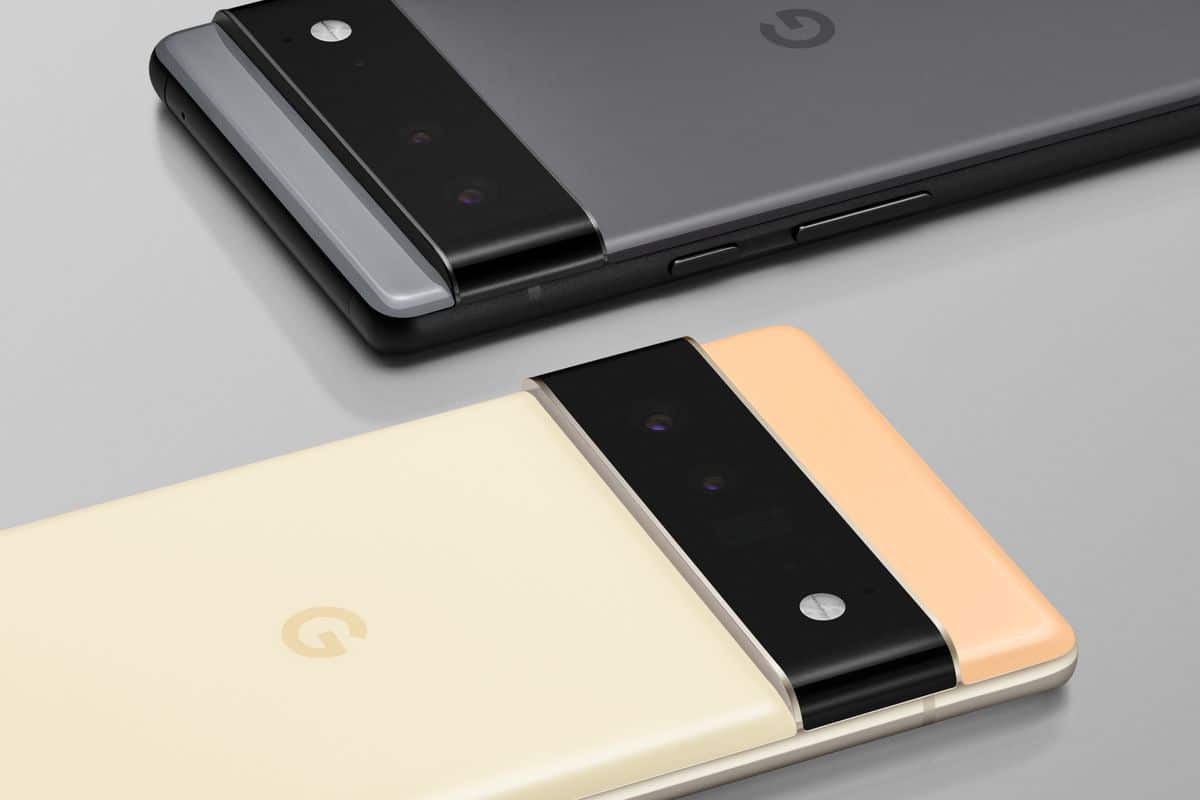 Google has kept the Pixel 6 Pro's price modest compared to other flagship phones. The Pixel 6 Pro, which starts at $899 for the 128GB variant, offers a lot of hardware value on top of Google's great software design and support.
The Pixel 6 is now available in shops, and the pricing varies depending on where you purchase it. The 128GB variant will set you back $599 if purchased unlocked or through Google Fi, T-Mobile, or Xfinity Mobile.
Design: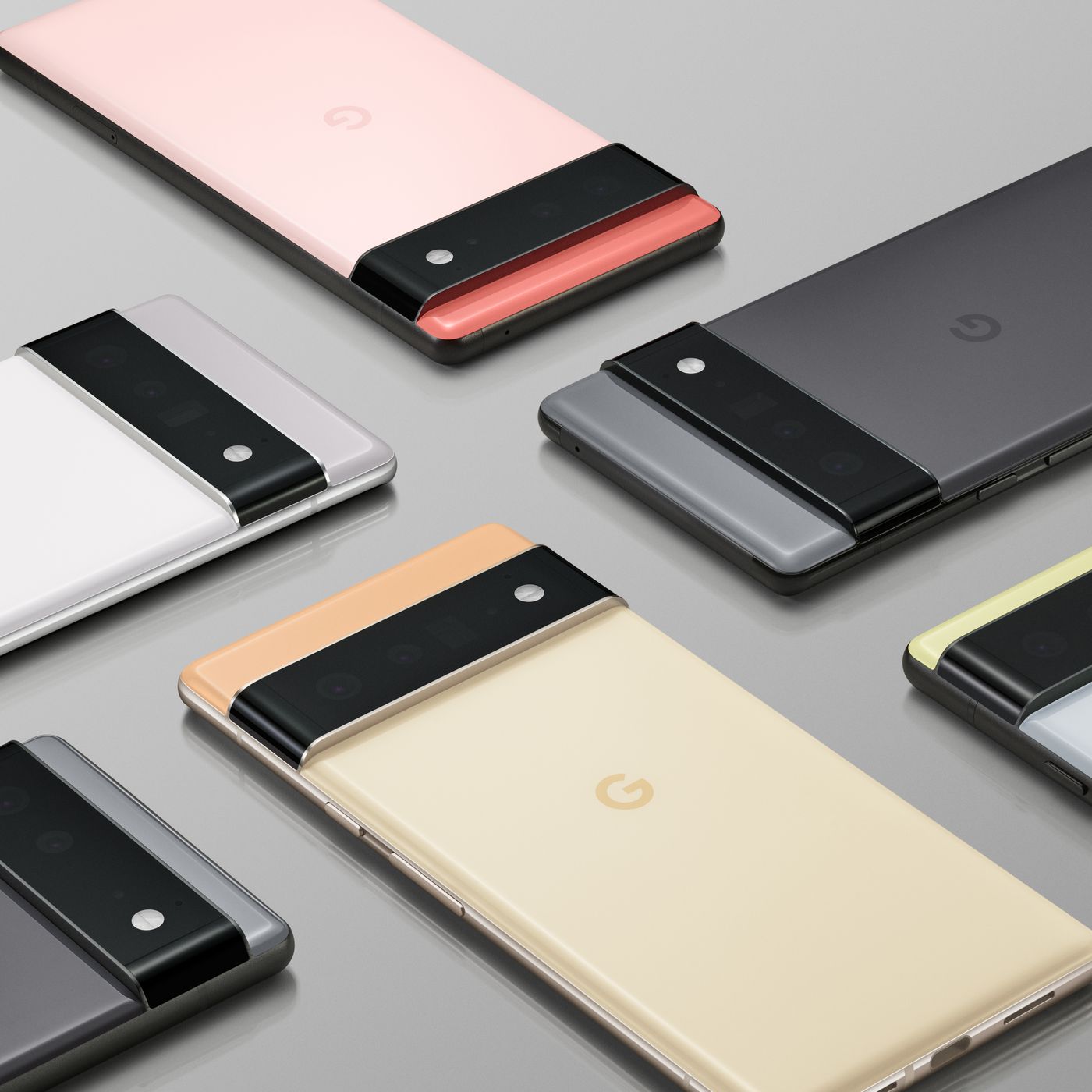 The Camera Bar is the first thing you'll notice, giving the phone a sleek, symmetrical design that places the camera front-and-centre. Pixel 6 features a unique visual and vivid appearance. The dramatic, diverse colour possibilities are complemented by the matte black metal band. The finishes on the Pixel 6 Pro were inspired by those seen in high-end jewellery and timepieces. It has a polished metal unibody that flows to beautiful curved glass in complementary hues to the metallic frames.
The Pixel 6 is available in three two-tone colours: black, red, and green, however, the Pixel 6 Pro is only available in black, white, or gold. The normal 6's metal sides are hefty and matte black, but the 6 Pro's sides are slimmer and polished to a high sheen. The 6 is unquestionably more entertaining, however, the 6 Pro falls short in terms of appearance and fit and finish when compared to competing phones in its price range.
The camera bar that spans the back of each phone is the most conspicuous design element. It's big, stands out a long way, and doesn't quite match in with the rest of the phone. On the positive side, unlike camera bumps on other phones, it doesn't cause the phone to wobble on a table or desk when you put it down.
Also Checkout: 10 Best Smartphones Under 30000 Rs in India – 2022
Display: 
The OLED panels on the Pixel 6 and 6 Pro are both stunning. The normal model features a 6.4-inch 1080p display that operates at 90Hz, and the Pro has a 6.7-inch display that alternates between 10Hz and 120Hz depending on your activity.
Most flagship phones now feature OLED displays, which provide outstanding visual quality in general. Refresh rate is the next frontier for screens, and the Pixel 6 Pro's 120Hz display is as smooth as the iPhone 13 Pro and Galaxy S21 Ultra's. Scrolling through Twitter, Instagram, and online articles is a pleasurable experience.
The Pixel 6's 90Hz refresh rate makes it feel a little slower, but if you haven't been spoiled with 120Hz panels, you won't notice. If you're replacing an older phone, the 90Hz display will be a significant upgrade.
A fingerprint sensor sits beneath the Pixel 6's display, but it's sluggish and fussy, especially when compared to in-screen readers seen on current Galaxy and OnePlus handsets. When the screen is off, you can't log in with your thumb, therefore unlocking your phone is a two-step process: Then scan your print after waking up the screen.
Android 12: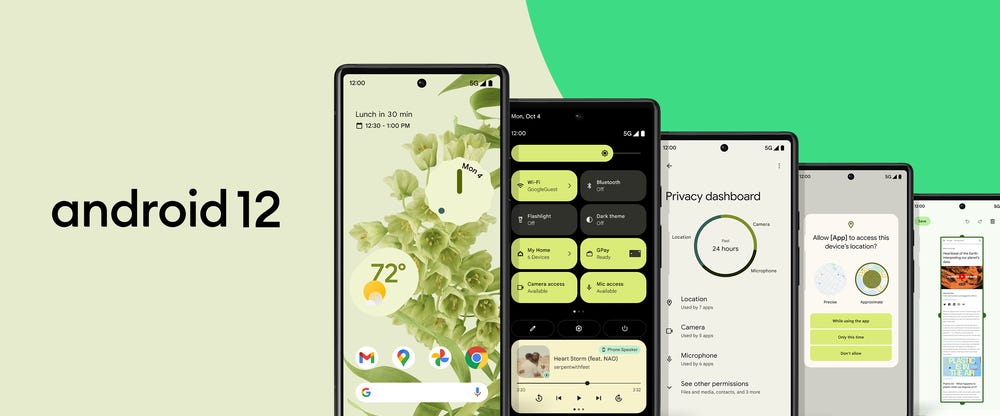 Android 12 enhances Android's finest features so that your phone may really be yours: It adapts to you, is secure by default, and is designed to be private. And on the Pixel 6, Android 12 looks exceptionally gorgeous.
When you select a wallpaper, your whole UI will change to reflect your selection. Everything will feel smoother and more responsive. The At a Glance app, which appears on the home and lock screens, has a new appearance and several new features. You'll find everything you need, precisely when you need it, like your boarding pass on the day of your travel or exercise metrics.
And the Pixel 6 is once again the most secure phone. It contains the Titan M2TM, a next-generation security core that works with Tensor to safeguard critical user data, PINs, and passwords. 
Camera:
The camera systems on the Pixel 6 and 6 Pro are likewise completely new, with new sensors, lenses, and capabilities. For the first time since 2017, Google has improved the camera hardware in the Pixel range, and it's gone big – literally. The Pixel 6 Pro is the first in the line to have ultrawide, wide, and telephoto cameras, and the new main camera sensor is substantially larger than the one used in the Pixel 5 and prior.
A new 1/1.3 inch sensor may be seen on the rear of the Pixel 6 and Pixel 6 Pro. When compared to the Pixel 5's primary camera, this primary sensor now collects up to 150 per cent more light, resulting in photographs and videos with even more detail and richer colour. Both phones also include brand-new ultrawide lenses with bigger sensors, ensuring that photos appear amazing when you want to fit more into your frame.
The Pixel 6 Pro also comes with a great telephoto lens that offers 4x optical zoom and up to 20x zoom with Pixel's enhanced Super Res Zoom. There's also a new ultrawide front camera with a 4K video recording. Snapchat's new ultrawide selfie function makes use of its bigger front camera. Plus, later this year, the new Quick Tap to Snap functionality will be available exclusively on the Pixel 6 and Pixel 6 Pro for fast Snapchat access.
Pixels have traditionally struggled with video, but you'll be relieved to learn that they can now take excellent videos. When compared to the iPhone 13 Pro and S21 Ultra in HDR scenes, the Pixel generally offered richer colours and preserved shadows and highlights rather than lightening everything up. Although the iPhone has greater image stabilisation and the Pixel has some processing idiosyncrasies, video quality is no longer an issue. Tensor, which can now apply the image algorithms Google employs to enhance photos to each frame in a movie, is responsible for these advances.
Also Checkout: Best Gaming Monitors In 2021 To Boost Your Gaming Setup (Top 10)
Performance: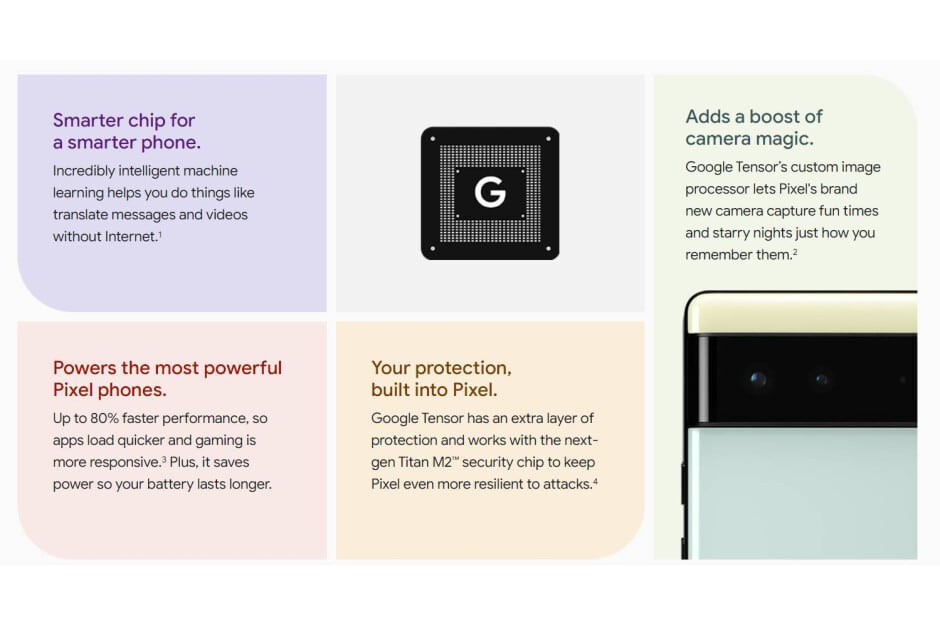 The processor within the Pixel 6 series, Google's new Tensor chip, is one of the most crucial aspects of the device. It's Google's first proprietary CPU, following in the footsteps of Apple and eschewing Qualcomm or MediaTek off-the-shelf chips.
The Tensor chip, in addition to powering the phone, offers a lot of AI-based customization to improve aspects like the camera, speech recognition, and gaming.
In terms of performance, Google claims that the new processor is on par with Qualcomm's Snapdragon 888, which I believe is correct. Apps load quickly, switching between them is seamless, and the user interface is devoid of stutters and hang-ups. The only app that stutters on both phones is Twitter, but it's an oddity. The Tensor chip won't outperform Apple's latest CPUs, but it's light years ahead of the processor found in the Pixel 5 last year and on par with other high-end Android phones.
Battery:
In addition, there was no discernible difference in battery life between the two phones. Both can easily get through a full day of use with plenty of energy left in the tank – I went to bed most nights with 35-40% battery left, even when using the camera frequently and using the always-on display feature. Light users may be able to extend this to two days with no effort. The fact that the batteries are large – larger phones mean enormous batteries and long battery life — is a significant reason for this endurance.
Both models include wireless charging and rapid wired charging capabilities, however, neither comes with a charger. Google offers a $25 30-watt brick separately and plans to release a $79 fast wireless charger soon.
Even if you use a sufficiently powered charger, neither phone charges quickly. To preserve the battery cells' longevity, Google actively slows down charging after it reaches 80 per cent, and because these batteries are so enormous, getting to a full charge can take a long time. Fortunately, because of the lengthy battery life, you'll probably just need to charge it while sleeping.
Smarts and Speech:
Improved speech recognition and language understanding models are also included in the Pixel 6 and Pixel 6 Pro, making ordinary chores easier. For example, you can now utilise Assistant voice typing in Messages, Gmail, and other apps to swiftly type, modify, and send messages. Let Google Assistant help with adding punctuation, making corrections, inserting emojis and sending your messages.
You may occasionally find yourself debating whether you have time to call a company right now or if you should call later to avoid waiting on hold. Wait for Times and Direct My Call, both of which are available in the United States and in English, make it easy to make that decision: You'll see the current and predicted hour-by-hour Wait Times for the rest of the week before you even dial a toll-free business number.
Direct My Call will connect you to the relevant department when you call the company. Google Assistant, which uses Duplex technology, transcribes automated messages and menu options in real-time and displays them on your screen for you to view and tap.
With the ability to translate texts (11 languages) or media (5 languages) in real-time on your phone, Live Translate is more remarkable than ever. When utilising Google Lens, the camera mode will translate what it sees into 55 languages offline and 104 languages online. Assistant will interpret back and forth for you in up to 48 languages online when you use Interpreter Mode.
Also Read: Top 5 Best Smart Displays