Accessories
Listicle
Reviews
Top 7 Best Ultrawide Monitors In 2022: Delivering The Best Screen Experience
Here is a list of 7 Best Ultrawide Monitors in 2022 for a great Screen Experience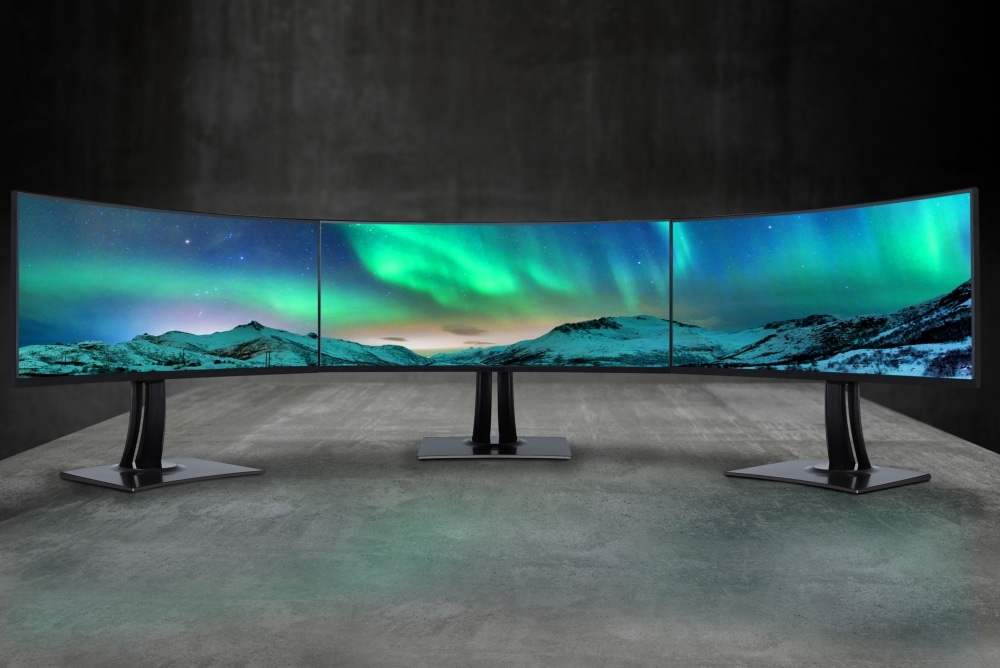 Ultrawide monitors provide the premium experience out of their extended screen and the curve surrounding your eyes. Working on an ultrawide monitor can add that royal touch to your daily routine with more on-screen visibility and multiple screen options. If you are ready to dive into the serene curve of an ultrawide screen, here are the 7 best ultrawide monitors in 2021 to go for.
Also Checkout: 8 Best Photo Editing Apps for iPhone
Along with better resolution and viewing angles, ultrawide monitors ensure more multitasking on their huge screen with the multiple screen feature. Ultrawide monitors are designed in a way to provide a theatrical finish to your binge-watch time with movies and shows. A curved screen is as soothing to watch beyond the screen as it is on-screen. If you seek a complete screen that covers an aesthetic experience from your work to gaming and movies, an ultrawide monitor is that complete package. 
Let's dive into the list of 7 Best Ultrawide Monitors-
1. Samsung Odyssey Neo G9
SPECIFICATIONS:
Screen Size: 49-inch
Aspect Ratio: 32:9
Resolution: 5120 × 1440
Brightness: 2000cd/m²
Refresh Rate: 240Hz
Response Time: 1ms 
Weight: 32 lbs
PRICE: $2,499
The might of the Samsung Odyssey Neo G9 is so powerful that it stands out like a beast out there in the league of ultrawide monitors. The 5120 × 1440 resolution is pretty much 4k as the visual experience is par excellence. The ultra-wide screen gives you a scenic drive into the virtual world being created on the screen. Equipped with anything and everything, the 1440p display with a 2000-nit peak bright screen can hold your eyes effortlessly. More of Odyssey Neo G9 is that it can easily run high-end editing software, HD movies and heavy games on its screen as brilliantly as it can be. Overall, the whole on-screen experience is royal. 
The monitor is blissful for gaming enthusiasts with the 240Hz refresh rate along with FreeSync Premium Pro & G-Sync only increasing the valour of this monitor. The 1ms grey-to-grey response time details everything on the screen in a single sight. The huge screen of Neo G9 can be utilized into two separate inputs side-by-side providing you with an option for multiple screens. For the best among the ultrawide monitors, the price bar is worthy. With a $2499 price range, it assures only more technology and supports giving back justice to your investment.
2. LG Ultragear 38GN950
SPECIFICATIONS:
Screen Size: 38-inch
Aspect Ratio: 21:9
Resolution: 3840 × 1600
Brightness: 450cd/m²
Refresh Rate: 144Hz
Response Time: 1ms
Weight: 16.9 lbs
PRICE: $1739.99
LG Ultragear 38GN950 is a versatile ultrawide monitor preferred highly among the gaming community. The features are highly packed under a $1739 price tag which is rather decent considering the ultrawide screen. The built design of the monitor is very precise being a huge screen it sits firmly on the desk. The response time of 1ms with a 160 Hz overclock refresh rate makes the pixel flow as smooth as a breeze. Highly equipped with graphic excellence for NVIDIA, the gaming experience is tear-free and detailed even at higher fps. 
The 38-inch high-resolution screen provides enough bright and clear space for multitasking, satisfying the monitor as a good deal for office work. The colour gamut is impressive and the HDR feature adds up to a great visual experience on screen even with movies and videos. The curved design is built considering a smooth experience around the eyes, the large screen enables more than one better angle for multimedia use. Although a gaming lead, Ultragear 38GN950 can satisfy your daily multi-usages with more ease and better visuals. 
Also Read: 8 Best Live Wallpaper Apps for Windows 10
3. Asus Designo Curve MX38VC 
SPECIFICATIONS:
Screen Size: 38-inch
Aspect Ratio: 21:9
Resolution: 3840 × 1600
Brightness: 300cd/m²
Refresh Rate: 144Hz
Response Time: 5ms
Weight: 21.8 lbs
PRICE: $1,099
Asus Designo Curve MX38VC is an ultrawide monitor highly dedicated to creating and office work. If you are seeking a working ultrawide screen, then this brings the deal to your desk. 
The 38″ built is brilliantly equipped with nothing less than a 4k screen. The better of Asus Designo MX38VC come for digital creatives who look for small detailing while editing videos and photographs. The screen comes with a blue-light filter that delivers more to the editors with high-end detailing giving an edge to your edit. Moreover, an ultrawide screen with better work assistance helps you manage multiple workspaces on the same screen allowing you to multitask. 
The desktop real estate is not only huge but delivers 4k visuals. The processing is smooth with a better IPS panel and an add-up feature of Qi wireless charging. The 300-nits brightness sitting alongside the 1000:1 contrast rate makes the visual experience good and better. Asus claims 1.07 billion colours with a maximum of 10-bits per channel of the colour. Apart from HDR features, the Asus Designo MX38VC comes with nothing less for working and editing purposes which makes it a great deal at $1,099. Hence, it's a good deal if you aren't up to gaming.
4. BenQ EX3501R
SPECIFICATIONS:
Screen Size: 35-inch
Aspect Ratio: 21:9
Resolution: 3440 × 1440
Brightness: 300cd/m²
Refresh Rate: 100Hz
Response Time: 4ms
Weight: 22.9 lbs
PRICE: $749
BenQ EX3501R is a multitasking masterclass with great gaming, streaming and work support all along. The design is clean and the curve sits well in front of the eyes making long hours of work on-screen an easy task. BenQ EX3501R adds up to the list with everything else and an HDR feature at a very decent price range. The HDR effect, which is not much evident with mid-range ultrawide monitors, works better on the 35″ 3440×1440 pixels screen.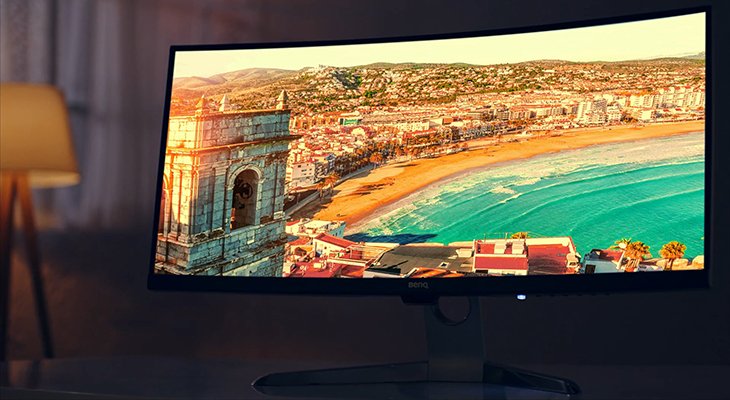 The ultrawide monitor assists a better gaming experience with its 4ms response time avoiding many in-game tears. BenQ considers EX3501R as a 'video enjoyment monitor' and it is very evident with 2500:1 contrast ratio, it only enhances the movie and other visual experiences. Paying as much as $749, the monitor brings nothing but more for an ultrawide screen equipped with multitasking features and delivering a good visual experience beyond genres, that is, gaming, streaming, movies and work. 
Also Checkout: Best Gaming Monitors In 2021 To Boost Your Gaming Setup (Top 10)
5. AOC Agon AG252UCG6 Black Edition
SPECIFICATIONS:
Screen Size: 35-inch
Aspect Ratio: 21:9
Resolution: 3440 × 1440
Brightness: 300cd/m²
Refresh Rate: 120Hz
Response Time: 4ms
Weight: 26 lbs
PRICE: $599
AOC Agon AG252UCG6 Black Edition is a premium ultrawide monitor with a high refresh rate at a decent price tag. The colours emerge better across all the corners of this super-wide screen with a 300-nits peak brightness and 2500:1 contrast ratio. Considering a 120Hz refresh on a 3440×1440 resolution ultrawide screen, Agon AG252UCG6 Black Edition delivers a probable perfect monitor on your desk. The VA panel tech is bliss with its high-end packed features.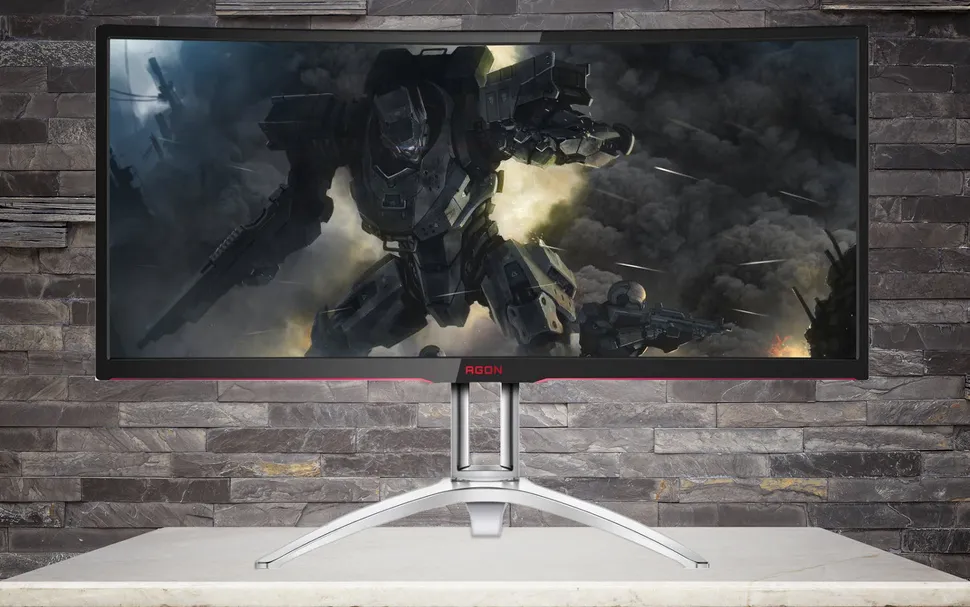 Promising nothing more at the price value, the screen quality can peak up to 1080p and 4K. If you are seeking games on this screen, backed with a better graphic card it can deliver you a seamless gaming experience on its screen with minimal in-game tiers. The build requires a bit of adjustment but with a 35-inch ultrawide screen equipped with VA panel tech and delivering a better visual experience throughout, AOC wins the recommendation at the price range by far.
Also Read: 10 Best Keyboards that you can buy in 2021
6. Alienware AW3418DW
SPECIFICATIONS:
Screen Size: 34-inch
Aspect Ratio: 21:9
Resolution: 3440 × 1440
Brightness: 300cd/m²
Refresh Rate: 120Hz
Response Time: 4ms
Weight: 26 lbs
PRICE: $950
Dell Alienware AW3418DW brings out one of the best displays among the ultrawide monitors league for years. The 34″ ultrawide screen immerses you inside the virtual world with the very evident Dell-class built. Alienware AW3418DW is a rather old launch from Dell but it has been ruling the market since then. Highly acclaimed within the gaming community, the IPS panel coming with a 120Hz overclocked refresh rate and 4ms response time ensures zero lag. The in-game detailing only gets better. This monitor wins the processing game as the fastest ultrawide monitor equipped with G-sync. 
The build is sleek and connectivity is simple with minimal ports. It delivers the best out of the ultrawide screen with 3440 by 1440 resolution along with 300-nits peak brightness and the 1000:1 making it a great visual journey overall. Although a price to pay for the Dell brand, the deal is assured of profits with the monitor only delivering back visual points virtually. As the Alienware AW3418DW has been one of the highly-rated ultrawide monitors in the scene for a long time now, there is nothing much to worry about if you can balance the budget.
7. Dell U4919DW
SPECIFICATIONS:
Screen Size: 49-inch
Aspect Ratio: 32:9
Resolution: 5120 × 1440
Brightness: 350cd/m²
Refresh Rate: 60Hz
Response Time: 5ms
Weight: 37 lbs
PRICE: $1700
Another Dell masterclass and what else to mention for U4919DW if not "monstrous". The huge ultrawide monitor races alone in its own league with a massive 5120×1440 resolution at an aspect ratio of 32:9. Not claimed to be a gaming monitor, the U4919DW delivers fairly for a multitasking screen. It is often considered as two 27inches screens immersed in one very evidently due to its huge screen and multitasking ability. The visual details are very clear with a solid contrast ratio of 1000:1 and colour support of 1.07 billion colours. 
Also Checkout: 12 Best GarageBand Alternatives for Android in 2021
The monitor comes with highly accessible colour and contrast controls putting you on the top of customs. Along with the customizations, the monitor delivers accurate colours and detailing making it to the list of editors. The desk job experience could be scenic if you can adjust a huge 4 feet screen around the setup. Although, this big ultrawide monitor lacks more than one spot with no HDR and audio support also compromising with adaptive sync. 
But if you often deal with heavy multitasking on your desk, the Dell U4919DW can be the one to remove that multiple screen fuss to one on-screen bliss to add speed and efficiency to your project. The visual quality considering the huge screen is by far great as Dell delivers more as always with its monitor. A recommendation in this list if you want to go big with your desktop. 
Also Checkout: Asus ROG Phone 5