Gadgets
Accessories
Reviews
7 Best Soundbars For TV In 2022 To Create A Theatrical Dimension At Home 
Here are the Best Soundbars For TV in 2022 that can enhance your TV audio.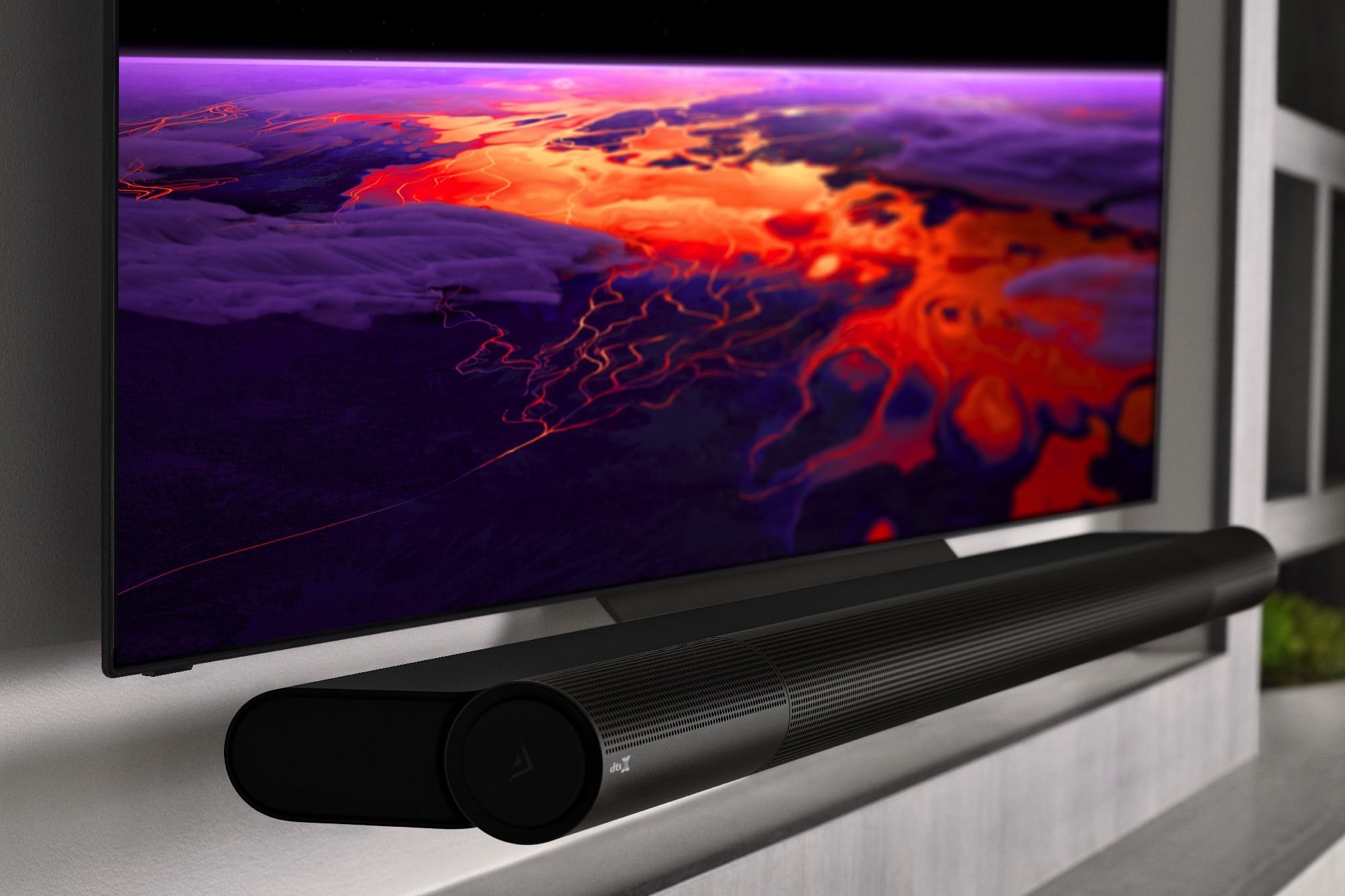 Soundbars are specialized to equip your TV set-up with theatre-like abilities surrounding yourself with the best of sounds. A good TV assisted with the better of soundbars can surely bring the theatre experience at home. Here we list the best in value 7 top best soundbars in 2022 to consider for a home set-up.
Never mind, the pandemic locked all of us in our homes and one thing we missed among many is the theatre experience while watching movies or OTT series. An immersive surround sound with 3D variations and deep bass enables the cinematic goosebumps. Among a large and variable list of preferred soundbars, the best of them allow hassle-free HDMI connectivity with 4K/HDR passthrough, wireless audio streaming, great speaker drivers, and decoding of Blu-ray sound formats. 
The best of soundbars brings you value with a variety of sounding features. Here we have compiled the Best Soundbars in 2022-
1. Sonos Arc 
SPECIFICATIONS:
Size: 45 × 4.5 × 3.4 inches
Audio Channels: N/A
Bluetooth: No (Wifi & AirPlay 2 capable)
Inputs/Outputs: Ethernet, HDMI ARC
Wall Mounting: Yes
Price: $799
Sonos Arc undoubtedly comes with premium sound delivery packed inside large hardware. The curved design enhances the sound and does the look part very well as well. Sonos Arc is packed with 11 in-built speakers to surge your sounding experience through the waves.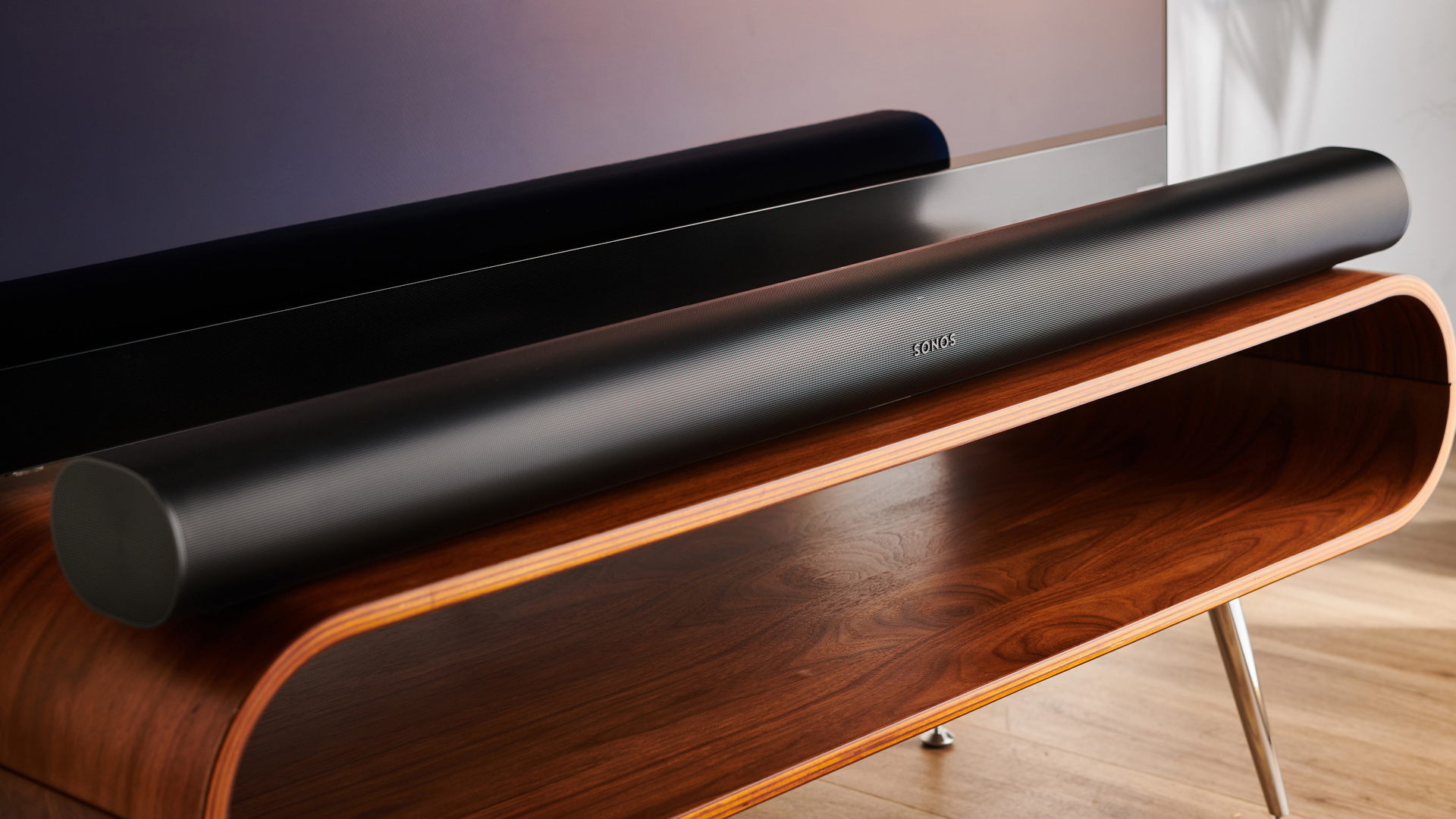 The deep bass, clear treble backed with Sonos'TruePlay technology enables the Arc to tune itself according to the environment and bring out the best and crispest audio. Additional voice control support via Alexa and Google Assistant makes it the smartest of soundbars. With a large set-up and delivering quality, Sonos Arc justifies its premium price range with impressive sound values. 
2. Yamaha YAS-209
SPECIFICATIONS:
Size: 36.6 × 4.3 × 2.5 inches
Audio Channels: Stereo, DTS Virtual × Surround
Bluetooth: Yes
Inputs/Outputs: HDMI in/out, digital optical in
Wall Mounting: Yes
Price: $299 
Yamaha YAS 209 is a deal that never puts you down. Coming with a soundbar and wireless subwoofer combo enhances the sound quality by par backing with a deep base. The build is simple yet sleek and fits seamlessly around TVs providing an additional edge of good looks. The YAS 209 sounds as great as an audio setup can under the $400 price range and is highly rated among sound critics.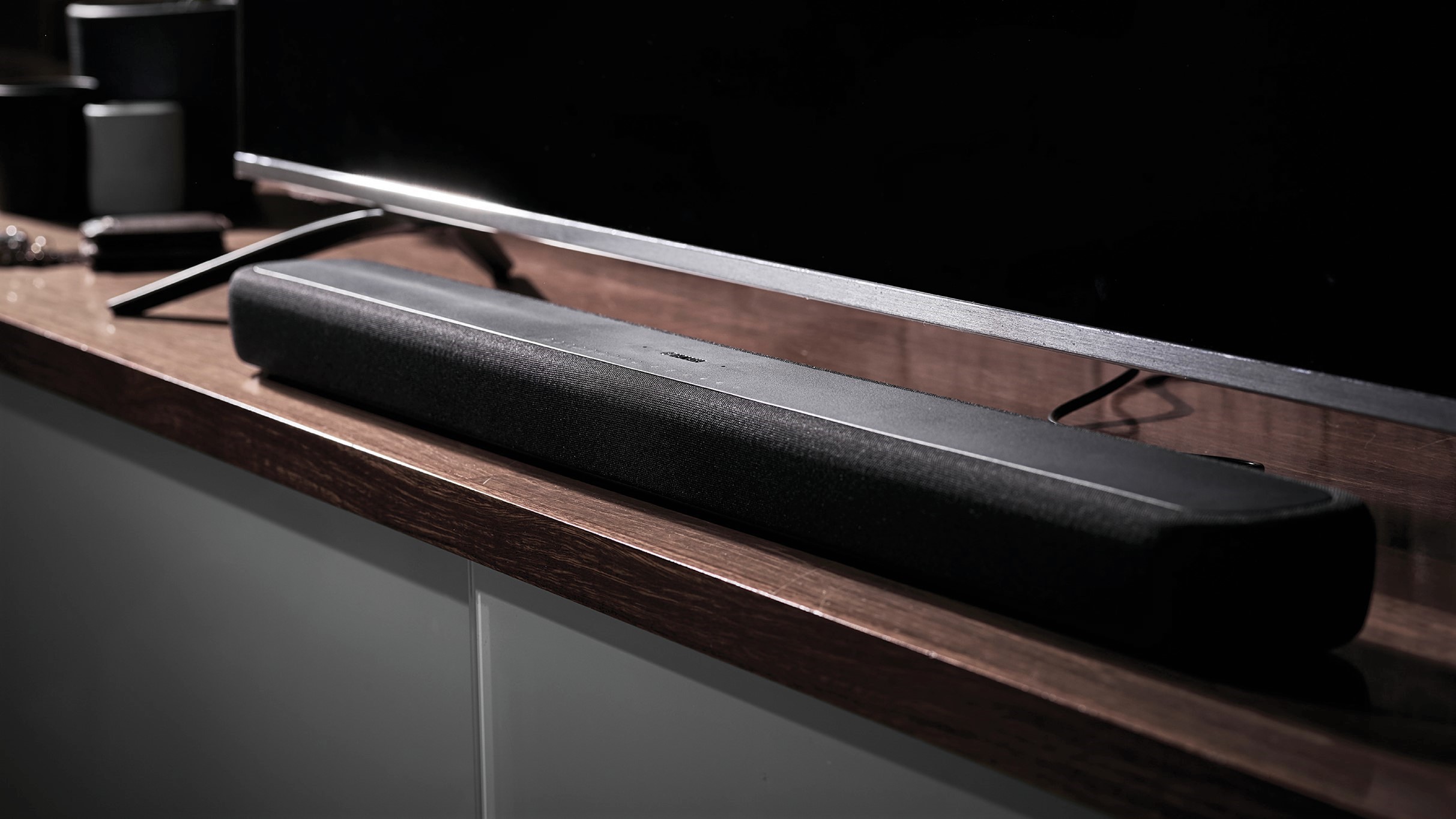 Packed with four 1.75-inch drivers, the sound and variations delivery is immersive. The "Clear Voice" mode performs well for sound isolation and makes it crisp through the ears. More features include the Alexa voice control, WiFi streaming, Bluetooth, Ethernet port, an HDMI ARC and more only makes it a complete soundbar. At a decent price, Yamaha YAS 209 is the one to just go get. 
3. JBL Bar 5.0 MultiBeam
SPECIFICATIONS:
Size: 27.9 × 2.3 × 3.9 inches
Audio Channels: 5.0
Bluetooth: Yes
Inputs/Outputs: HDMI ARC, Digital Optical, Ethernet, USB
Wall Mounting: Yes
Price: $349
JBL Bar 5.0 MultiBeam offers the most out of a $349 soundbar delivering as big as Dolby Atmos quality sound. JBL Bar 5.0 clears the crowd with a digital surround sound and deep bass even without a subwoofer. 
It is packed with an auto-calibration feature that tunes Atmos according to the room dimensions very precisely. Although you have lesser control over the sounds due to manual controls, that's still a healthy loss when you're scoring big with Dolby Atmos experience which is no less than a bliss on your wallet at such a price. 
4. Sonos Beam Gen 2
SPECIFICATIONS:
Size: 25.6 × 2.7 × 3.9 inches
Audio Channels: Stereo
Bluetooth: No 
Inputs/Outputs: HDMI ARC, Ethernet, WiFi compatible
Wall Mounting: No
Price: $449
Sonos Beam Gen 2 comes a long way up into the recommendation list being an affordable yet quality-driven soundbar. Highly assisting small TVs with Dolby Atmos compatibility, it's a deal to steal. Sonos Beam Gen 2 assures a better processing power than Gen 1 upgrading the sound game with highly packed features in one box.
 The sound experience is theatrical in your living room with 3D music backed by Dolby Atmos also coming with streaming services of Apple Music, Amazon Music HD, and Tidal. Hence, nothing much to ask for a home theatre set-up at a good price range and Dolby Atmos compatibility. 
5. Creative Stage V2
SPECIFICATIONS:
Size: 26.8 × 3 × 3.9 inches
Audio Channels: 2.1
Bluetooth: Yes
Inputs/Outputs: Optical 3.5mm, HDMI ARC, USB
Wall Mounting: Yes
Price: $110
Creative Stage V2 is the one that delivers nearly everything at a never-mind price. Comes with a dedicated subwoofer the sound is just fantastic which treats lower frequencies with ease and quality offering clear audio and crisp sounds all along. The "Surround" mode enhances a theatrical experience with multiple depth variations, almost a 3D experience.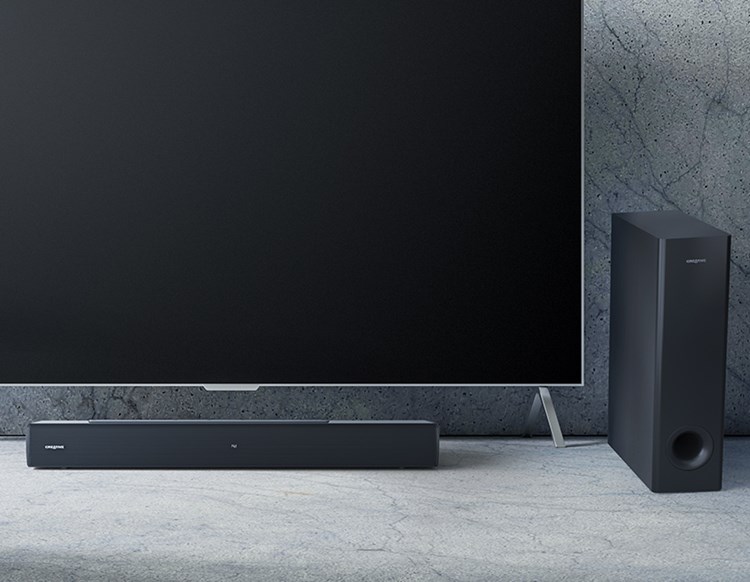 Enabled with Bluetooth, HDMI ARC, and USB connectivity, the streaming is seamless. The design and build sit in alignment around the TVs. One can enhance the sound experience by setting up bass and treble boost settings manually to enable more dimensions of sound. Creative Stage V2 has everything and a price tag that doesn't worry you. 
6. Denon Home Sound Bar 550
SPECIFICATIONS:
Size: 25.9 × 2.9 × 4.7 inches
Bluetooth: Yes
Inputs/Outputs: HDMI eARC, USB
Wall Mounting: Yes
Price: $599
The Denon 550 completes itself with large variations of high-end features and great sound quality, all of them under a mid-price category. Specially enabled with Dolby Atmos tech and HEOS Built-in, the sound capability of Denon 550 is impeccable. 
The Dolby Atmos 3D feature opens a plethora of sound variations and surrounds it similar to a theatrical experience. The wireless ecosystem of Denon's subwoofer and speakers only adds elevation to its recommendation values. Denon 550 serves more than deserved at $599 and you should go for it.
7. Sennheiser AMBEO 3D
SPECIFICATIONS:
Size: 50 × 5.3 × 6.7 inches
Audio Channels: LPCM, Dolby Digital, Dolby Atmos
Bluetooth: Yes
Inputs/Outputs: HDMI Optical, Ethernet, USB, AUX
Wall Mounting: Yes
Price: $1,999
If you seek sounds more than that's audible, Sennheiser AMBEO 3D brings you more at a more worthy price range. It creates less sound and more magic with highly equipped features with nothing but high-end delivery. Packed with 13 independent drivers inside, the Sennheiser AMBEO puts you in the middle of a theatre while being at your home.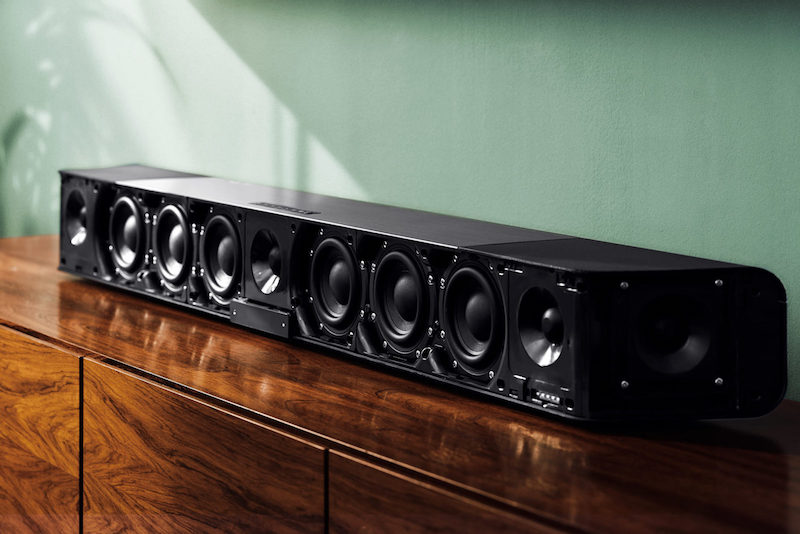 The Dolby Atmos tech creates a non-parallel 3D sound space without a subwoofer requirement. The more we mention AMBEO 3D, the more we understand the justification of its high price value and if it's coming from the Sennheiser house, you don't need to think twice about the quality. 
Also Read: Best Gaming Monitors In 2021 To Boost Your Gaming Setup (Top 10)