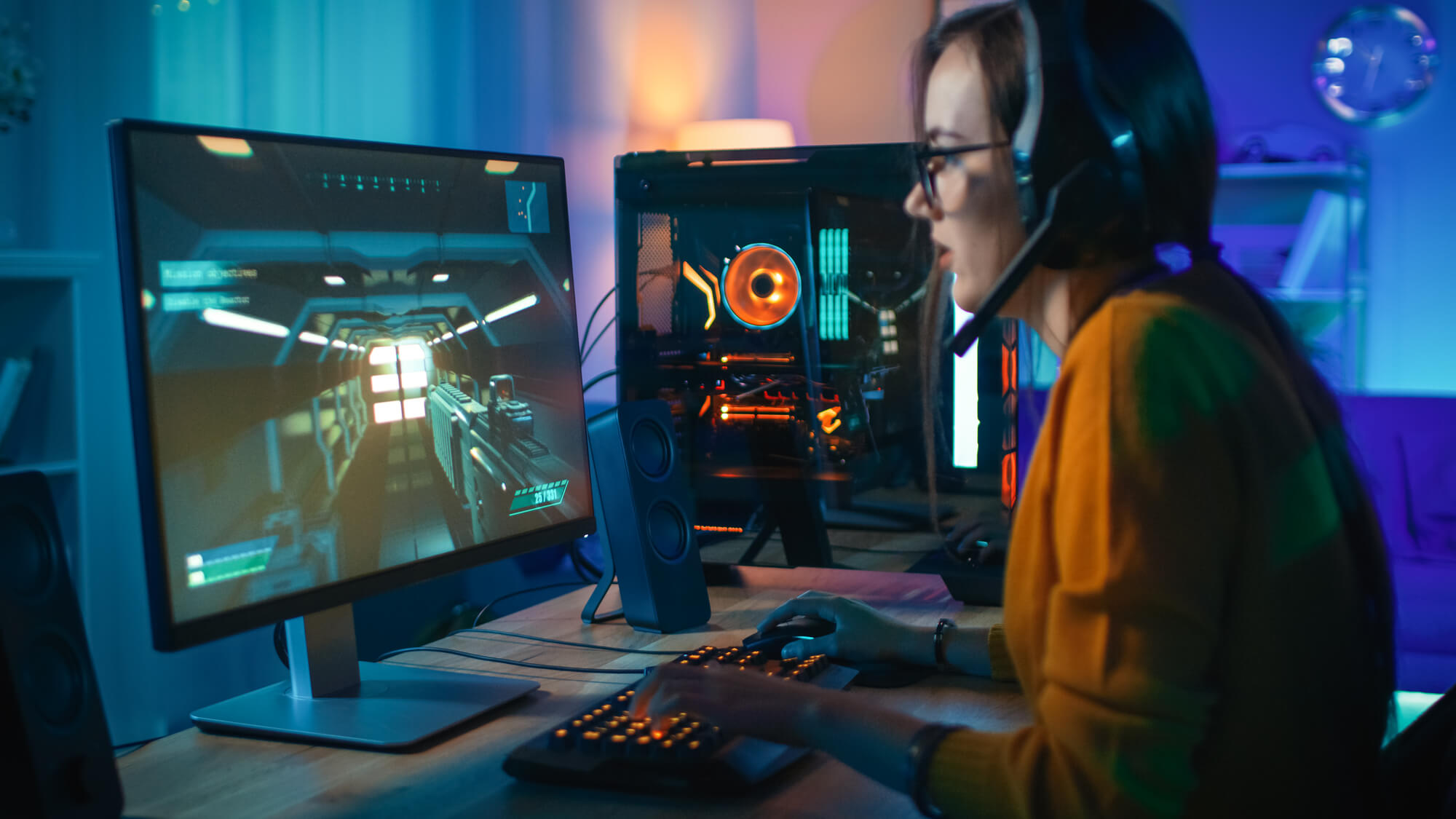 These budget gaming PCs can keep up with all you need them to, even serious gaming, because they are packed with more affordable components that are nonetheless powerful, such as the best cheap processors and best budget graphics cards. These PCs are also a good choice for now because you can always update the components later if you want to really push the machine to its limits. 
Budget PCs haven't always been a sure thing when it comes to gaming. After all, the more powerful the components are, the more expensive they are. They used to be, at least. Graphics cards and processors are more accessible than ever before, due to AMD's competent yet affordable offerings like the bargain AMD Radeon RX 5700 and value-oriented Ryzen 3rd Generation CPUs. As a result, low-cost PCs have been able to enter the gaming fray with some great contributions of their own.
Here is the list of some of the Best Budget Gaming Pc for you to buy in 2021-
1. Lenovo Legion Tower 5
The Lenovo Legion Tower 5 is well-suited to 1080p and 1440p gaming, with enough power to handle just about any game you throw at it. The AMD Ryzen 7 5700G CPU inside has eight fast cores that can handle your gaming needs while also allowing you to perform background activities. The machine also includes an Nvidia RTX 3060 graphics card. Whether you want to go particularly fast at 1080p or just want the balance of 1440p clarity at a smooth 144Hz, the RTX 3060 should easily enable you to witness high frame rates in esports titles. Lenovo includes 512GB of fast storage to keep the computer snappy and provide you with a place to store your favourite games.
Price: $1155
 2. HP Omen 30L
The HP Omen 30L is a competent gaming desktop with a small footprint and an affordable price. This system's chassis is only 6.5 inches wide, allowing you to keep it on top of your desk without sacrificing too much space for your keyboard and mouse. The HP Omen 30L comes with a six-core AMD Ryzen 5 5600G processor and an Nvidia RTX 3060 graphics card in this configuration. Unless you're attempting to push into 4K or do a lot of streaming, this PC should be more than capable of handling your gaming needs. HP has also incorporated a 1TB SSD for a more responsive machine and speedier game loading.
Price: $949.9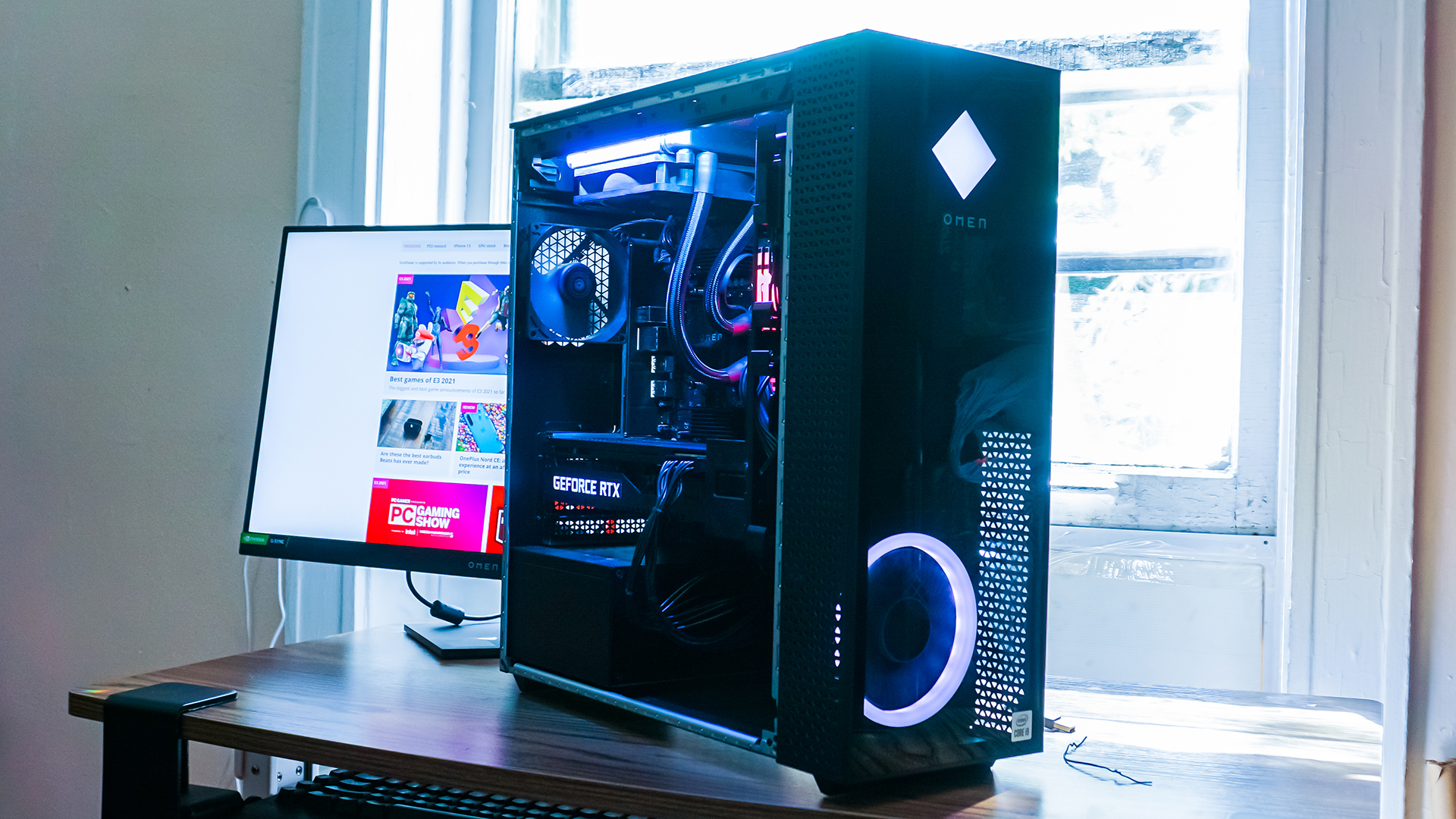 3. MSI Trident 3 9th
If appearances are as important to you as performance, the MSI Trident 3 9th might be the right fit for you, especially if you want a gaming-oriented style. It's not all about appearances, either. With 9th-generation Intel Core processors and the finest Nvidia RTX and GTX graphics, this tiny gaming PC offers lots of power for less than its competitors. It's even less expensive than many of the gaming PCs on this list, with an Intel Core i7 + RTX 2060 Super +16GB RAM setup costing less than an HP Omen 25L with comparable hardware. This is the finest budget gaming PC for you if you're attempting to make the most of your limited space and cash.
Price: $1199
4. HP Omen 25L
The rectangular black metal design of the Omen 25L isn't likely to turn any heads any time soon. Its glass panel helps to compensate for this, but just. However, if you're not too concerned with appearances, this is one of the greatest budget gaming PCs set to enter the market in 2021 that won't break the bank. It's ideal for AMD-leaning gamers because AMD options are available. Those that are dedicated to Nvidia's RTX series, however, will be able to participate as well, as it can be configured to have up to an RTX 2070 Super GPU. Still, it's the price that we can't get over here – the Omen 25L is as expensive as many premium gaming PCs in their mid-range configuration when fully loaded.
Price: $899
5. CyberPowerPC Gamer Xtreme
It's simple to get good 1080p gaming. All you need is a fast processor and a modest graphics card. Inside is an Intel Core i5-11400F processor, which isn't quite a powerhouse but is more than capable of getting the work done while keeping the cost low. This is partnered with an AMD Radeon RX 6700 XT graphics processor, which, although not ideal for ray-tracing or 4K, can handle 1080p with ease. The system comes with a 500GB SSD to keep the OS and your most-played games running quickly, as well as a 1TB hard drive for data and your larger game library.
Price: $1550
6.  HP Pavilion
The HP Pavilion Gaming Desktop keeps the gamer aesthetic to a bare minimum, making it equally at home in an office as it is in a game room. So, if you're looking for a machine where you can both play and work, this is the machine for you – and it will save you even more money. It won't be a fully-loaded machine, but if you pay a little extra for the higher options, you can get one with an RTX 3060. Its cheaper configurations, on the other hand, should be sufficient for 1080p gaming.
Price: $899
7. SkyTech Shadow 3.0
The Nvidia RTX 3060 is an excellent 1440p gaming companion, but it's difficult to come by directly from shops. However, if you're searching for a whole computer that can deliver 1440p gaming excellence, the SkyTech Shadow 3.0 is a fantastic choice. This PC is well-equipped, with an AMD Ryzen 5 3600 processor and 16GB of DDR4 RAM clocked at 3,000MHz. The CPU won't hit 300 frames per second at 1080p, and the GPU won't be much better at 4K, but in 1440p, they'll strike a perfect balance that will give you amazing images and smooth frames for a terrific gaming experience.
Price: $1649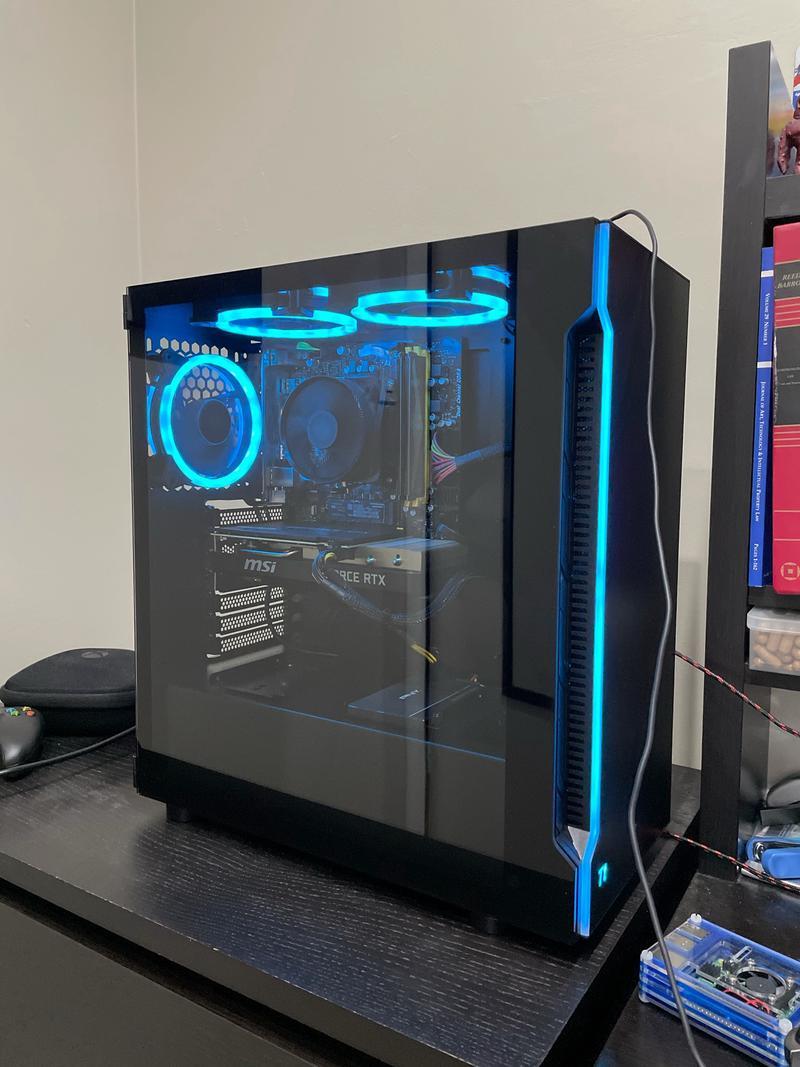 8. Dell G5
With a distinctive chassis and an unbeatable price, Dell's latest G series gaming PC is a strong contender for one of the best budget gaming PCs available. The Dell G5 is equipped with 9th-generation Intel processors as well as Nvidia's most powerful gaming GTX and RTX graphics cards, starting with an i3 CPU and the GTX 1650 to tackle a variety of demanding games without burning a hole in your pocket. Of course, if you have more case space, you may opt for its VR-ready versions, which are also very reasonable.
Price: $1049
9. NZXT BLD Starter Pro
The BLD Starter Pro from NZXT not only provides a powerful machine, but it also makes buying a computer that will deliver the performance you require much easier. You can view the frame rates you may expect from your pre-built system based on the hardware setup with NZXT's BLD series. No longer will you have to wonder if one CPU and another GPU will work together to provide you with a consistent 144 frames per second in Fortnite at 1080p. The NZXT BLD Starter Pro is equipped with an Intel Core i5-11400F processor and an Nvidia RTX 3060 graphics card, making it a true mid-range powerhouse. That should be plenty for all but the most demanding games, and it should run at 1080p and 1440p.
Price: $1399
10. Intel Ghost Canyon NUC
From its humble origins, Intel's NUC has come a long way. The newer Ghost Canyon, for example, includes both RAM and storage, whereas the previous Hades Canyon did not. In fact, not only does it now have more specs, but it's also extremely adjustable, allowing you to tailor it to your preferences before purchasing it. We're all for it, with 9th-generation Intel Core processors, up to 64GB of memory, and up to 4TB of dual storage. The only catch is that it's now more expensive. The cheaper configurations, on the other hand, are still extremely affordable and are among the best budget gaming PCs for those on a tight budget.
Price: $1699
One of the most appealing aspects of building your own budget gaming PC is the opportunity to select virtually every component in the system. This gives you the freedom to search around for the best pricing and select the ideal combination of parts to match your budget and performance requirements.
Also Read:  7 Best Data Visualization Tools in 2021