Reviews
Creaitor.ai : The New AI Writing Tool
With the advancements of new technologies, it is easy for us to do our simplest task with more ease. One of such tool is Creaitor.ai (the new AI writing tool).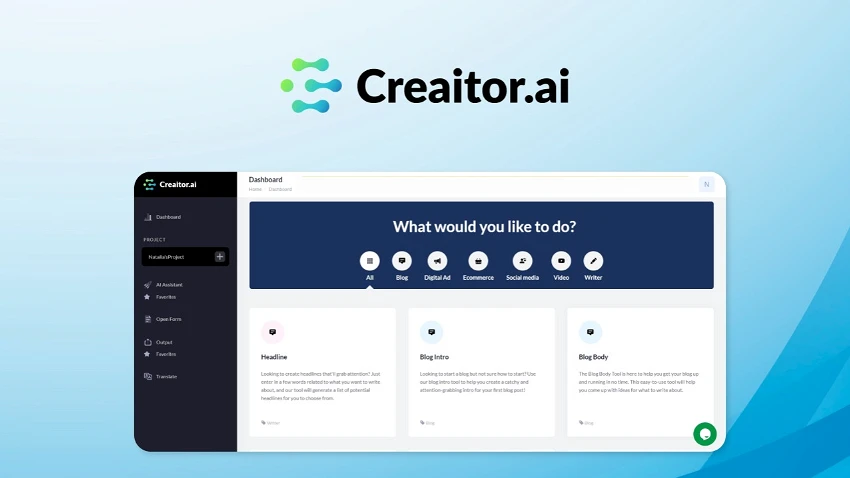 Creaitor.ai is an AI-powered content creation tool that helps content creators and writers effortlessly create headlines, and email texts, and improve their content. It assists you in streamlining your writing process. In this article, we will be discussing thoroughly the new AI writing tool, Creaitor.ai. Also, we will be doing a review of this new tool. Read along to find out more.
The Creaitor tool enables you to write content that is more powerful and emotionally expressive. You may save a lot of money and time by employing the AI tool for a variety of stunning and helpful outputs of this content production tool.  You can generate social networking, Google, sales messages, and much more with over 60 templates offered by the Creaitor tool. 
It is undoubtedly the best and most cost-efficient artificial intelligence tool in the market, which helps you with your content and makes it more engaging and attractive. Creaitor allows you to do much more than just write.
You can use this tool to create headlines, email text, Google and Facebook advertising, YouTube copy, and even a blog body for your blog entries. Everything you need to know about the Creaitor tool is mentioned below.
Features of Creaitor.ai
Creaitor.ai is a robust content production platform with features that enable easy and seamless content development. This tool has the following features:
Blog Idea Generator

Webinar title ideas

Slogan generator

Job description generator

Testimonial Helper

Photo post caption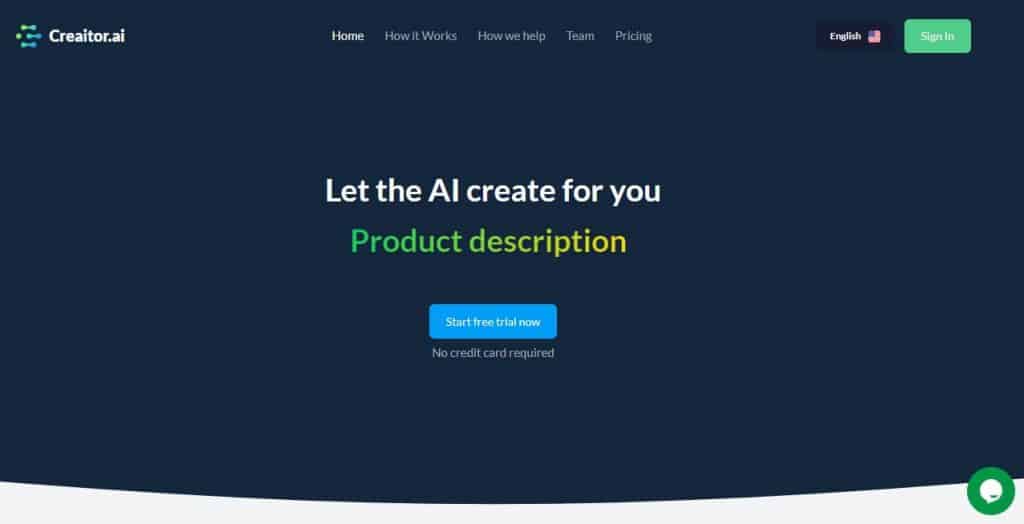 Product Description

Text summarizer

60+ Templates

SEO meta description

Testimonial Helper

AIDA Framework

Blog outline

Slack text message
Creaitor.ai Pricing
Creator.ai offers three flexible and cheap price plans that are targeted to various business sizes and phases.
The Starter plan

is ideal for new businesses with a small crew. The package costs $ 29 per month.

The Professional Plan

, which costs $59 per month, is ideal for professional and medium organizations.

The Enterprise plan

, which costs $99 per month, is ideal for large teams and businesses.
Creaitor.ai Review
This tool is suited for teams and content creators aiming to develop better content and save time in creating the greatest and most engaging content. The Creaitor tool can work with 25+ languages, it uses the GPT-3 solution for the most part and is developing day by day.
Creaitor.ai allows you to design eye-catching headlines. Simply enter the keywords related to what you want to write about, and the program will generate a selection of headlines for you to choose from.
You can use Creaitor.ai to generate the best blog post ideas for your blog body tool.
With this price range, I think Creaitor.ai is a great choice of AI tool and you should definitely go for it. It is simple to use and has a high UX/UI grade, indicating that it is straightforward, engaging, and approachable.
The availability of the ad generator separates Creaitor.ai from other tools in its category. Begin using Creaitor.ai and say goodbye to writing and content creation problems.
How to Make Use of Creaitor.ai
Creaitor tool is simple to use and navigate. With its easy-to-use layout and powerful capabilities, you may save hours of writing time and break the creative block. Steps to get started with the tool are mentioned below:
To use this tool, you must first sign in or establish an account.

Step two is to choose from

Sign in or make a new account.

Choose what you want to utilize Creaitor.ai for from the given list of possibilities.
Creaitor.ai alternatives and What makes Creaitor.ai better than the alternatives
Word Tune and Hypothenuse AI are an alternative to Creaitor.ai. Yet, a feature like A tool includes Google and Facebook advertisements making Creaitor.ai unique.
Furthermore, the function that allows users to build YouTube copies sets it apart as a better AI tool than others.
Creaitor.ai strives to be the best artificial intelligence writer in the future. The company's mission is to integrate all of the functions that other programs give and to deliver even more. A large number of customer reviews have already confirmed the incentive.
Conclusion:
Creaitor.ai offers three pricing levels, which are not that expensive. This tool also provides a free trial that does not require any credit card information. The unique features like  Google ads creator, Facebook ads creator, text summarizer, and blog Idea generator make it a better choice.
It is also easy to use and very easy to learn. This was all about the Creaitor.ai tool. I hope this article was helpful for you.
Also Read: External Subscription Option Is Now Available For Netflix On iOS