Gaming
Call of Duty: Vanguard Review: Another World War II Based Game
Call of Duty: Vanguard is an intriguing game set in the final days of WWII but ultimately feels half-baked in execution.
Call of Duty spins its war wheel once more, and the needle has fallen on 'World War II' for the sixth time in the series' history. Call of Duty has always felt most at ease kicking Hitler in the Panzerschrecks, snugly snuggled in the history of the victorious, safe in the knowledge that the baddies were truly terrible. It is, nonetheless, the hardest environment in which to start something new. After all, there are only so many World War II battles, and Call of Duty has exhaustively covered them over the years.
Vanguard fails to tackle this problem, which is a shame given the game's familiar looks and sounds hide clues of more creative ideas. In the end, though, Vanguard succumbs to anticipation. A Call of Duty game must meet certain criteria, and Sledgehammer does so in a reliable but uninspiring manner.
Price: Standard Edition on PS5/Xbox Series X is $69.99 / £69.99/ AU$109.95
Release date: November 5, 2021
1. Single Player Campaign
Vanguard's campaign tale, which centres on a ragtag international special forces team led by a Black Brit, as well as the parts of the game that focus on female Societ sharpshooter Petrova, feels progressive. The wonderfully pre-rendered visuals, on the other hand, can't hide a somewhat empty dialogue that doesn't always lean into the seriousness of the storey. For example, during Lt. Wade Jackson's missions in the Pacific Theater, when he and his colleagues are saved by a Black squad, there is a minimal acknowledgement of the significance of this incident given the time period.
The campaign in Call of Duty: Vanguard, on the other hand, suffers from a lack of continuity and doesn't make sense narratively or gameplay-wise until the very end. Vanguard becomes a very redundant shooting gallery with minor differences that don't work most of the time until the leaders, who are based on real WWII combatants, are captured and players are introduced to each of their distinct storylines leading up to the game's events. Regardless of the failures, firefights are enjoyable, making the narrative bearable, and the return of mounting weapons from Modern Warfare 2 and the ability to blind-fire give some intriguing combat options that may or may not be beneficial.
Also Read:  10 Best Keyboards that you can buy in 2021
Call of Duty has previously experimented with minor RPG elements, aerial combat, and real-time strategy in its single-player games, as gamers who have followed the series' single-player offerings have seen. Each of the four leads in Call of Duty: Vanguard is set into conventional franchise gameplay shooter cycles, with modest changes based on past games' trials. This "something for everyone" strategy, on the other hand, does not always work.
Lt. Arthur Kingsley is granted the ability to have his escorting men concentrate fire so he can flank at the push of a button. Outside of occasions when it becomes critical for progressing to the next combat scenario, it's a rather worthless feature.
Lt. Wade Jackson is in the same boat. Aside from a very dull dogfight, Jackson's plane crashes in enemy territory, resulting in the worst show of stealth ever seen in a Call of Duty game. Jackson can focus on opponents around him in the thick forest and see past walls, inspired by The Last of Us' Listen Mode. Later, similar to Red Dead Redemption's Dead Eye skill, he can use his attention to slow down time and auto-aim on foes.
The issue is that the stealth engine isn't dynamic enough, and enemy AI isn't intelligent enough to give the same level of anxiety as The Last of Us. Outside of clearing a room faster, having a bullet-time auto-aim ability is simply unnecessary. Outside of his capacity to carry multiple pieces of offensive equipment at once, the campaign does a poor job of using Lucas Riggs' demolition skills by the time players step into his shoes in Northern Africa.
Despite having stealth flaws comparable to those that plagued Jackson's area, Polina Petrova's section contains the best single-player campaign moments in the game. The Soviet sniper isn't just good with a scoped rifle; he also has some better movement controls that will remind you of Doom Eternal. With her, combat circumstances are frequently a mix of all-out action and subtlety, which works admirably.
Petrova is not only agile, but she can also hide in tight spaces and climb designated areas, which are normally marked with yellow fabric. Though the opponent AI isn't the brightest, as previously stated, it's still fun to comb through office buildings and demolished homes, one by one, picking out enemies. Her segment also has the most emotionally powerful tale moments.
2. Multiplayer and Zombies
Vanguard, like the previous Call of Duty games, has a lot of replay potential in its online modes. Outside of post-release additions, Multiplayer and Zombies provide excellent competitive and cooperative chances for gamers at launch. Regardless of the flaws in both, they're typically enjoyable experiences that compensate for the single-player campaign's shortcomings. Sure, it's more of the same, but that doesn't rule out the possibility that the "if it ain't broke" approach can benefit from a fresh coat of paint.
Patrol and Champion Hill are two of the more recent multiplayer modes. Patrol is similar to Hardpoint, but with the addition of mobility as the point moves across the map. The increased movement introduces new tactics and ensures that the point is protected as opponents swarm from all sides. Players can participate in deathmatch-style round-robin events in close-quarters arenas until only one person or squad remains. These can be played in one of three ways: 1v1, 2v2, or 3v3. It's not the ideal replacement for Modern Warfare and Black Ops Cold War's renowned Gunfight modes, but it's still a lot of fun.
Players can choose the match's MVP from the top three players at the end of each match. Whoever wins receives XP benefits, making the process more complex than it would be if it were decided by an algorithm. Every "best kill" and "MVP" selection gets its own fighting game-style celebration animation as an added bonus.
While both the campaign and multiplayer modes in Vanguard have been updated, the Zombies mode has received the most attention. Zombies are more approachable than ever before, thanks to a more central-hub-like architecture with clear objectives, even if there is just one game available at launch: "Der Anfang." Players begin in a hub-like area with a handful of undead waiting to be killed, as well as upgrades for things like weapons and perks. Various portals litter the area outside the hub, leading to objective-based missions that must be agreed upon by at least two other players.
This could entail using a token-like object acquired from slain zombies to power up totems or protecting a movable location akin to Patrol. In comparison to other Zombies modes, this one is by far the easiest to get into right away. Though we had a good time over the several rounds we played, only time will tell how long Vanguard's zombies will persist in terms of player count. Post-launch enhancements, such as a storey mode or additional field upgrades, should hopefully keep things interesting.
3. Presentation:
Within the Call of Duty franchise, the visual and audio presentation has always aimed for Hollywood-style production levels, and Vanguard continues that legacy. Aside from the more technical graphics marvels achieved, Vanguard's version of WWII is very vibrant, unlike Call of Duty: WWII's drab brown and muted colours.
Also Read:  10 Best Android Emulators For PC

The team hijacks a train headed to Hamburg at night in the game's first single-player campaign scenario, which shows Vanguard's gorgeous lighting system as well as special effects like rain. Polina Petrova's segment contrasts life before and after the Nazi invasion of Stalingrad and is beautifully detailed. During the tedious Battle of Midway dogfight and the dense forest scenes of the Bougainville section, some of the best lighting occurs. When shots land, the gunfire sounds realistic and forceful, reinforcing the series' signature hit registration.
Chiké Okonkwo and Martin Copping, as well as Laura Bailey and Derek Phillips, who both appeared in The Last of Us II, give outstanding performances despite the goofy material they are given. As the single-player campaign's key adversaries, actors Dan Donohue and Dominic Monaghan from Lord of the Rings add some significant intensity to the plot. When you add in composer Bear McCreary's cinematically epic score, you get one of the best Call of Duty games to date in terms of presentation.
4. Verdict:
Beyond the franchise's love of explosives and spectacle, Call of Duty: Vanguard tries to present a mature WWII story. Regardless of how intriguing the prospects for the world's first special forces team are, the campaign mode falls short on both narrative and gameplay. With the exception of Polina Petrova's scene, the other three male stars' scenes are weak and repetitious. It doesn't help that players only get to witness what the crew can do as a whole at the start and finish of the game.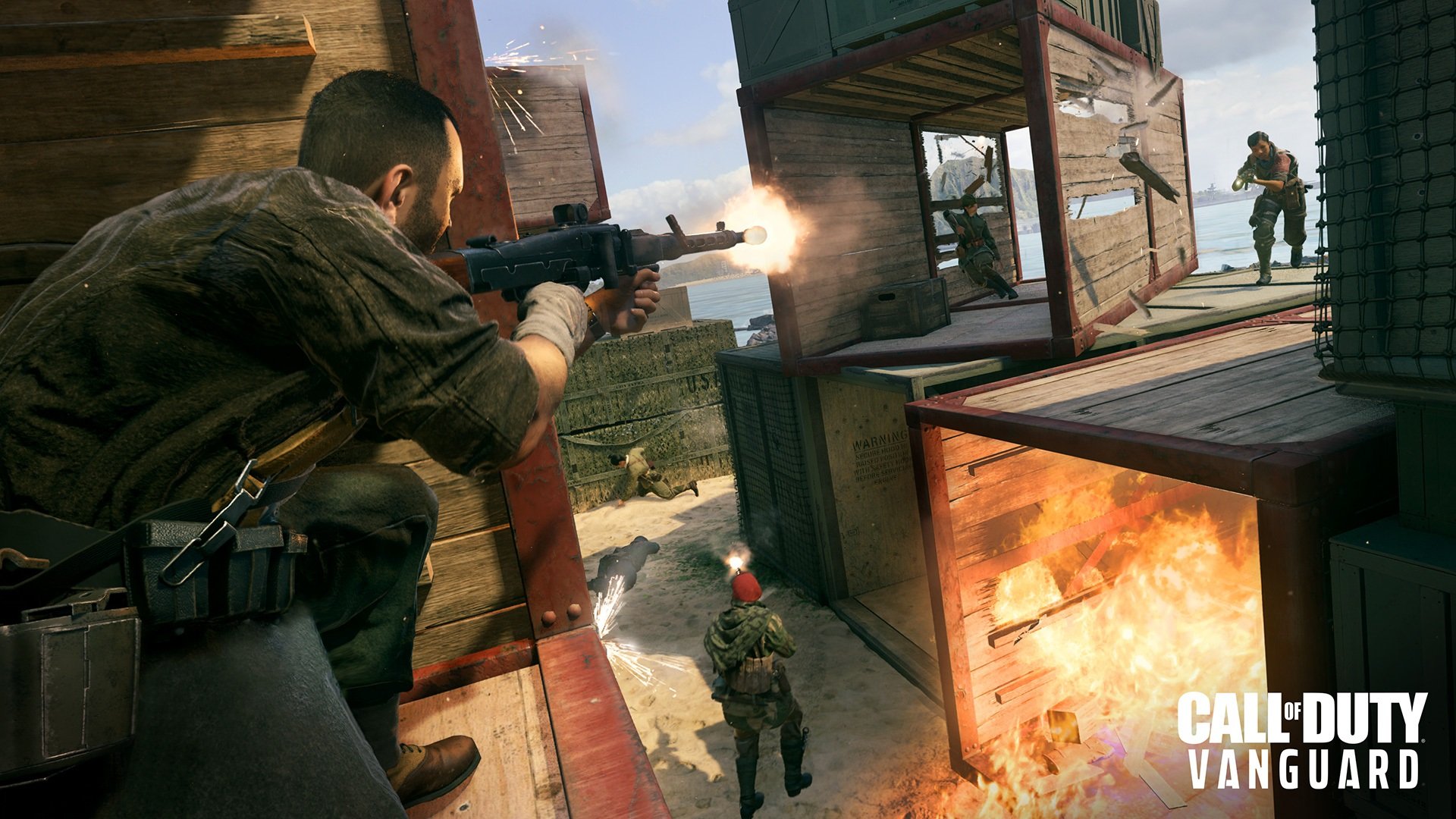 While the single-player experience is unsatisfactory, multiplayer and Zombies assist to lessen the impact. Outside of Patrol and Champion Hill, multiplayer is more of the same. As a replacement for Gunfight, Champion Hill may come across as a contentious choice. Zombies get a major update, but only having one mode accessible at launch may be a turn-off for some. Call of Duty: Vanguard is more of a sidestep than a step back in the franchise, attempting to break new ground for the game while being held back by tradition.
Also read: 5 Best Gaming Laptops in the World