The fastest SSDs for gaming will allow you to navigate your PC quickly and get into your games at breakneck speeds. No matter what you do with it, a high-quality SSD will boost your entire system. Whether it's putting Windows 11 through its paces or getting you into a massive game like Deathloop in a fraction of the time it used to take you.
The performance gap between an SSD and a standard hard drive is enormous, and the same can be said for SATA drives and the best PCIe 4.0 SSDs. With an SSD, your boot times will decrease from 'better go make a coffee while my machine wakes up' to almost non-existent. It will be impossible to go back once you see games like GTA V load in seconds rather than minutes.
All of the drives you see here have been rigorously tested using our own benchmarking suite. This includes real-world game loading tests as well as synthetic speed tests in order to determine the best SSD for gaming. We've loaded a fresh Windows 10 install onto each of them using the test rig, so we know how they'll perform as your primary drive. We're currently going through each drive and testing its performance with Windows 11, so stay tuned for more information.
Because smaller SSDs, while less expensive, perform worse, our list of the best SSDs includes both 1TB and 500GB drives. And, with some games consuming well over 150GB, a 250GB SSD is unlikely to suffice these days.
Let's dive into list of Fastest SSDs for Gaming-
1. WD Black SN850
The 1TB version would be our choice from the SN850 lineup. The 500GB drive lacks the full punchy pace that is the hallmark of 1TB PCIe 4.0 SSDs, and it is more expensive than most similarly capacious PCIe 3.0 drives, but the 1TB SN850 has a reasonable price and stellar speed. And it's up there with the best you can get right now.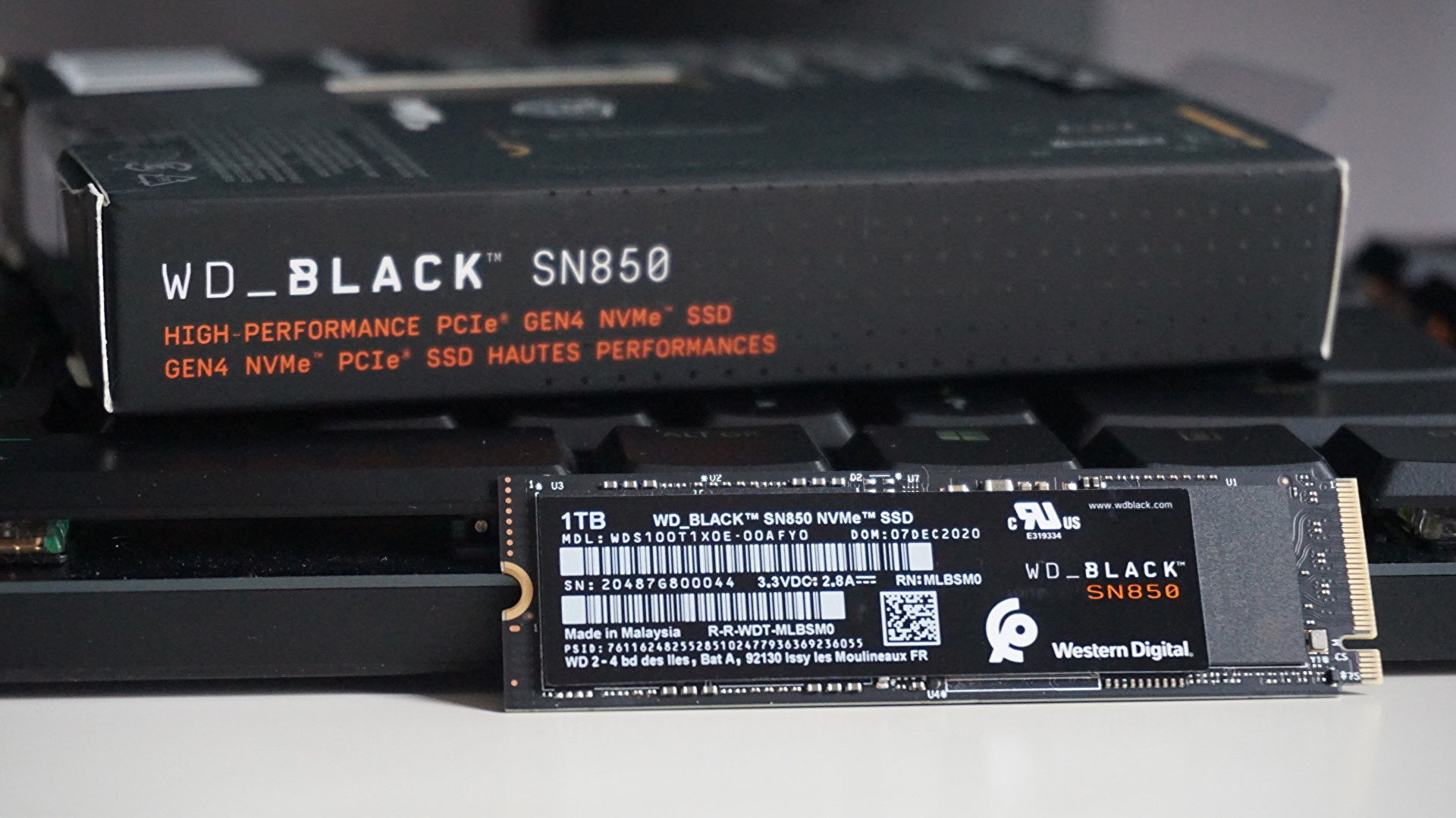 The Western Digital Black SN850 arrives at the PCIe 4.0 party a little late. In sequential transfers, it can achieve 7,000MB/s reads and 5,300MB/s writes, far exceeding the capabilities of most drives. This is due to the fact that it employs the most recent PCIe 4.0 interface, which has twice the theoretical bandwidth limit of other PCIe 3.0 drives.
The performance of any SSD ultimately defines it, and the WD SN850 stands out from the crowd. The synthetic benchmarks, led by ATTO and AS SSD, reveal that this is a second-generation PCIe 4.0 drive, with peak sequential read speeds of 6,750MB/s and 5,920MB/s, respectively. Write speeds are lower than those of the Sabrent Rocket 4 Plus, but they are still adequate, hovering around 5GB/s. The AS SSD's 4K write performance manages to turn this around, and the WD SN850 outperforms the Sabrent drive.
2. The WD Black SN750
Western Digital's entry into the SSD market as a whole, like its move into PCIe 4.0 drives, was a long time coming, especially at the faster end of the market. However, the WD Black SN750 was well worth the wait. It achieves solid-state performance comparable to the best consumer Samsung EVO SSDs while also undercutting them in price.
The combination of an in-house memory controller and Toshiba memory (also essentially in-house following the acquisition of the SanDisk/Toshiba memory division) results in a drive that can compete with Samsung in terms of build methodology. That means WD can be very aggressive in charging people for the privilege of having a fast PCIe SSD in their gaming PC.
Also Checkout: 8 Best Photo Editing Apps for iPhone
3. Firecuda 530 by Seagate
Of course, Western Digital and Samsung are household names in storage, particularly in the world of SSDs. Seagate may have taken its time entering the solid state market, particularly the PCIe 4.0 market, but the Firecuda 530 has arrived with a bang. The latest Seagate drive is stunning, with or without the heatsink (which is required for PlayStation 5 compatibility).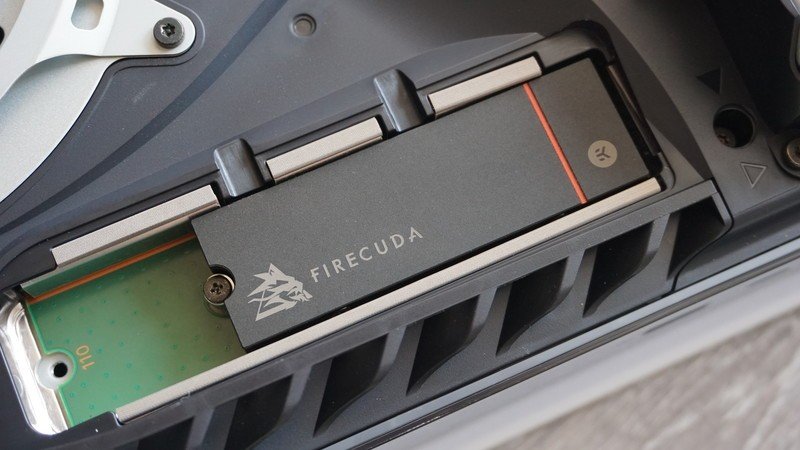 Of course, the rated sequential read/write speeds are excellent, but it's the endurance levels that really stand out in comparison to the competition. When it comes to endurance, the 2TB drive we tested has an unprecedented 2,550 TBW rating, which you won't find outside of an SSD designed for Chia mining.
4. Samsung 970 EVO Plus 
The Samsung 970 EVO Plus provides a slight improvement in write performance over the 970 EVO at the same price. There was a time when you could get the non-Plus version for a little less, but those drives appear to have vanished. If you can find a straight 970 EVO for less, go for it, but they're hard to come by.
Both drives continue to use the same Samsung Phoenix controller, allowing them to outperform the competition in real-world testing. If you need peak PCIe 3.0 performance, the Samsung drives are hard to beat, but you have to pay a premium for that extra speed. In real-world testing, the Samsung is slightly faster than the 512GB Addlink, but it costs an extra $20.
Also Checkout: Best Gaming Monitors In 2021 To Boost Your Gaming Setup (Top 10)
5. The MX500
It may appear strange that the Crucial MX500 is the only SATA drive remaining on our list of the best SSDs for gaming, but with the price difference between PCIe and SATA being so small, it's difficult to justify the far slower technology. However, because there is a hard limit on the number of M.2 slots on your motherboard, SATA SSDs can still be used as secondary storage.
And one of the best is the Crucial MX500. It's nearly as fast as you can get with SATA's maximum theoretical bandwidth limit of 600MB/s, and Crucial's drives have long been among the best-value options available. This is the most affordable 1TB SATA drive available, and it would make an excellent second home for your Steam and Epic libraries.
6. Sabrent Rocket 4+
The Sabrent Rocket 4 Plus was one of the first drives to use the new Phison E18 controller, which is the successor to the hugely popular Phison E16 controller found in virtually every first-generation PCIe 4.0 drive. That's the controller found in everything from the Corsair MP600 to the Gigabyte Aorus to the Addlink S90, as well as a slew of Sabrent drives.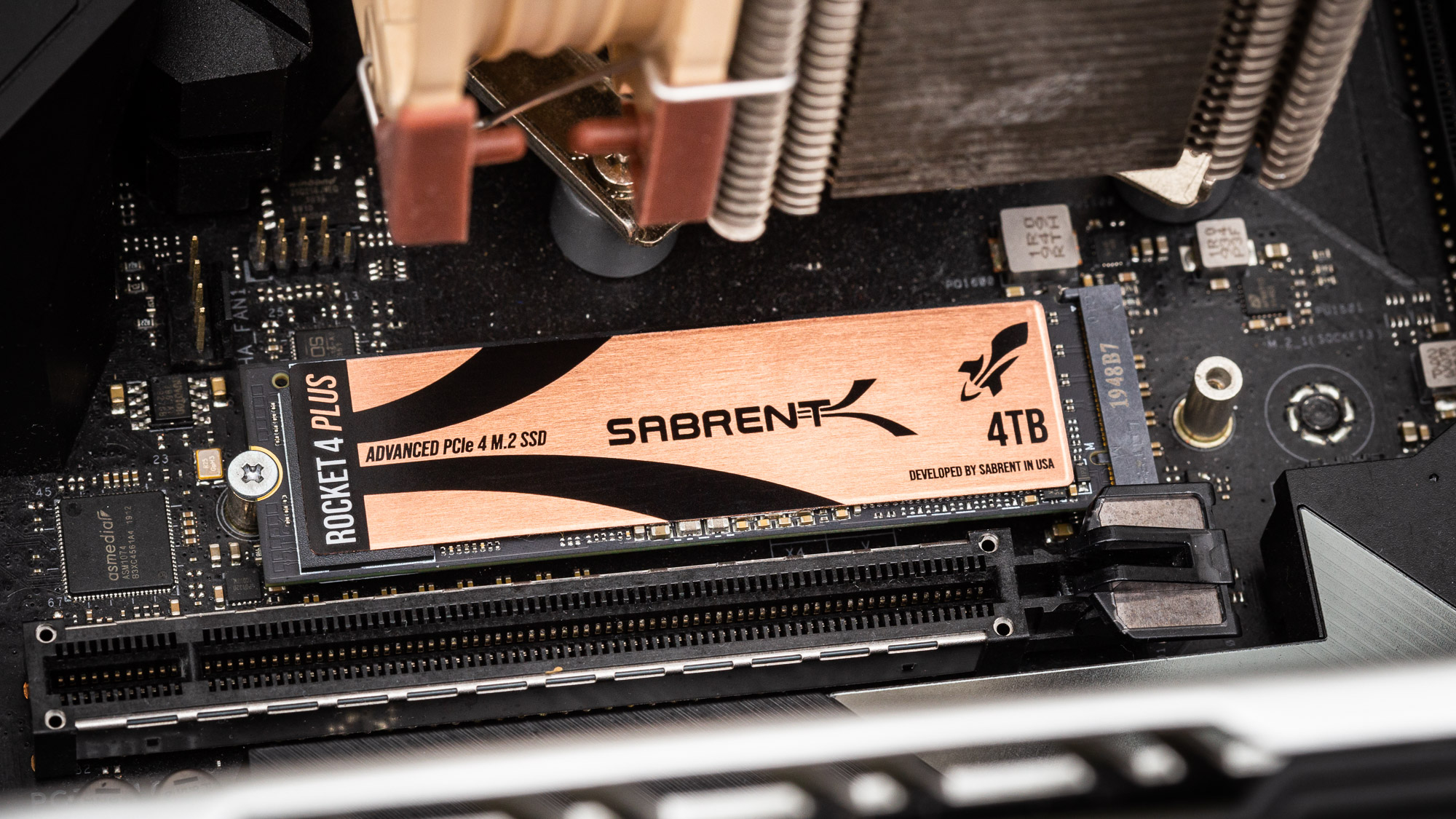 It achieved read speeds of just over 5,000MB/s and write speeds of 4,400MB/s, while the best PCIe 3.0 drives achieved read speeds of 3,500MB/s and writes speeds of around 3,000MB/s.
This new Phison E18 controller significantly raises the bar, with sequential throughput of up to 7,100MB/s reads and 6,600MB/s writes. The theoretical interface limits are 8GB/s for both, so those figures aren't far off from how fast PCIe 4.0 will be. It's incredibly fast, and on paper, it's the fastest drive to date.
7. P5 Plus 
Crucial is one of the big names in affordable solid state storage, but has been notably slow at getting us a new PCIe 4.0 SSD. It's been worth the wait, however, as the new P5 Plus is a fantastic entry-level Gen4 SSD. It may not have the top speeds of the WD or Sabrent competition, but it can make a big difference in terms of those crucial price/performance metrics.
Importantly, it can easily outperform any PCIe 3.0 drive you can think of, and for nearly the same price. Even if you don't have a motherboard with a PCIe 4.0 interface, this will work in an older PCIe 3.0 setup, but only to the limits of that connection.
Also Checkout: 7 Best Racing Games for PC