Gadgets
Phones
Reviews
Samsung Galaxy S22 Ultra Review – Another Beast in the Line-Up
The Samsung Galaxy S22 Ultra is a more powerful Galaxy Note with a built-in quicker S Pen, several camera enhancements, a brighter display, and faster charging. Here is the Samsung Galaxy S22 Ultra review that you've been waiting for.
The Samsung Galaxy S22 Ultra is a large, powerful, and visually appealing Android smartphone (if you like them monolithic). This Samsung Galaxy S22 Ultra review demonstrates that Samsung understands how to design a flagship phone for power users, since it includes the best feature of the Galaxy Note while also providing a slew of other enhancements.
Samsung has brought back its successful Note line in all but name with the Galaxy S22 Ultra superphone, which comes with a built-in stylus and the competition-beating camera with both 3x and 10x optical zoom from last year's S21 Ultra.
The design is reminiscent of Samsung's previous Note handset, but it is also more forward-thinking. It is, in fact, a hybrid. The ultra-high-resolution, 6.8-inch screen, which produces vivid colors and fluid animation at 120Hz but is clever enough to stop down to 1Hz when that's all you need to save battery life, will not disappoint.
Price and Avialablity 
It's not inexpensive to get a phone that combines the finest of Samsung's S Series with the Note's more industrial design and features. The Samsung Galaxy S22 Ultra comes with 128GB of storage and 8GB of RAM and costs $1,199.99 / £1,149 / AU$1,849 in the United States.
There are larger storage options (along with additional RAM) that can go all the way up to a 1TB model ($1,599.99 / £1,499 / AU$2,449). The 256GB model costs $1,299,99 / £1,249 / AU$1,999, while the 512GB model costs $1,399.99 / £1,329 / AU$2,149.
Key Specs
| | |
| --- | --- |
| Price | $1,199 |
| Android version | 12, One UI 4 |
| Display | 6.8-inch Dynamic AMOLED QHD+ |
| Refresh rate | 1-120Hz |
| CPU | Snapdragon 8 Gen 1 |
| RAM | 8GB, 12GB |
| Storage | 128GB, 256GB, 512GB, 1TB |
| Rear cameras | 108MP (f/2.2) main, 12MP (f/2.2) ultrawide, 10MP (f/2.4) 10x telephoto, 10MP (f/2.4) 3x telephoto |
| Front camera | 40MP (f/2.2) |
| Video | Up to 8K 24 fps |
| Battery | 5,000 mAh |
| Charging | 45W wired, 15W wireless |
| Size | 3.1 x 6.4 x 0.4 inches |
| Weight | 8.1 ounces |
| Connectivity | Wi-Fi 6E, UWB, 5G  |
| Colors | Black, White, Green, Burgundy |
Design: 
The Samsung Galaxy S22 Ultra is uncomplicated yet gorgeous. I like the sharp, squared-off angles, as well as the fact that the cameras aren't hidden behind a honking bump. They are more flush with the handset's rear. The overall appearance is clean and minimalist.
Another advantage is that the 6.8-inch display is gently curved, which adds aesthetic appeal while preventing accidental screen presses. Despite having a slightly larger display than Apple's 6.7-inch iPhone 13 Pro Max, the S22 Ultra weighs 8.07 ounces versus 8.5 ounces.
The Galaxy S22 Ultra has an armor metal frame with a Gorilla Glass Victus+ back, which makes it feel sturdy and durable. Phantom Black, Phantom White, Green, and Burgundy are among the Galaxy S22 Ultra's color options.
Display:
Another highlight is the 6.8-inch AMOLED display. It has a resolution of up to 3088 x 1440 pixels (WQHD+), or 500 pixels per inch. On the other hand, the iPhone 13 Pro Max's 6.7-inch 2778 x 1284 screen has 458ppi. The default resolution on the S22 Ultra is 2316 x 1080 (FHD+), which Samsung claims utilizes slightly less battery life.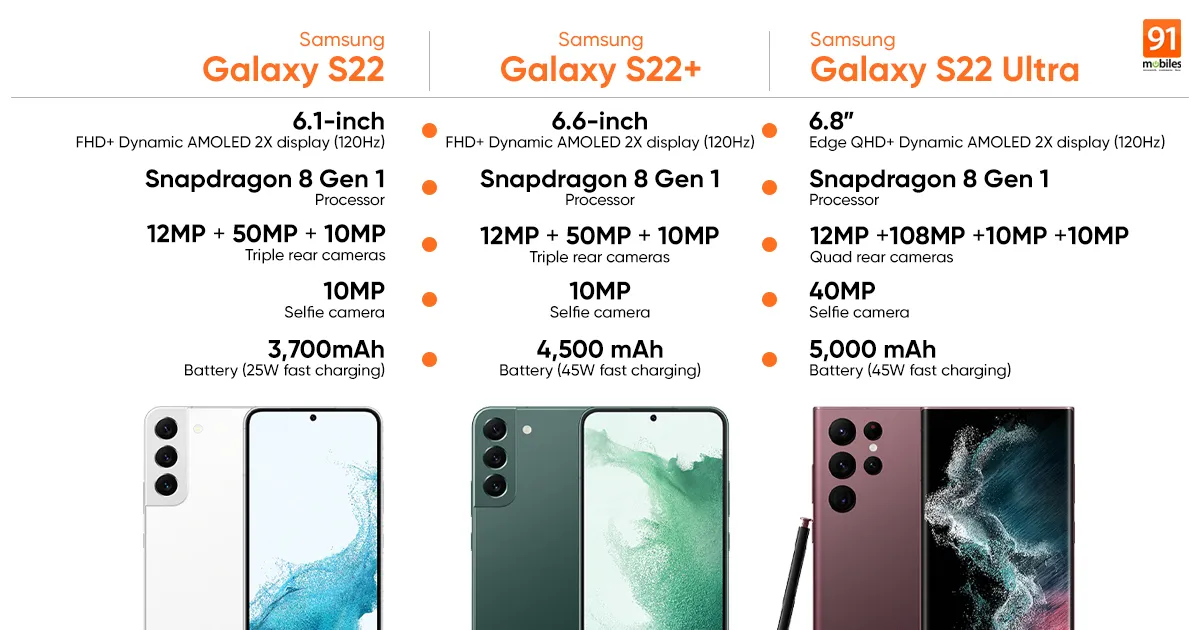 Everything from games to videos to apps looks incredible on the display, which can now fluidly transition from a 1Hz refresh rate to a buttery-smooth 120Hz. Because 1Hz could be utilized for the home screen or a word processor, while 120Hz might be used for gaming, such adaptive technology can be difficult to notice.
The screen performs a good job of retaining visibility even in full sunshine, thanks to a peak brightness of 1750 nits and Samsung's latest Vision Booster technology. However, this implies that the brightness is set to 100%, which will have an influence on your daily battery life.
Camera:
The Galaxy S22 Ultra has a bigger 2.4um pixel sensor that captures more light and data, as well as a Super Clear Glass lens that prevents flares in nighttime films. A 12MP ultrawide lens is included, as well as dual 10MP telephoto cameras with a combined 10x optical zoom and 100x space zoom.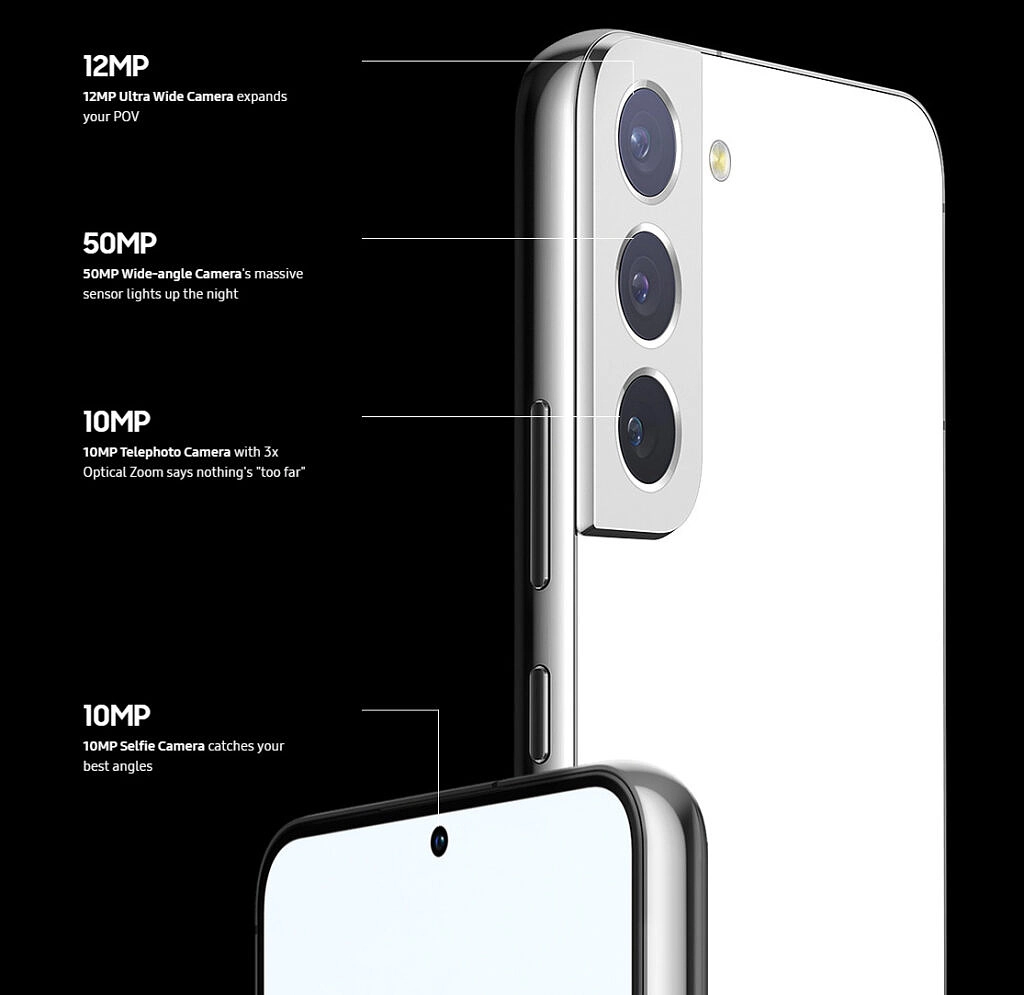 Samsung's camera technology is also doubling down on computational photography. Adaptive pixel technology merges 9 pixels into one for better photographs in low light, improved AI high-res processing, and 4x faster multi-frame processing are all available.
While the Night Mode on the S22 Ultra has been improved, I'm more satisfied with how the camera works in low light without using it. The Galaxy S22 Ultra's 10x zoom is one of the greatest on the market. Although the 30x zoom loses some information and resembles a watercolor painting, it's still impressive that you can get so close.
Performance:
The Samsung Galaxy S22 Ultra is one of the first phones to have Qualcomm's Snapdragon 8 Gen 1 processor, a 4nm device that promises improved CPU and graphics performance while reducing power consumption. In international markets, Samsung will provide its own 4nm Exynos 2200 chip. The Galaxy S22 Ultra seems really fluid when opening and closing apps, despite having only 8GB of RAM.
Software
The S22 Ultra comes preloaded with OneUI 4.1, which is based on Android 12 and receives timely upgrades, unlike other competitors. The software of the Ultra has been tweaked to accept the S Pen pen.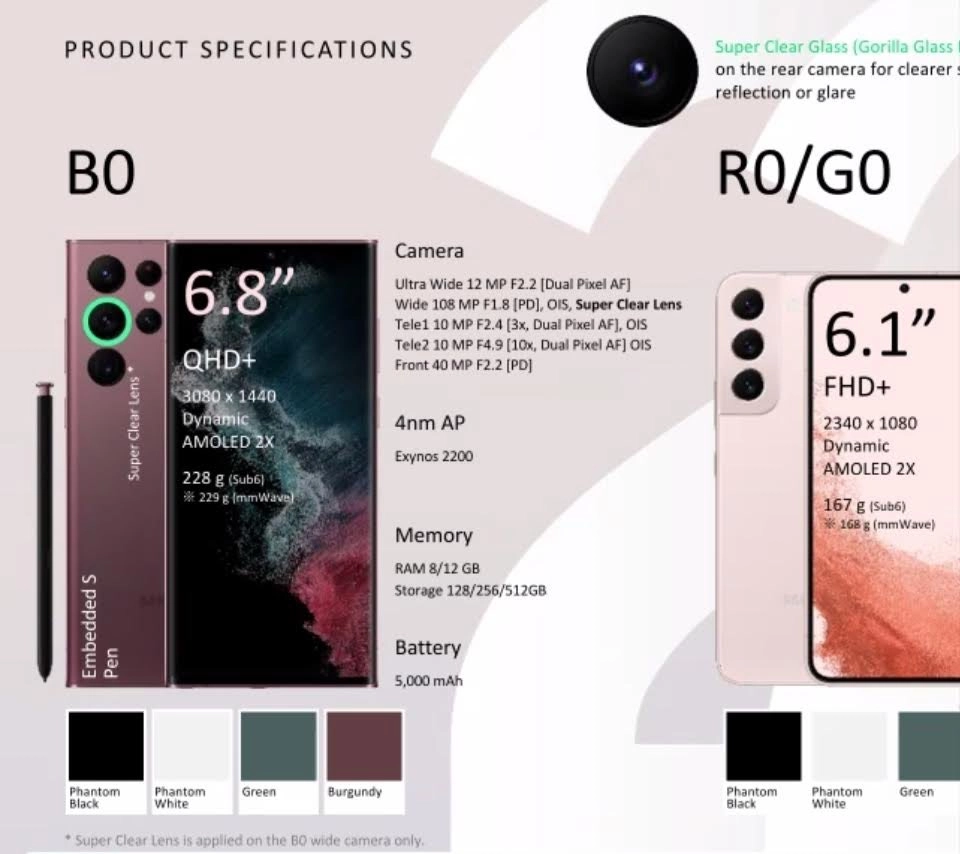 Handwriting recognition, a variety of screen-writing and screenshot capabilities, translation, and gesture support, as well as the ability to use the S Pen as a remote or magic wand to accomplish actions, are all included. The S Pen is unrivaled for swiftly jotting down notes, marking up documents or screenshots, or drawings.
Samsung Galaxy S22 Ultra Review – Verdict
A more competent mobile smartphone than the Samsung Galaxy S22 Ultra is difficult to come by. The S Pen is now always with you, and versatile enough to handle scribble-to-text conversions, fine art creation, simple doodles, and markup if you like to take notes by hand or if you're an artist with bright ideas on the move. The camera setup is fantastic, and the zoom capabilities will finally allow you to capture what your eyes can see.
The phone's 5,000 mAh battery, like the phone itself, is massive. That screen, together with the fast mobile CPU, could use a little more juice than planned. You will, however, have a very full day of activities (from daybreak to well past dusk). This is a substantial phone. Even the curled sides do not entirely reduce the size. Also, yes, it's a slick gadget. This isn't the phone for you if you still use 3.5mm wired headphones. The device's 3.5mm headphone jack has been removed by Samsung (and does not ship with a wired set of headphones). Naturally, wireless Bluetooth earbuds work well with the device.
Also Checkout: Apple MacBook Air Review (2022): Specifications and Functions