Alternative
Apps
Top 7 Best Google Photos Alternatives in 2022
Google Photos no longer enables us to save unlimited photos for free and when you are paying money you have all the rights to check on the best deals in and around. Here we bring you "Best Google Photos Alternatives" to make the better out of your time & money investments.
Storing important photos and files seeks liberty from storage limits, quality issues, and privacy breaches. The best cloud storage apps come with handy interfaces and secured assurance but what's better than having all of these paying the same money and only getting better values back. Although Google Photos allows paid options to extend your storage limits, some cloud storage apps add more value to your storage experience and make it simple yet efficient to access files on the go. Never doubted the Google cloud qualities, but when you are on the way to put some money on the table, one needs to look around for all the available options on the shelf. 
So, here are the Top 7 Best Google Photos Alternatives that you can use in 2022 –
1. iDrive 
As iDrive doesn't come primarily for storing photos and videos, it still tops the Google Photos alternative lists due to its high-capacity, low-cost plans along with the 5GB free storage. At a time where all the cloud storage companies provide more or less the same features, iDrive does it more affordably with 5TB of storage at only $52.12/year and huge storage of 10TB at just $74.62/year. The price range makes it the most affordable storage option a per-GB basis. iDrive allows Raw format photos and videos efficiently making it a very handy tool for professional photographers. 
The app is highly compatible across devices working smoothly with iOS, Android, Windows, and web-enabled devices. The data is encrypted on the server assuring security strength. Despite not having an end-to-end encryption feature, the security policies make it better than Google Photos. iDrive also enables facial recognition to your photos to put them in order automatically and it can sync photos on various linked devices on the same go. They also cover your data in a physical drive in case of any technical crash of the storage.
2. pCloud 
pCloud adds one big leap to its feature by offering lifetime subscriptions, you can pay one time and never go back to check your storage validity. The most affordable pack comes with a $175 price tag for 500GB and $350 for 2TB storage both with a lifetime availability. There are annual plans available in case you don't want to commit forever. Also offering a 10GB free storage. The uploads are automated and seamlessly sync all your linked devices as effortlessly as it can be.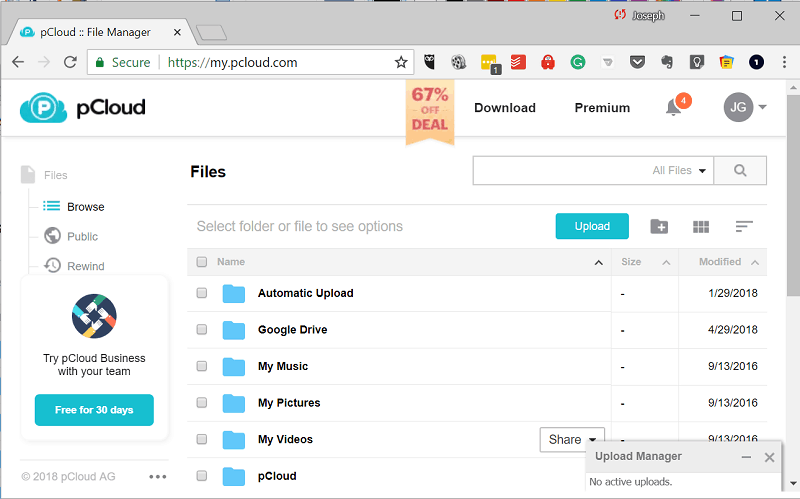 Providing 256-bit encryption for each file stored, security is something not to worry about anytime. You can create various backups of your kind. pCloud has Raw file storage feature and also enables you to multiple on-the-go features of file management for file versioning, data recovery, remote upload, online document preview and an option to rewind your account by 30 days. As a Google Photos alternative, pCloud raises the level and is highly recommended.
Also Checkout: 8 Best Photo Editing Apps for iPhone
3. Microsoft OneDrive
Microsoft OneDrive is a worthy alternative when it comes to simple, safe, and reliable options. Although not primarily designed for photos and video storage it still offers all-around storage features. Comes with the credibility of Microsoft, OneDrive works better with iOS and macOS making it an easy choice for Apple device users. The photos get aligned in a dedicated photos folder with sort and also enables options to create an unlimited number of albums.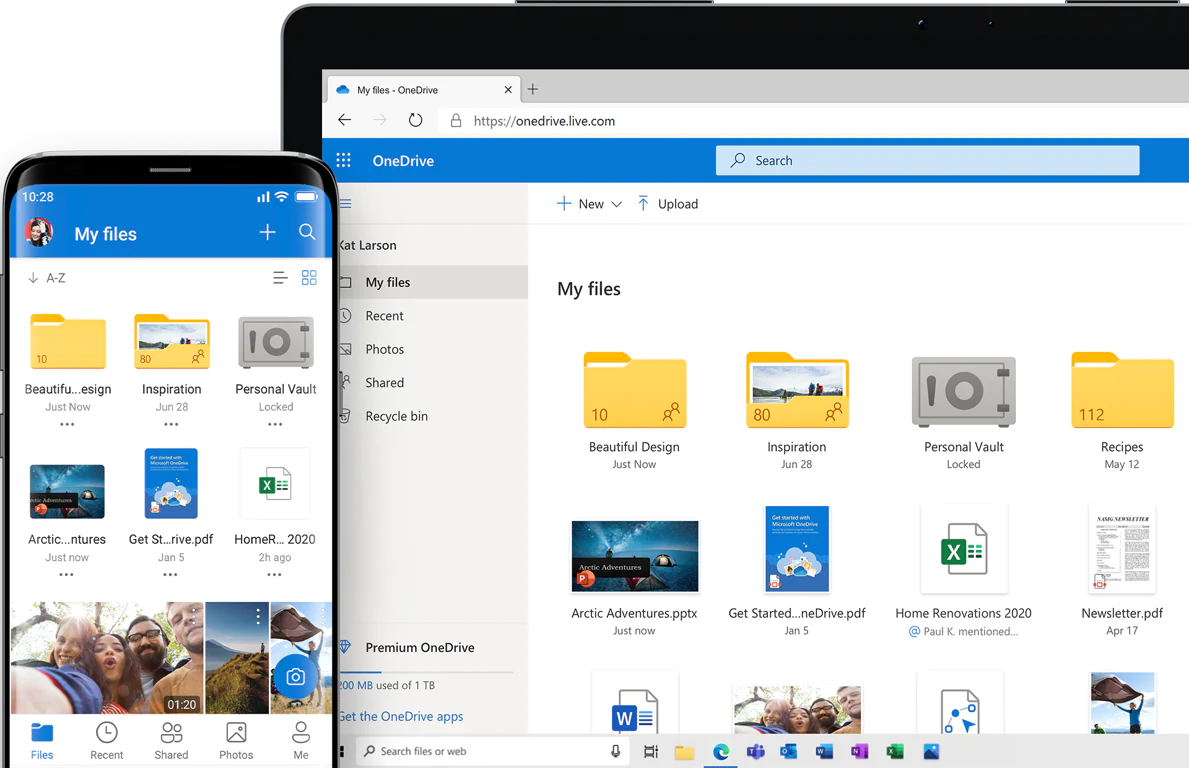 The best part is the tight security of 'End-to-end encryption in the Vault' which makes you worry no more about your safely kept data. Premium users can store unlimited files into the Vault while only five files are allowed for OneDrive free users. The initial 100GB package comes for $1.99/month. However, if you want to go with a premium Microsoft Office 365 purchase, you can get a whopping 1TB of OneDrive storage just for $6.99 along with other Microsoft Office subscriptions which is nothing but a win-win situation. 
4. Adobe Creative Cloud Photography
Adobe Creative Cloud Photography can satisfy the hunt of professional photographers who are seeking not just an alternative to Google Photos but more advanced storage. Starting at $9.99/month, Adobe Creative Cloud provides a full package for professional photographers to minimize the cloud storage fuss for large raw files.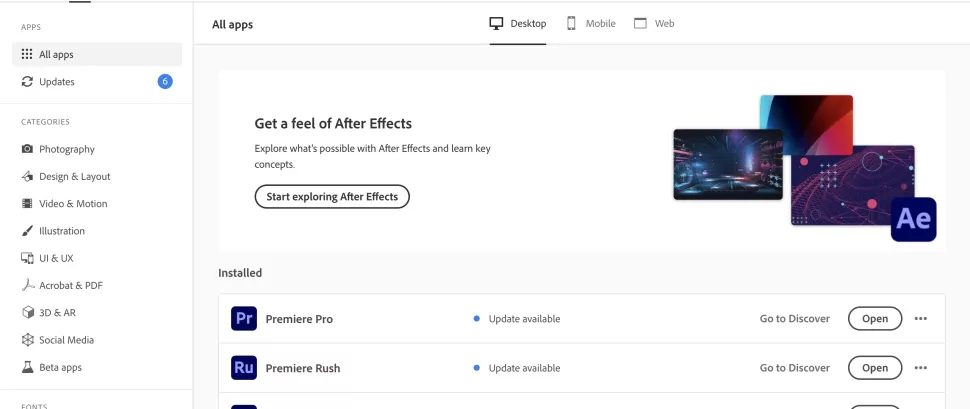 The package comes with Lightroom and Photoshop all along making it the best alternative for photographers to bank on. This enables the storage of photos safe into the Adobe Creative Cloud while you edit them with Lightroom and Photoshop. Along with this full-packed alternative, you have 20GB of cloud storage and what else a professional photographer will seek if not Adobe Creative Cloud Photography. 
5. Flickr Pro
Flickr is a social media network for amateur and professional photographers but with ample storage and sharing features. Flickr doesn't qualify with the "cloud storage" category as they don't have private photo storage but on the other hand, it is a seamless platform for photographers to connect, save and share their photographs among the community. It enables free storage of 1000 photos also compatible with saving raw files. 
There is a third-party integration feature that lets you connect on other platforms such as Adobe Creative Cloud. The premium account subscription comes with a $6.99/month fee which can provide you unlimited storage with no ads. Flickr helps photographers with a handful of photography tools and helps them be active within their workspace network for visibility.
Also Checkout: 8 Best Live Wallpaper Apps for Windows 10
6. Apple Photos
Apple Photos is a rich and secure cloud storage option which rather comes in-built with Apple Devices making it so seamless and smooth. Highly merged into the iCloud ecosystem, there is no better way to backup your photos than Apple Photos for an Apple user. It easily syncs across iOS, macOS and iPadOS making it simple to manage your backups across devices. 
Allowing free storage of 5GB initially, the upgrade plans are affordable considering the Apple brand promises. A 100TB storage for $1.99/month ranging up to 2TB for $9.99/month. The large iCloud ecosystem enables encryption both in transit and at rest and nothing makes the security trustworthy than the everlasting Apple privacy promises.
7. Amazon Photos
Amazon Photos is another great alternative to try hands-on, allowing 5GB of storage to non-Prime users also. With the prime subscription, it only gets better. With the Amazon Photos app, the backup and upload experience is seamless and saves memory on your phone with a smooth data restore feature in case of a damaged or lost device.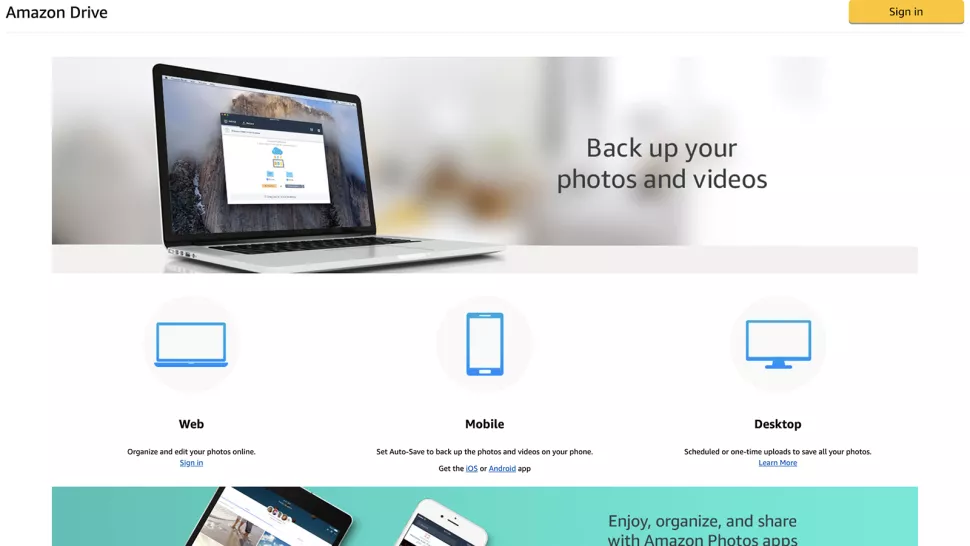 Prime users get more storage capacity also with a sharing feature among the family and sync photos based on words, locations, and names with easy search options. The app makes sharing of photos and videos seamless.

Also Checkout: 8 Best Camera Smartphones in 2021