A few years ago, the best gaming smartphones in India came with a hefty price tag. However, as the trend of lower-cost gaming phones became more popular, the demand for gaming phones in India began to grow.
Games like Asphalt, PUBG, COD Mobile, Genshin Impact, Garena free fire, and others have influenced Indian adolescents to want to play high-end graphics-intensive games on small displays. This is also forcing smartphone manufacturers and chip suppliers to release gaming smartphones that prioritise performance and user experience.
Surprisingly, Google's Pixel 6 Pro is the greatest Android gaming phone. In several benchmarks, like gaming, the Tensor chip outperformed the Snapdragon 888. If you want every imaginable gaming feature, though, the Asus ROG Phone 5 is the phone to get. If gaming is all you care about, there's no better alternative than this phone, which comes with a 144Hz display, up to 16GB RAM, a Snapdragon 888 chipset, and a 6,000mAh battery.
Let's dive into the list of 5 Best Gaming Smartphones in the market-
1.  Asus ROG Phone 5
Display: 6.78″ FHD+ AMOLED, 144Hz
Processor: Snapdragon 888
RAM: 8GB
Storage: 128GB
Rear camera: 64+13+5MP
Front camera: 24MP
Battery: 6000mAh
Charging: 30W (supports 65W)
OS: Android 11
With style, features, and software benefits that enhance the gaming experience, the Asus ROG 5 is the best gaming smartphone you can buy. From its good screen to its great speakers, incremental upgrades over its predecessor make it a superior pick that appeals to non-gamers as well.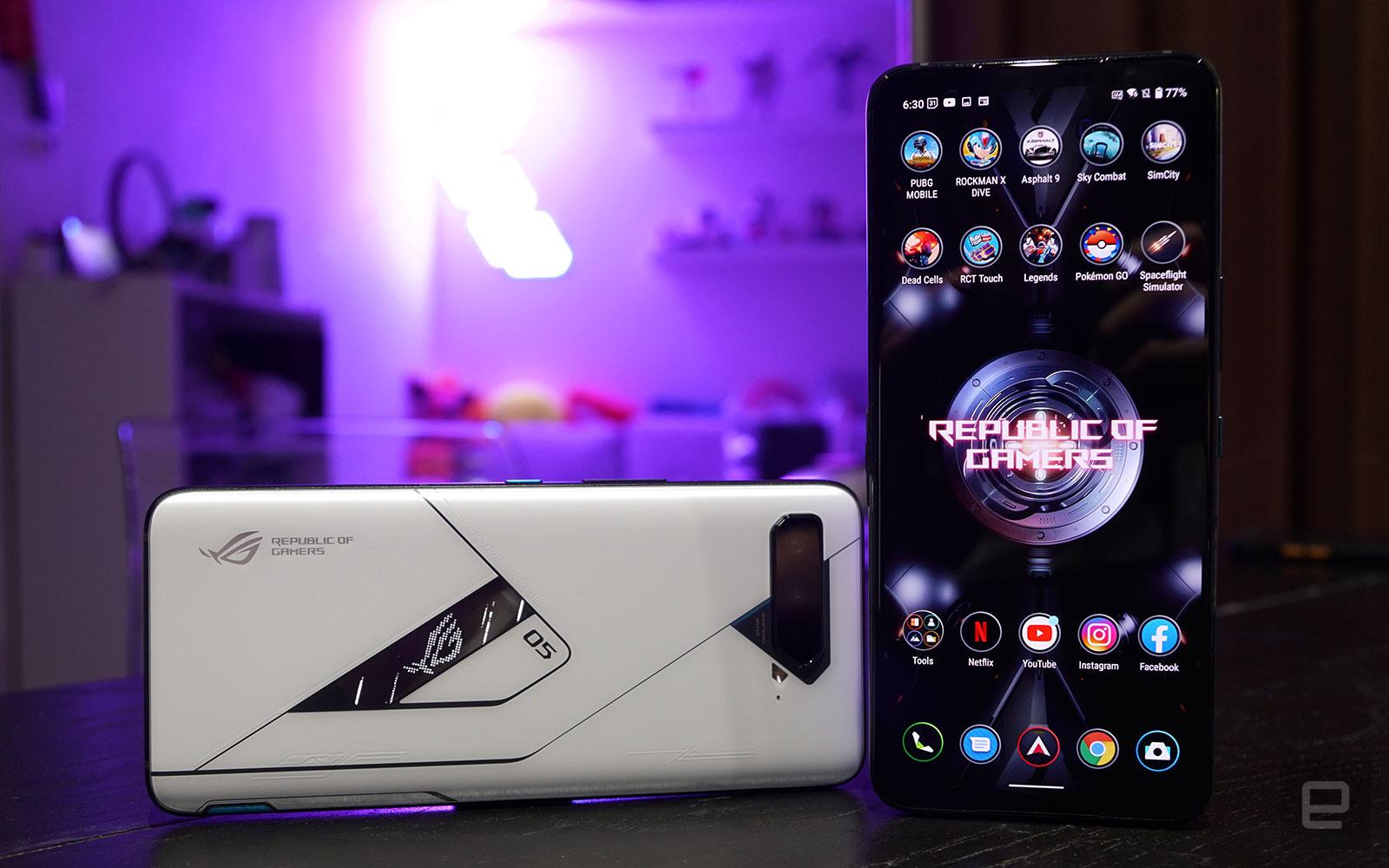 The ROG Phone 5, ROG Phone 5 Pro, and ROG Phone 5 Ultimate are the three versions of the ROG Phone 5. On paper, the specifications of all three models are identical, with the exception of RAM and storage. The most significant difference, though, is in the design. The ROG Phone 5 Pro and Ultimate have a monochrome design, whilst the standard ROG Phone 5 has an RGB logo.
All three phones are powered by a Snapdragon 888 processor with up to 18GB of RAM and have a 6.78-inch Full HD+ AMOLED display with a 144Hz refresh rate. You can also buy the AeroActive Cooler 5 fan in addition to the cooling technologies within (included in the box for Pro and Ultimate). At the end of the day, it's still a costly phone with noticeable camera flaws when compared to competitor flagships, but the Asus ROG 5 is primarily a gaming phone with no competition.
2.  iPhone 13 Pro Max
Display: 6.7-inch OLED (2778 x 1284)
Peak refresh rate: 120Hz
CPU: A15 Bionic
RAM: 6GB
Storage: 128GB, 256GB, 512GB, 1TB
Cameras (back/front): 12MP main, ultrawide, telephoto / 12MP
OS: iOS
The new iPhone 13 Pro Max from Apple is certainly the best gaming phone available. Even the best Android has to offer pales in comparison to Apple's newest large iPhone. This phone can handle any mobile game out there and then some, thanks to the extremely strong A15 Bionic CPU, 120Hz display, and greatly increased battery life.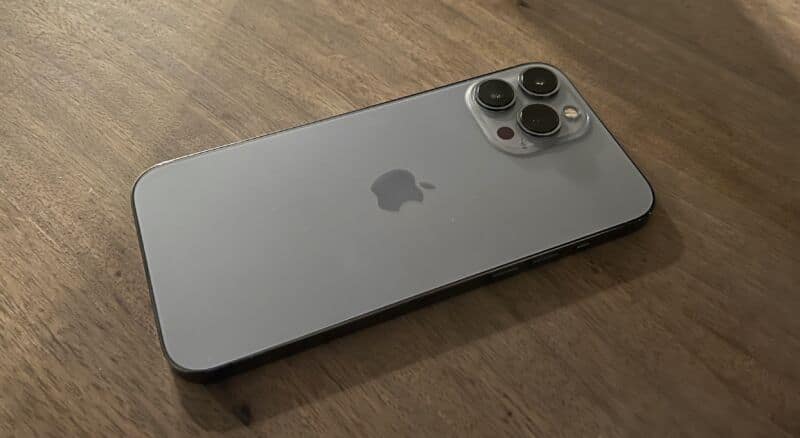 The iPhone 13 Pro Max is not only the best gaming phone, but it's also the best phone you can buy in general. It has excellent cameras, a stunning 6.7-inch OLED display, and a slew of other features that make it a pleasure to use in daily life. It also has a storage capacity of up to 1TB, ensuring that you'll never run out of room for the best iOS games.
3.  Nubia Red Magic 5G
Dimensions: 168.6 x 78 x 9.8mm
OS: Android 10
Screen: 6.65-inch, 1080 x 2340
CPU: Qualcomm Snapdragon 865
RAM: 8/12GBStorage: 128/256GB
Battery: 4,500mAh
Rear camera: 64MP + 8MP + 2MP
Front camera: 8MP
The Nubia Red Magic 5G invests heavily in the technology that gamers demand, which means that in addition to a strong all-around hardware spec, the phone includes a 144Hz refresh rate display and built-in shoulder button triggers.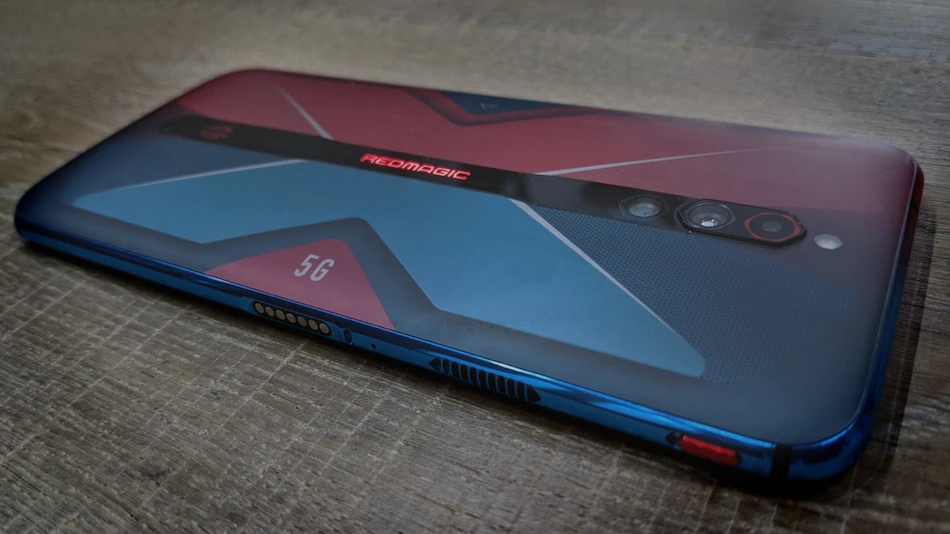 It also comes with a built-in fan and liquid cooling system to keep the phone cool even during long gaming sessions. Vibration is also incorporated into the device, so you can feel every shot or crash if you want to. In terms of the operating system, you get Android 10 out of the box, and there's also a 5G modem on board, so if you have a 5G data contract and reside in a 5G-enabled location, you're covered.
4.  Google Pixel 6 Pro
Display: 6.7-inch OLED (3120 x 1440; 10-120Hz)
CPU: Tensor
RAM: 12GB
Storage: 128GB, 256GB, 512GB 
Rear cameras: 50MP main (ƒ/1.85), 12MP ultrawide (ƒ/2.2), 48MP telephoto (ƒ/3.5) with 4x optical zoom
Front camera: 11.1MP (ƒ/2.2)
You wouldn't expect a Google phone to make it onto a list of the top gaming phones, but that's exactly what happened this year. The Pixel 6 Pro is a terrific choice for your next gaming phone, thanks to its excellent display and surprisingly impressive performance from the new Tensor chip.
That's not all, though. Not only does the Pixel 6 Pro excel in games and benchmarks, but it also performs admirably as a regular phone. It may lack some of the bells and whistles found on other gaming phones, but it does boast one of the greatest cameras available on an Android phone. After all, you probably want your phone to do other things well, too.
If we had to pick one flaw with the Pixel 6 Pro, it would be the short battery life. Despite the fact that the battery is substantial enough to last for hours, the phone performed poorly in our battery life testing. However, even with demanding gaming and Xbox Game Pass, the phone performs admirably in our daily lives.
5.  OnePlus 9 Pro
Display size (Pixels): 6.7-inch AMOLED (3168×1440)
Peak refresh rate: 120Hz
CPU: Snapdragon 888
RAM: 8GB, 12GB
Storage: 128GB, 256GB 
Cameras (Back/Front): 48MP wide, 80MP ultrawide, 8MP telephoto, 2MP monochrome sensor / 16MP
The OnePlus 9 Pro is a well-rounded offering and a qualified member of the best gaming phones list if you want a high-end Android phone for a little less than most high-end smartphones cost, and you want top gaming performance without sacrificing other luxuries like design and camera quality.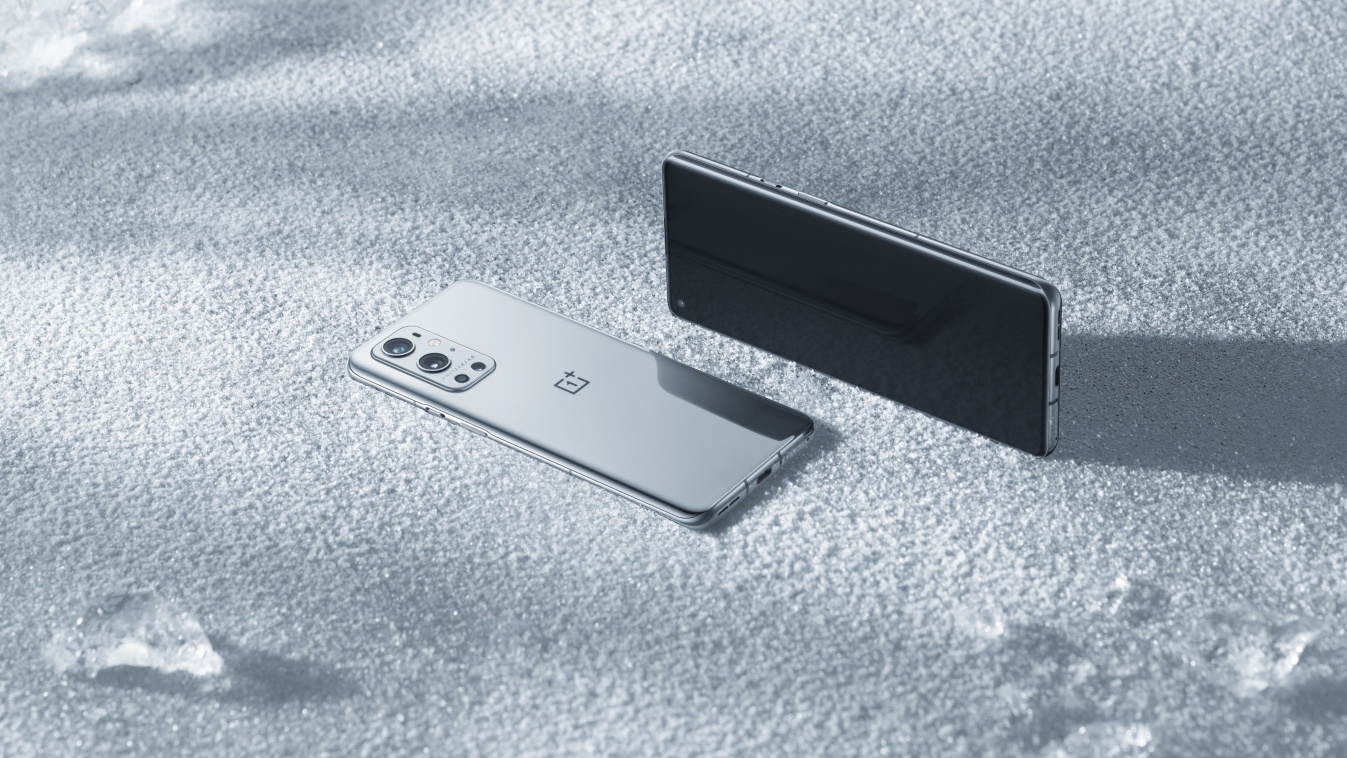 The 6.7-inch OLED display on OnePlus' latest flagship has a 1440p resolution, making the screen both sharp and vibrant. The OnePlus 9 Pro, on the other hand, is towards the top of our best gaming phones list thanks to its dynamic 120Hz refresh rate, which provides a remarkably smooth experience for games like Fortnite that support it. Thanks to OnePlus' innovative Hyper Touch technology, the touch sampling rate has been increased to 360Hz, providing you with the quick reaction you need to achieve victory.
The Best Gaming Smartphones are technological marvels. To create truly immersive experiences, the finest ones mix super-fast silicon with streamlined software and optimised operating systems. They combine all of the traits we value at T3: design, engineering, and innovation – and because games demand so much from your phone, you can rest assured that your new gaming phone will perform admirably in all other areas as well.
Also Read:  8 Best Live Wallpaper Apps for Windows 10