Listicle
8 Best WhatsApp Extensions you should try in 2022
WhatsApp has come a long way in the last several years, and it currently contains the majority of the functions that users require. Here are the best whatsapp extensions to use in 2022.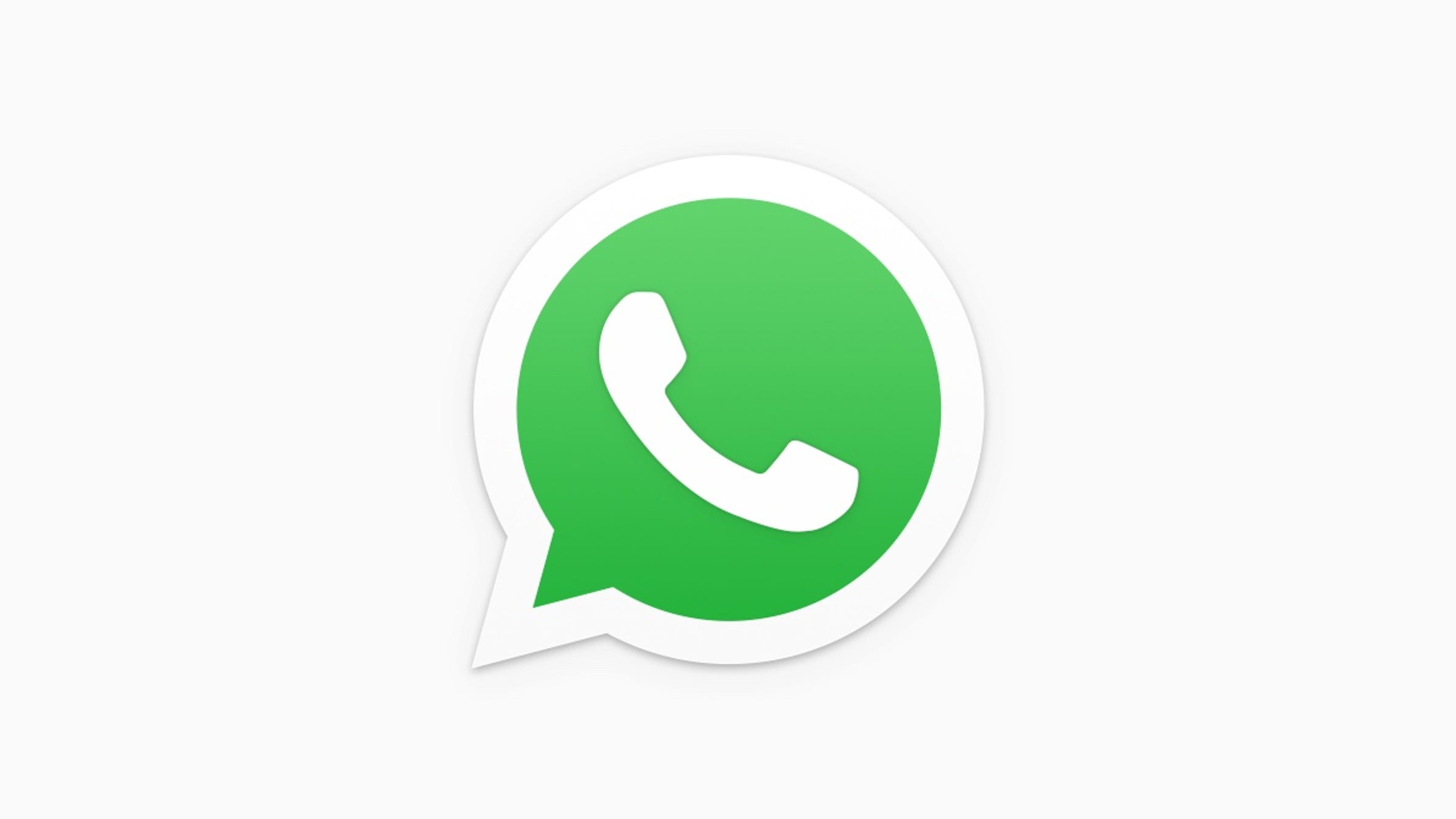 WhatsApp has come a long way in the last several years, and it currently contains the majority of the functions that users require. It's a text messaging programme that also allows you to send photographs, make audio and video chats, and share your location. In this post, you will see some of the best WhatsApp extensions you should try in 2022.
WhatsApp's latest version also includes new messaging capabilities like disappearing messages, multi-device support, and more. Additionally, you may use browser extensions to get more out of WhatsApp if you use it on the web. Many extensions for WhatsApp web are available in the Chrome web store. These extensions can be used to extend the capabilities of WhatsApp on the web.
Let's dive into the list of 10 Best WhatsApp Extensions –
1. WAToolkit
WAToolkit is one of the top Chrome extensions on the list, providing a range of useful and lightweight WhatsApp web client utilities.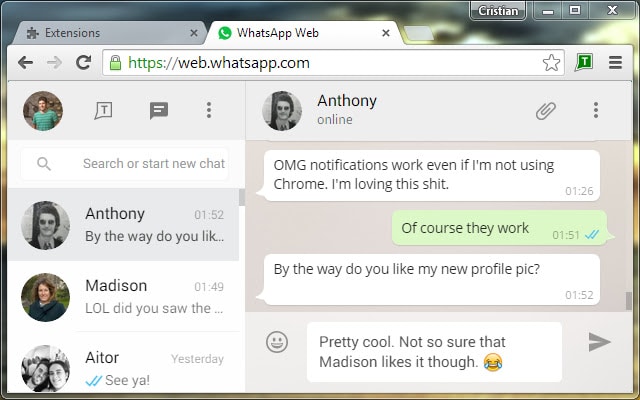 Always-on desktop notifications, a WhatsApp button in the toolbar, and more are all possible with the WhatsApp extensions for Chrome. Furthermore, the extension is quite light and has no negative impact on the performance of your computer.
2. Multi Chat
Multi Chat is one of the most innovative browser add-ons available. It allows you to use your browser to access WhatsApp and other popular messengers.
You may read and reply to messages on WhatsApp web, Telegram web, Slack desktop, Line, Instagram DM, WeChat online, and more with Multi Chat.
3. Cooby
If you have a lot of WhatsApp messages, Cooby will come in handy. It's a Chrome extension that lets you browse WhatsApp on the web and organizes your conversations into tabs.
Cooby divides your WhatsApp chat into tabs after it's installed. It adds an Unread tab, for example, to check all missed messages. You'll also see tabs for chats that are waiting for a response, need a response, and more.
4. WA Web Plus
WA Web Plus is another excellent Chrome extension that every WhatsApp web user should use. You may blur messages and images, read status invisibly, hide your typing status, pin conversations to the top, and more with WA Web Plus.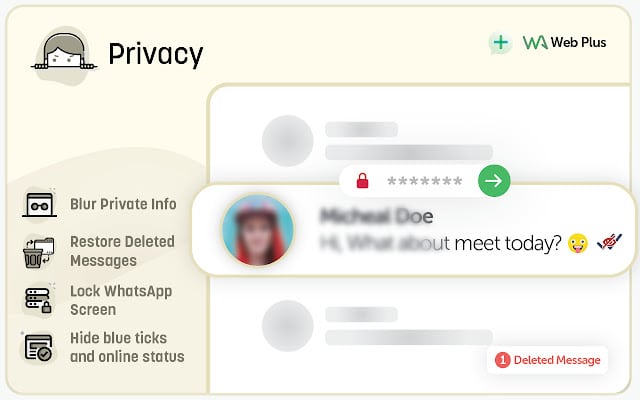 For personal and professional use, the Chrome plugin adds all missing functionality to WhatsApp online.
5. WA Web Utils
WA Web Utils is a Chrome addon that allows you to send WhatsApp bulk messages.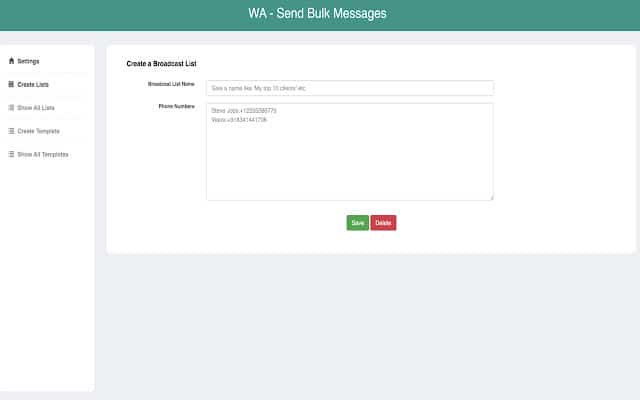 From your computer, you may use this Chrome extension to send bulk messages to your customers, contacts, and potential leads. This plugin can also be used to build message templates for your business.
6. WhatsAdd
Both WA Web Plus and WhatsAdd work in the same way as a modified version of WhatsApp does. WhatsAdd is a web application that extends WhatsApp's functionality.
You'll be able to apply text formatting, download all media assets in a chat, turn typed emojis into genuine emojis, and more after installing the extension.
7. Zapp
If you use WhatsApp Web a lot and have a lot of audio recordings, Zapp might be the right plugin for you. The WhatsApp web version now has audio controls.
With this plugin, you'll be able to control audio files exchanged on WhatsApp. You can, for example, alter the recording's speed and volume.
8. Privacy Extension
Privacy Extension is required if you use WhatsApp online in an area where anyone can look over your shoulder. On the list of WhatsApp extensions is Privacy Extension, which hides various items on the interface until you hover over them.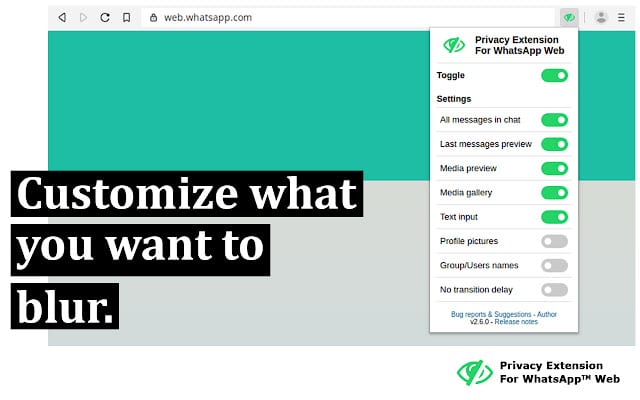 It hides messages, media, input fields, profile images, and more once installed. Hovering your mouse over the concealed elements will reveal them.
WhatsApp has a large user base because to its simplicity of use, end-to-end encryption, and cross-platform support, and if you use it on the web, there are a growing number of browser extensions you can install to help you get more out of the platform.
Also Checkout: 7 Best Free PDF Editors to use in 2022