Tech-Verse
Microsoft Has Made It Easier To Change The Default Browser In Windows 11
In Windows 11, Microsoft has finally made it simpler to change your default browser. This week, a new update (KB5011563) was released that allows Windows 11 users to change their default browser with a single click. This new one-click technique is being sent out to all Windows 11 users after being tested in December.
Initially, Windows 11 did not provide a straightforward button for switching between default browsers, which was always present in Windows 10. Instead, Windows 11 users were compelled to modify individual file extensions or protocol handlers for HTTP, HTTPS,.HTML, and HTML, or mark a button that only displayed when you clicked a link from outside a browser.
Microsoft defended its decision to make switching defaults more difficult, but rival browser makers such as Mozilla, Brave, and even Google's Chrome head slammed Microsoft's approach.
In the most recent update to Windows 11, you can now go to the default programs area, search for your preferred browser, and then click a box asking whether you want to make it the default. All of the work of changing file handlers is done in a single click, which is a significant improvement over what was previously available.
STEPS TO CHANGE DEFAULT BROWSER 
Microsoft definitely listened to input and criticism on the changes made in Windows 11. The software company continues to develop Windows 11 on a regular basis, with upgrades like these and larger modifications like Android applications and improvements to the user interface.
If you go to the default apps page (Settings -> Apps -> Default apps) and choose a browser from the app list, such as Google Chrome or Vivaldi, you'll now notice an option at the top of the Settings page that allows you to designate it as your default browser. This will convert all web browsing-related associations to that browser at once, saving you the hassle of changing it for each file type or protocol individually.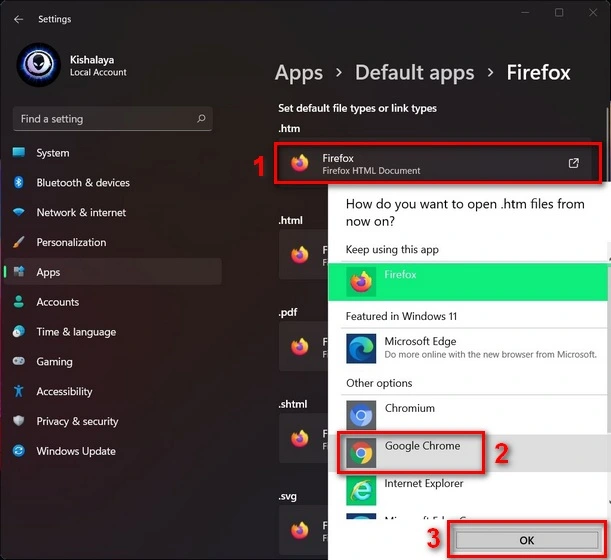 Microsoft began testing this change with Insiders in the Dev channel in December, and it wasn't immediately apparent how it would be implemented, but it appears that you won't have to wait for a major feature update.
It's a positive move, given that the previous system required browser manufacturers like Mozilla to skirt Microsoft's requirements in order to make it simpler for consumers to change their preferred browser.
If you want to change your default browser right now, all you have to do is check for updates in the Windows 11 Settings app (in the Windows Update area) and download and install the optional update KB5011563. If you don't mind waiting a little longer, this update should be incorporated in next month's Patch Tuesday, which will be held on April 12th. Because it will be an obligatory update, most users will most likely receive it at that time.
CONCLUSION 
Microsoft is presently testing this new system with an optional upgrade, but unless a last-minute issue is discovered, the change should be available to everyone with an obligatory security update in April.
As others have pointed out, Microsoft's argument was completely implausible. Clearly, the decision to complicate the procedure was made to ensure that Edge stays the default browser on Windows 11. Google, on the other hand, is guilty of using very similar strategies.
In the browser battles, Google is also taking aim at Microsoft's respective user base, putting adverts on services such as Search and Gmail in an attempt to entice Microsoft Edge users to switch to Google.
Currently, Windows 11 users do not have a dedicated button for changing the default browser. Instead, users must set the default app for each type of extension (.htm, html, web, etc.). This is a time-consuming procedure, and many users leave Microsoft Edge as the default program. Recently, Microsoft's Edge browser was detected with a message targeted at diverting consumers away from its main competition, Google Chrome. "Are you still using Google Chrome?" That's so 2008!" reads the message, along with several similar requests.
Also Checkout: Changelly App Review | A Crypto Exchange Wallet